Massachusetts performing arts will keep you well-entertained
Theater, music, dance, comedy, and more performing arts in Massachusetts are among the best quality you will find anywhere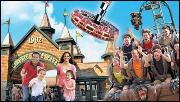 85 North Policy Street Salem, NH, 03079 Phone: 603-893-3560
All day entertainment, music and more
The entertainment and fun never stop at this historic amusement park in Salem, just 30 miles north of Boston. All around the park at the Gazebo, the Village and Midway Stages, and the Dancehall Theater, someone or something is always rocking the place with great acts and action. Stop by for some Extreme Science, magic shows and the Great American Game Show. There's Battle of the Bands, Dixieland music, and tributes to yesterday and today's hits, pop divas and stars like Lady Gaga, Elvis Presley and Michael Jackson. The heat gets turned up with extreme sports and stunts like juggling, the Shanghai Circus, the Human Cannonball, extreme motocross and great fireworks. Check out the SuperStars Museum celebrating Canobie's Dancehall Theater.
Information Centers on Boston Common and Prudential Towers (Center Court) Boston, MA, 02116 Phone: 888-733-2678
Boston shines through its performing artists
Boston has always been one of the premier performing arts centers in the world. Renown conductors, musicians, dancers, actors and performers of all stripes do their very special things every day, evening and weekend throughout the year. Start dancing with the Boston Ballet and with jazz, modern and traditional dance troupes. Tune up with the many orchestras like the Boston Philharmonic or the Boston Symphony – that's the one that performs at Tanglewood each summer. The ever popular and aptly named Boston Pops with Maestro Keith Lockhart with the baton has been entertaining audiences forever. Conservatories and music schools hold concerts and performances almost non-stop. Theater companies abound like the Commonwealth Shakespeare company, the American Repertory Theater and you'll find first run and long running plays all around the Boston theater district. Many diverse kinds of performances can also be found in circuses, jazz, improv and comedy clubs and even on the street - anywhere in fact where great performers care to get up and, well, perform.