Massachusetts offers warm and intimate settings for your small wedding
Savor the joys of an intimate wedding by making Massachusetts your destination. Folks have been gathering here for more than 300 years to celebrate weddings in every kind of setting. Year round, exchange your vows indoors or outdoors with all the touches and the focus on you. Wed by the sea, in the
Berkshires
, in historic
inns
,
boutique
and
luxury
hotels, on the beach, in a garden, in stylish surroundings and romantic hideaways. There are wedding planners and customized wedding packages that make every detail come alive including local florists, photographers, music, caterers and more. It's all here. Small, intimate and quintessentially New England.
48 Monument Square Concord, MA, 01742 Phone: 978-369-2900
Hold your intimate wedding celebration in a colonial setting
Intimate weddings have been held in and around this famous Inn for more than three centuries. Everything your heart desires is here starting with the perfect backdrop. Enjoy a quiet affair in a beautiful tea room, exchange vows by candlelight, or walk down a traditional aisle strewn with rose petals. Whether a multi-course dinner or light-hearted buffet, DJ or string ensemble, this historic venue will create a truly memorable event for you, your family and friends. Choose from 56 unique accommodations including a large honeymoon suite for the newlyweds. Small groups and those up to 125 are easily accommodated in the ceremony and reception venues for bridal luncheons, showers, rehearsal dinners, and morning-after brunches.

1360 Worcester Street Natick, MA, 01760 Phone: 508-653-8800
Small weddings here make for special memories
The perfect intimate wedding isn't just smaller or less memorable. Here, it's just as special or even more in many ways than larger ceremonies and receptions. No less detail is involved but there's greater emphasis on the two of you and what you desire most from the most important day of your lives. Intimate can be elegant or simple, in sky-lit ballrooms or smaller spaces, handsomely set or cozily ornate, with just the right touches from tables and flowers to world-class cuisine, enchanting music and white-glove service. Wedding specialists will assist you with every detail including wedding invitations, menu selection, table linens and floral arrangements. Here's a hotel that lives up to its name and its reputation as one of the most popular wedding and reception venues in Greater Boston.
58 Washington Street Marblehead, MA, 01945 Phone: 781-631-2186
Perfect for an intimate small wedding.
The Harbor Light Inn could be the perfect romantic destination and option for that small intimate, in-house wedding or the host for your in-town guests. Our concierge is available to assist you with everything from local florists, photographer, yacht rental, and caterers, to off-site local event locations. Let us help you make the perfect Marblehead wedding.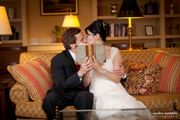 30 Boltwood Avenue Amherst, MA, 01002 Phone: 413-256-8200 Toll-Free: 800-742-0358
An historic Inn with modern amenities for a magnificent wedding
Find an extraordinary collection of fully customized wedding packages and experiences here. From the luxurious ballroom or picturesque garden tent, to the more intimate rooftop terrace, couples will discover a truly personalized New England weekend wedding destination for up to 180 guests. Every detail is covered from the customized catering menus, wedding photographer and flowers, to cakes, entertainment, wedding décor, and guest accommodations. Special amenities just for you two include a complimentary bridal suite, breakfast in 30Boltwood the morning after, champagne and chocolate-covered strawberries in the bridal suite, a champagne toast, banquet captain and wait staff, a personalized server for the bridal couple and party, a portable dance floor, linens, glass and silverware and special discounts on additional guests' overnight rooms.
297 North Street Pittsfield, MA, 01201 Phone: 413-358-4741
Stylish Surroundings and Polished Service Complement Your Wedding
For a smaller wedding with genuine polish in a unique setting, make your way to Hotel on North, a restored 19th-century men's haberdashery in the heart of Pittsfield that's been re-created with a cool urban feel. Exposed brick walls, warm wood cabinetry and re-envisioned Americana antiques of the last century mix with velvet, leather and Art Deco for a luscious ambiance. The expert staff and fine dining facilities will make your intimate wedding feel just right in a properly size space with any trimming you desire. Your overnight guests will sink into comfort in rooms creatively furnished with bits of the homes and farms of the Berkshires. All modern conveniences, including fast WiFi, support the classic and classy service.
15 Arlington Street Boston, MA, 02116 Phone: 617-536-5700
Across from the garden, let your smaller ceremony blossom
Though grandeur is part of the Taj Boston, the majestic landmark hotel is also the perfect site for weddings with a more intimate feel. Let the hotel's meticulous event planners and staff help turn your big day into something you and your guests will remember forever. Among the hotel's many options for smaller ceremonies: the French and Adam Room, a jewel-box with ornate mirrors and tall windows overlooking Newbury Street. The feel inside is luxurious, the fabrics deep maroon and gold, the lighting from chandeliers and sconces. The Back Bay Room, a spacious corner room with a blazing wood-burning fireplace, is another cozy possibility, as is the green-themed Garden Room, with its gorgeous views of the Public Garden.
30 Washington Street Somerville, MA, 02143 Phone: 617-628-1000
Keep it small and enjoy the many benefits of an intimate wedding at the Boston Bunker Hill
Your intimate wedding has a special partner in this recently renovated hotel in the historic Bunker Hill area. A talented team of specialists and your own wedding consultant will help you to create a memorable event from planning through the ceremony and reception. Every detail from the indoor ceremony area, to onsite catering and overnight accommodations will be handled with the utmost of professional care. The wedding venue is wheelchair accessible and can hold up to 250 in gracious style. Select the 3,500 sq ft grand ballroom or the smaller and unique atrium. Your guests will be accommodated in tastefully appointed guestrooms with complimentary Wi-Fi internet access. You can all enjoy the onsite restaurant and nightclub, large indoor pool, 24-hour fitness center and complimentary parking.