Massachusetts mountains and nature centers are primed for outdoor adventure
The beauty of nature in the Berkshires Mountains of western Massachusetts – think, for example, of the views from Mount Greylock – gets the heart racing, especially for people who love to throw themselves into the outdoors to play. Ski mountains in the Berkshires and Pioneer Valley will keep the whole family – from kids to grandparents – busy and tired during cold-weather and warm-weather vacations. Naturally, the ski areas will have snow sports and lessons and rentals. In the summer and
fall foliage
seasons, come to enjoy zip lines and canopy tours and other aerial adventures, mountain coasters and mountain biking, white water rafting, and water sports. Tired muscles? It is not hard to find a
spa
with massage and fitness rooms, and game rooms for the
kids
.
Adams National Historical Park Visitor Center - 1250 Hancock Street Quincy, MA, 02169 Phone: 617-770-1175
Revel in this city's history, recreation spots and natural surroundings
With 27 miles of coastline, including 11 beautiful beaches and miles of trails bordering rivers and marshes, Quincy is all about the outdoors. But there's plenty of fun away from the water, too, since the city also boasts 52 parks, three golf courses, baseball fields, tennis and bocce courts, bike and jogging trails and a plethora of picnic places. Launch your boat off the public ramp at Houghs Neck Maritime Center, pitch your umbrella on spacious Wollaston Beach, go birding or rock-climbing at Blue Hills Reservation or check out the Boston skyline from the Neponset River Walk. Even the city's history is outdoors, including a Native American campsite at Moswetuset Hummock and the site where Abigail Adams watched the Battle of Bunker Hill.
66 Thunder Mountain Road Charlemont, MA, 01339 Phone: 413-339-6617
Intense skiing, zipping, rafting, and biking adventures
Whatever your outdoor pleasure, it can be found here: from skiing and snowboarding to tubing, zip lines, white water rafting, and downhill mountain biking. Jump aboard North America's longest mountain coaster, or strap yourself into one of USA Today's Top Ten Zip Lines in the United States. Fly above the tree tops at New England's largest zip destination with an introductory Base Tour and a more advanced Mountain Top Tour, and see fabulous views of the valley. The extreme Valley Jump has two half-mile-long zips that rise nearly 200 feet above the ground. Families, bring your kids and play. There are lessons, instructions, and equipment rentals, a family friendly lodging, and the Crazy Horse Bar and Grill for lunch or dinner.
Route 2 (Mohawk Trail) Charlemont, MA, 01339 Phone: 800-532-7483
Outdoor adventure resort will push your action hunger
Step it up and outdoors at this great adventure resort on the Deerfield River in western Massachusetts. Whether you are interested in whitewater rafting, zip line tours, canoeing, kayaking, biking, or rock climbing, it can be yours. Plan half-day family raft trips or week-long whitewater kayak clinics that match your schedule and taste for adventure. The friendly professional staff, comfortable base camp, and top-notch equipment will ensure that your adventure is memorable. The Outfitters Shop is the Northeast's premier whitewater outlet, with over 100 of the hottest designs in stock. The expert staff can help you select a boat, but the best part is that you can try any boat before you buy it on the Deerfield River right in front of the shop.
37 Corey Road -- Route 43 Hancock, MA, 01237 Phone: 413-738-5500 Toll-Free: 800-882-8859
Great outdoor family fun is live and active over four seasons
Jiminy Peak Mountain's four-season resort offers lodging, shopping, and dining in the Village Center and Country Inn, plus an outdoor heated swimming pool, the In-Touch Day Spa, fitness room, game room, and more. It's also home to the largest ski and snowboard resort in southern New England. Forty-five trails and nine lifts cater to skiers of all skill levels, and three terrain parks provide rails and jibs for new and experienced park riders. Enjoy outdoor summer fun with a double dose at the adjacent Mountain Adventure Park and Aerial Adventure Park, and plan some activity at the Soaring Eagle Zip Ride and Mountain Segway Tours. This wonderful family place offers memorable mountain resort experiences with outstanding service in remarkably beautiful surroundings.
Route 2 Charlemont, MA, 01339 Phone: 800-553-7238
Family Owned and Operated Whitewater Rafting Outfitter
Add whitewater rafting to your outdoor adventures this year. Crab Apple offers outings on the Deerfield River in Massachusetts and the Kennebec and Dead Rivers in Maine. You'll enjoy full day rafting trips on mild Class 1-3 rapids or more aggressive Class 3-4 rapids. Or take a mild half-day trip in guided rafts or inflatable kayaks. Friendly and knowledgeable guides share information and stories about local history, wildlife and hydrology all with a personal touch. There's great food and excellent equipment. Maine location includes riverside lodging, pub and heated pool. Massachusetts location sits along historic Mohawk Trail.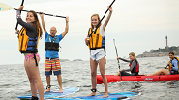 40 Doaks Lane Marblehead, MA, 01945 Phone: 781-990-3552
Get fit and learn new skills on Marblehead harbor
This warm weather outdoor fun place offers unique adventures on the water in scenic Marblehead. Get fit, learn new skills, improve your balance and confidence all summer long. through relays, board/boat swapping, capsize and rescue and other activities. Season passes run from Memorial Day weekend to Labor Day weekend and include programs for every age. Like having a gym membership, you'll have on-site access to the entire fleet of sit-on-top single and double kayaks and standup paddle boards. There are also special guided sunrise paddles, birthday parties, cove destination treasure hunts, team building activities, snorkeling, swimming, fishing and eco-awareness. Guided Fly Fishing Charters and a Kids Kayak Fishing Camp teach the skills and gear necessary to be a successful angler.