Massachusetts has many play spaces for dogs off the leash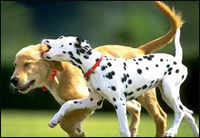 Dogs love to romp with their human and dog pals, especially if they've been cooped up in a car with a family on vacation. Many Massachusetts town have parks where dogs may play off-leash. Some parks have many rules and some have few. Here are some typical rules that apply at the more restrictive parks:
Dogs must be licensed and vaccinated
Prohibitions usually include puppies under 4 to 6 months old; females in heat; vicious dogs; choke, prong, pinch, spiked and electronic collars; dog treats and toys; bikes, strollers, baby carriages, skateboards, skates, rollerblades and motorized vehicles; food for dogs or people and glass containers
Many parks prohibit young children and require older children to be under the supervision of an adult
Owners are asked to pick up after their dogs, repair holes, and control barking
Many parks limit each person to no more than 2 or 3 dogs
Some parks provide water and waster bags but you should bring water and bags for your dog
Also, it is wise to check a park website or phone ahead in case park conditions or restrictions have changed.
Washington Street or Shawmut Avenue, near E. Berkeley Street Boston, MA Phone:
Hours: 6 a.m.-10 p.m.
Peters Park is in the heart of Boston's vibrant South End. The park provides five acres of activity for people and families of all ages. It has a gated children's playground, baseball field, tennis court, and lighted basket ball courts. There is a fenced-in off leash Dog Park, lots of open space as well as gardens.
The Joe Wex Dog Recreation Space (DRS) within the park provides a space in which dogs can run, play and socialize. It has over 13,000 square feet of space (including a separate enclosed 3,000 square feet for small dogs).
People Rules: Maintain control of your bog; clean up after your dog.
430 Potomska Road Dartmouth, MA Phone: 508-990-0505
Hours: Trails are open dawn to dusk; dogs can be off-leash at all times EXCEPT during public operating hours of 10 a.m.-3 p.m.
This well-managed nature center and coastal reserve has extraordinary water views and five miles of trails through unspoiled forest and salt marshes. The Lloyd Center offers a variety of recreational and educational opportunities for families, birders, school-children, hikers, scientists and nature enthusiasts of all ages. Dogs may be off-leash except when visitors, especially schoolchildren, are using the visitor center. Usually, visitor center is closed Sundays and Mondays. It may be open Mondays in warm seasons. See dog policy on home page of website.
Kendall Street near Route 202 Granby, MA Phone: 413-467-7606
There is a fenced dog park within this city-operated park. Park has many hiking trails, a pond for fishing, soccer and softball fields, and playground. Bring your dogs to the dog park, where they have the chance to run around and socialize with their friends. The dog park is completely fenced. Benches for owners.
Forest Street off Lynn Fells Pkwy in Breakheart Reservation Saugus, MA Phone: 781-233-0834
Bark Place is located directly across from the Pine Tops picnic area. Bark Place provides a safe dog play environment in an area surrounded by tall hemlocks. Benches for owners and mutt mitts for dog waste are provided.
Map and rules.
Route 6 and Shank Painter Road Provincetown, MA Phone: 508-487-1212
Hours: Dawn to dusk.
This park is on an acre of land enclosed with a tall fence and double entry gates. There are separate sections for larger and smaller dogs. Parking and main entrance access are from Route 6 headed east.
Dog Rules: Dogs must be licensed and vaccinated and wear tags on their collars at all times. Dogs must be spayed or neutered.
Prohibited: Dogs less than 4 months old; sick dogs; food, drink, glass containers, and smoking
People Rules: Be present with your dog at all times in the park. Clean up after your dog. Limit of 3 dogs per person. Keep your dogs leashed until you are in the dog park. Repair any holes your dog digs. Children under age 16 must be supervised by an adult.
Provincetown allows dogs on its beaches from Memorial Day to November 1 off-leash from 6-9 a.m. and from 6 p.m.-6 a.m. Dogs are allowed on the beaches on-leash at all times.
Village Street and Cottage streets Medway, MA Phone:
Hours: Weekdays, 6:30 a.m. to dusk; weekends and holidays, 8 a.m. to dusk
Dog Rules: Wear collars with identification at all times. Dogs must be spayed or neutered. Any bull terriers or bull terrier mixed must wear a muzzle.
Prohibited: Dogs less than 4 months old; children under age 12, unless they are closely supervised by adults; food, drink, and smoking
People Rules: Be present with your dog at all times in the park. Clean up after your dog. Obtain a permit and tag to use the dog park; applications are on the park's website. Limit of 3 dogs per person. Keep your dogs leashed until you are in the dog park. Repair any holes your dog digs. No tree climbing.

On Route 134 South, between traffic lights at Upper County Road and Route 28 South Dennis, MA Phone:
This addition to Dennis's dog-friendly recreational areas boasts two fenced enclosures, a fresh water swimming area for dogs, and a walking trail through the woods. All dogs are required to be under immediate voice control of a responsible owner or keeper.
East Foxboro Street, between Cedar and Gunhouse streets, opposite the ball fields Sharon, MA Phone:
One of the few fenced-in dog parks in the area, the Sharon Dog Park is a place for dogs of all breeds to run, frolic, catch balls, wrestle, and have fun. The dog park is fully fenced in with double entry gates and a smaller area park for smaller dogs. The ground cover is wood chips. From April to November the park has running water and waste bags. The park welcomes dogs and their owners from all towns whether you are local or just passing through the area.
4 Woodland Road Stoneham, MA Phone: 617-727-1199
The Middlesex Fells Reservation's 2,575 acres offer a welcome retreat for city dwellers and a suitable terrain for hikers, mountain bikers, horseback riders, rock climbers, cross-country skiers and picnickers as well as natural and cultural history buffs. This reservation welcomes pets as long as they are kept on leash. Also, there is an off-leash recreation area for dogs in the Sheepfold. Dog(s) must be wearing a collar with current dog license and rabies tags.
Entrances at Fort Hill Street and Beal Street Hingham, MA Phone:
Hours: Dawn to dusk
This park occupies more than 400 acres along the Weymouth Back River. There are three miles of paved roadways for hiking, bicycling, and jogging, as well as wooded paths. Dogs are welcome, but they must be leashed. Owners must pick up dog waste.
14 parks throughout town Brookline, MA Phone: 617-879-4850
Hours:
Variable at different parks; see details in Green Dog program brochure
Brookline has a Green Dog program, in which dogs are allowed off-leash in specific parks and green spaces for specific hours of the day. Brookline has 14 off-leash areas in various parks across the town.
Visitors who want to run their dogs off-leash in these areas must first get a green dog permit from town hall. Fees: two-day permit, $5; one-week permit, $10; annual permit for residents, $50. Town Hall is at 330 Washington Street.
See
Green Dog Program Park Map
for participating parks and hours for dog play.
Stodder's Neck Dog Park
457 Lincoln Street (Route 3A) Hingham, ME Phone: 617-727-5293
Stodder's Neck Dog Park is not fenced and it is a great off-leash place for dogs. It has access to the water for swimming. The park is grassy and has trails for walking and play. It is on a peninsula in tidal water off Hingham Bay. It has one gated entrance. There benches and picnic tables for people to enjoy. Bring your own water and refuse bags.
Carleton Street between Braddock Park and Holyoke Street Boston, MA Phone:
Carlton Court Dog Park, on Carleton Street between Braddock Park and Holyoke Street, is within
Southwest Corridor Park
is a 4-mile-long park stretching from the Back Bay to Forest Hills. It links South End, Back Bay, Roxbury and Jamaica Plain with a street-level, green open space for parkland and recreation. Approximately a quarter of the parkland is decked over the railroad tracks. There are tot lot areas, spray pools, basketball courts, tennis courts, street hockey rinks, amphitheaters, and six miles of biking, jogging and walking paths.
Dog Park in French Park
Baldwin Hill Road Edgemont, MA Phone: 413-528-0182
Hours: Daylight hours
Grassy, fenced park of about one acre. The park is set on a hilltop surrounded by mountains and trees. The main entrance to French Park is on Prospect Lake Road; the dog park is past the main entrance and around the corner, on Baldwin Hill Road. One of the few dog parks in western Massachusetts.
Beecher Street Park
Off Beecher Street between Boylston and Paul Gore streets Jamaica Plain, MA Phone:
This is a small, fenced neighborhood dog park where dogs can socialize off-leash.