Airports in Massachusetts fly from Logan in Boston and regional ports
Fly in and out of Massachusetts at some of New England's most convenient and traveler-friendly airports with
waterfront
and
luxury hotels
on site or nearby. Logan (BOS) is the international hub serving Massachusetts and all of central New England. Cape Cod (MA) can be reached via Logan, Barnstable, Nantucket, and Martha's Vineyard airports. Portsmouth Pease and Manchester-Boston Regional Airports welcome major air carriers to New Hampshire. Bradley International Airport (CT) serves national and international traffic as does Albany International Airport (NY.) General aviation, private and charter flight needs can also be met at Danbury (CT) and at Worcester (MA) regional airports.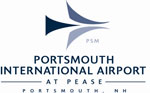 42 Airline Avenue Portsmouth, NH, 03801 Phone: 603-433-6088
ATTENTION TOUR OPERATORS/AIRLINES/TOURISTS:ANNOUNCING NEW SCHEDULED AIR SERVICE ON ALLEGIANT AIRLINES BETWEEN PORTSMOUTH AND ORLANDO-SANFORD! Go to allegiantair.com or call 702-505-8888 for details!!!
Portsmouth International Airport is located on the Seacoast of New Hampshire, 50 minutes north of Boston's Logan Airport. Free parking, luggage carts and trolley service to on-site bus terminal or downtown Portsmouth are available.
Portsmouth International Airport offers:
NO LANDING OR FUEL FLOWAGE FEES!
Port of Entry with Customs, Immigration, Agriculture
Low landing and fuel flowage fees
On-site car rentals, bus, & limousine service
On-site hotel, restaurants and Pease (27-hole) Golf Course
Immediate access to Interstate 95; 60-minute drive north to lakes and mountains; 10-minute drive to Seacoast beaches and the historic seafaring city of Portsmouth
Tax-free shopping in area boutiques, malls and factory outlet stores
Provincetown Municipal Airport (PVC)
176 Race Point Road Provincetown, MA, 02657 Phone: 508-487-0241
Commercial flights by Cape Air (Provincetown to Boston only). Small private craft and charters.
Albany International Airport (ALB)
737 Albany-Shaker Road Albany, NY, 12211 Phone: 518-242-2200
The major air center for the capital district of New York State, northeastern New York and western New England.
Logan International Airport (BOS)
1 Harborside Dr. East Boston, MA, 02128 Phone:
Major international airport serving Massachusetts and all of central New England. Cape Air, a smaller, regional airline centered upon Cape Cod and the Island, flies from Logan and offers air service to Hyannis, Martha's Vineyard, Nantucket, New Bedford, Provincetown, and Providence, Rhode Island.
Manchester-Boston Regional Airport (MHT)
1 Airport Road Manchester, NH, 03101 Phone: 603-624-6556
Situated in the heart of New England, Manchester-Boston Regional Airport is less than 50 miles north of Boston, Massachusetts, and less than an hour's drive from the region's most popular ski areas, scenic seacoast beaches, and lakefront resorts. Manchester Boston Regional Airport is widely considered a convenient alternative airport serving the greater Boston area.
Nantucket Memorial Airport (ACK)
14 Airport Road Nantucket, MA, 02554 Phone: 508-325-5300
Served by Cape Air, Nantucket Airlines, Island Airlines, and Nantucket Shuttle as well as small private craft and charters.
Bradley International Airport (BDL)
11 Schoephoester Road (Exit 40 off I-91) Windsor Locks, CT, 06096 Phone: 860-292-2000
Connecticut's only airport with national and international traffic, including major airline flights. Short distance north of Hartford, the capital. Serves major cities and vacation destinations in New England. Ground transportation by several taxi, limo, and rental car companies. For taxi fares from Bradley to other points in Connecticut, call 860-627-3128.
Barnstable Airport (HYA)
480 Barnstable Road Hyannis, MA, 02601 Phone: 508-775-2020
Commercial flights on U.S. Air, Cape Air, Nantucket Airlines, Island Airlines, and Nantucket Shuttle. Also serves charters.
Martha's Vineyard Airport (MVY)
71 Airport Road Vineyard Haven, MA, 02568 Phone: 508-693-7022
Since the 1950s, the Martha's Vineyard Airport has served as the primary general aviation/commercial airport gateway to Martha's Vineyard. Served by Cape Air, Delta, Jet Blue, and U.S. Airways. Extensive inter-town public bus system makes frequent stops at the airport.
Worcester Regional Airport (OHR)
375 Airport Dr. Worcester, MA, 01602 Phone: 508-799-1350
Located in the heart of central Massachusetts and operated by the Massachusetts Port Authority. Extensive general aviation services are available. Currently there are no commercial airline flights scheduled to or from Worcester.
Danbury Municipal Airport (DXR)
Wibling Road Danbury, CT, 06810 Phone: 203-797-4624
General aviation operator; accommodates charter and private planes only.