Winter Weddings in Massachusetts (MA)
58 Washington Street Marblehead, MA, 01945 Phone: 781-631-2186
Savor the warmth of love in a wintertime wedding setting
Your winter wedding by the sea merges romance, crisp ocean air and centuries of swashbuckling history. Marblehead is lands end and you'll celebrate your special day in the heart of Marblehead's harbor district amidst fine shops, galleries and great restaurants. The Inn is an amalgam of two Federalist Mansions that form one of the top ten romantic Inns in the country. Warm by the working fireplaces located throughout. Savor luxuries and amenities including an intimate Tavern and first class accommodations to rival the finest of lodgings and hotel facilities. The concierge will see to it that every detail from local florists, photographer, rentals, caterers, to off-site local event locations warm your hearts and hands as you join them in matrimony.
30 Main Street Stockbridge, MA, 01262 Phone: 413-298-5545
Celebrate your wedding in the beauty of a Stockbridge winter
Few places are more iconic in winter than the Red Lion Inn. Immortalized in Norman Rockwell's painting "Stockbridge Main Street at Christmas," the Inn is a constant in America's winter imagery and fantasy. It's also stunningly historic, beautiful, charming and welcoming and the most perfect place for your winter wedding. There are private function rooms and unique and cozy spaces throughout for your rehearsal dinner, ceremony, reception, and/or morning after brunch. The Inn's experienced staff will assist you with every detail and help you identify vendors for everything you desire. Award- winning Executive Chef Brian Alberg and his staff will see to it that you and your guests enjoy the finest foods that reflect the best New England culinary traditions.
90 North Main Street Wolfeboro, NH, 03894 Phone: 603-569-3016 Toll-Free: 800-451-2389
Celebrate your winter wedding at great rates
The setting alone on Lake Winnipesaukee makes for an ideal winter wedding with a sweet New England town and the Belknap Mountains as the backdrop. Celebrate amidst New England décor, handmade quilts, and selected pieces of antique furniture. Enjoy fabulous food and gracious service at prices that keep your dreams affordable. Your special day starts with 10% off any wedding package and includes an on-site wedding coordinator and professional staff, a complimentary on- site ceremony, discounted room rental in the Winnipesaukee Ballroom for up to 140 guests or the 1812 room that can accommodate up to 60 guests, buffet or plated dinner, champagne toast, overnight room for your wedding night, and a complimentary stay on or around your first anniversary.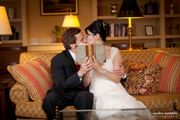 30 Boltwood Avenue Amherst, MA, 01002 Phone: 413-256-8200 Toll-Free: 800-742-0358
The Lord Jeff welcomes your winter wedding
Winter is fast becoming a very popular time for weddings. The feeling of joy that fills the season makes it an easy choice. Plan a romantic winter wedding at this classic New England Inn. All decked out in holiday green, gold and red, you'll love the lit candles and soft light, the crackling fire places and warm drinks, and the celebratory gathering of family and friends to share your happiest day in this scenic winter land. The on-site wedding planning staff will assist you with every detail whether an intimate wedding or a grand affair Choose from extraordinary wedding and reception venues, relax in cozy guest rooms and intimate banquet spaces, and savor the offerings from specially created menus.