Winter Weddings in Massachusetts (MA)
1 Cathedral Avenue Rockport, MA, 01966 Phone: 978-546-6321 Toll-Free: 800-964-5550
Winter weddings are magical at seaside inn
Imagine an elegant seaside inn, surrounded by pure-white snow, a chandelier blazing, tables glistening with china and crystal. The sea air is crisp, the atmosphere romantic. That could be your winter wedding at the Emerson Inn, where coordinators will help you plan the ceremony and reception of your dreams. Yes, winter weddings are more budget friendly and less stressful with less competition for dates and services. But they are also magical, especially at the Emerson Inn, where vows can be exchanged in the Grand Parlor, with its stunning ocean views or, for more intimate affairs, in the charming Oceanview Terrace Room. The inn's award-winning culinary staff has exclusive menus that range from traditional to modern, from buffets to sit-down dinners.
58 Washington Street Marblehead, MA, 01945 Phone: 781-631-2186
Savor the warmth of love in a wintertime wedding setting
Your winter wedding by the sea merges romance, crisp ocean air and centuries of swashbuckling history. Marblehead is lands end and you'll celebrate your special day in the heart of Marblehead's harbor district amidst fine shops, galleries and great restaurants. The Inn is an amalgam of two Federalist Mansions that form one of the top ten romantic Inns in the country. Warm by the working fireplaces located throughout. Savor luxuries and amenities including an intimate Tavern and first class accommodations to rival the finest of lodgings and hotel facilities. The concierge will see to it that every detail from local florists, photographer, rentals, caterers, to off-site local event locations warm your hearts and hands as you join them in matrimony.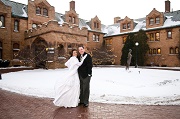 Route 20 - Lee Road Lenox, MA, 01240 Phone: 800-272-6935
Amid the Berkshires' breathtaking beauty, a wedding day not to be forgotten
Although the Cranwell Spa & Golf Resort is gorgeous all year long, it is particularly pristine in the winter, the perfect time for a fairy tale wedding. With the snow-capped, pine-forested Berkshire Mountains and quaint Lenox as a breathtaking backdrop, the 380-spa can offer wedding couples a timeless setting for their ceremony, award-winning chefs for their reception and an attentive staff, including a wedding coordinator on your big day, to make sure everything from seasonal centerpieces and crystal stemware to bridal party hair and makeup is perfect. Venues range from intimate rooms with cozy fireplaces to the Mansion Ballroom and the popular, newly renovated Harvest Barn. And imagine waking up in your complimentary luxurious wedding suite to a sparkling winter wonderland.
297 North Street Pittsfield, MA, 01201 Phone: 413-358-4741
Boutique hotel becomes a winter wonderland for wedding couples
Snow-capped mountains in the distance, the glittering lights of a Berkshires town outside your window: It's the perfect setting for a winter wedding. And it's what the dramatic Hotel on North has to offer, along with the touches only a hotel with a sense of character and a long heritage can provide. That means a vintage birdcage elevator, ideal for cocktails for the bridal couple; a reception hall with 11-foot ceilings, vintage chandeliers and exposed-brick walls; and comfortable guest rooms, some with gas fireplaces and claw-foot tubs. Cocktails, appetizers, creative sit-down meals: They can all be provided by the hotel's award-winning culinary staff. The hotel will work with you on everything from flowers to entertainment.
30 Main Street Stockbridge, MA, 01262 Phone: 413-298-5545
Your winter wedding will be a dream come true in the beauty of a Stockbridge winter
Stockbridge is like a fairyland in the winter – all sparkling snow and lights and white-capped mountains in the distance – and at its center is the stately Red Lion Inn, ready to make your winter wedding the stuff dreams are made of. Imagine taking your vows in one of the village's beautiful churches, decorated in local greenery, then adjourning to the inn for a an elegant candlelit dinner in a private room. Or perhaps you would like to have your ceremony in one of the inn's nine charming guesthouses: perhaps the turn-of-the-century Firehouse or the sylvan sanctuary called Meadowlark. Dine with your guests on perfectly prepared seasonal cuisine, or mingle with them before a crackling fire or in an antique-filled common area.