Massachusetts beach, mountain, lake resorts create luxury getaways
Massachusetts resorts can be found from the Berkshire Mountains to the west and along the waterfront north and south of Boston (in Gloucester, Plymouth, Hull) and on Cape Cod and Martha's Vineyard and Nantucket. Resorts offer luxuries and activities for
families with children
,
romantic getaway
s, and sports enthusiasts. Among the fine offerings at MA resorts are luxury guest rooms, spas, golf, snow sports, water sports, and white-glove service.
2907 Main Street (Route 6A) Brewster, MA, 02631 Phone: 508-896-9000 Toll-Free: 800-343-6074
One Great Resort, Two Cape Cod experiences
Recently named "Best Resort Cape Cod" by Boston magazine's 2017 Best of Boston Awards, this 429-acre Resort is located in Brewster, Massachusetts, and offers stunning natural beauty and spectacular amenities. The Mansion at Ocean Edge features elegantly appointed guestrooms and two- and three-bedroom Presidential Bay Collection villas including a private concierge – all with exclusive private beach access in season. The Villages at Ocean Edge features one-, two- and three-bedrooms villas that make you feel right at home. All guests are welcome to enjoy the Resort's 18-hole Nicklaus Design golf course, the new Beach House Spa, three restaurants, The Beach Bar, three outdoor and two indoor pools, nine tennis courts, fitness centers, bike rentals, and kayak and stand-up paddleboard rentals.

45 Hull Shore Drive Hull, MA, 02045 Phone: 781-925-4500
Stay, play and relax just steps from the beach.
Enjoy spectacular sunrises and views of three of Boston's historic lighthouses. Full service amenities include Concierge service, our on-site restaurant, indoor pool, full fitness club, oceanfront conference center, and an array of excellent restaurants and attractions within walking distance, scattered among eclectic shops and boutiques.

Situated on a 3-mile stretch of sandy white beach stands the Nantasket Beach Resort, tall, white and brilliant with a sense of New England charm felt from the moment you arrive. Close to Boston, Close to the Cape, Hull is your gateway to historic Plymouth, and to New England's popular tourist attractions and historic sites. Here you can stay and play just steps from the beach - with all the fun, sun, and activity.
1225 Iyannough Road Hyannis, MA, 02601 Phone: 877-568-4920
Spend quality time with your family at the Cape Codder Resort and Spa....you may never want to leave!
Make a splash in the NEW Water Park with huge water slides, lazy river, wave pool, retractable roof and so much more or in the Rainbow Falls Heated Outdoor Pool, pamper yourself (kids too) in the full-service Beach Plum Spa, roast marshmallows by our bonfire, take in dinner under the stars or enjoy live entertainment on The Deck, lounge or play in our beach-like area, savor breakfast, lunch or dinner in our Hearth 'n Kettle Restaurant and Tavern, enjoy bistro-fare, award-winning wines and live jazz in our Grand Cru Wine Bar and Grill, watch a movie by moonlight, play games with the kids and our recreation staff and SO much more! Relax in one of our 257 guest rooms or luxury fireplace suites with oversized whirlpools. Reserve online.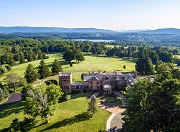 Route 20 - Lee Road Lenox, MA, 01240 Phone: 800-272-6935
Romantic and unmatched lodgings with impeccable service and amenities
This romantic Berkshire's resort with breathtaking scenery, unmatched service and amenities can change the way you think about relaxation. You'll find 114 gracious guest rooms from classic kings and doubles to junior, superior, mansion and townhouse rooms and suites. Three acclaimed restaurants offer fine, casual and family dining and cuisine. The all-season resort and spa feature a 35,000-square-foot state-of-the-art facility with a 60-foot indoor pool, fitness center, and 16 treatment rooms. Fifty wellness services offer every spa-ciality from soothing massages and detoxifying wraps to rejuvenating skin and body treatments individually designed for your needs. There's also the historic 18-hole golf course, tennis courts, x-country ski trails and 380 acres for year round fun.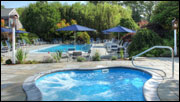 1191 Orleans Road Chatham, MA, 02633 Phone: 508-945-1133 Toll-Free: 800-547-1011
Resort offers a combination of relaxing and luxurious features
Vacation in luxurious surroundings at Pleasant Bay Village in Chatham, one of the Cape's loveliest towns. Among the amenities you might choose from when you select your room, suite or efficiency are private balconies and sundecks overlooking a Zen garden, patios with Weber grills, Jacuzzi tubs and leather-upholstered bed headboards. The breakfasts are generous, the pool pristine and the gardens, complete with waterfalls and statuary, spectacular. There is shuffleboard, pingpong and a playground as well as cookies in the lobby. From Chatham, you can ferry over to Martha's Vineyard and Nantucket, go deep-sea fishing or take a water taxi to a secluded island. The beaches are welcoming, the restaurants top-rated and the hospitality inside and outside the resort something you will long remember.
657 West Main Street Hyannis, MA, 02601 Phone: 508-778-4949 Toll-Free: 866-469-8222
Relax by the sea in comfort and style!
Find great comfort and value is a resort vacation. One and two bedroom units for up to six guests with king or queen-size bed, living and dining areas, fully equipped kitchens, 1.5 -2 baths and complimentary Wi-Fi. Patios or decks overlook the courtyard green in every unit. Several units have two levels with a spiral staircase leading to the living and dining areas. Enjoy the fitness center and clubhouse with fireplace, heated indoor pool and whirlpool spa, picnic area, volleyball, horseshoes, and shuffleboard. Nearby is Craigsville Beach while a short drive brings you to Nauset with one of America's Top Ten beaches. Hyannis is brimming with great shops, waterside eateries, the Cape Cod Melody Tent and the JFK Museum, fishing trips and day cruises to Martha's Vineyard and Nantucket.
Two Luxurious Locations Martha's Vineyard and Nantucket, MA, 02539 Phone: 866-335-1133
Family Friendly Resorts on Mass. Islands
The Nantucket Hotel is located in downtown Nantucket. Take a high-speed ferry from Hyannis and we'll transport you to/from our Hotel. Featuring 1-4 bedroom suites and cottages with kitchenettes; Children's Programs; heated pools; fitness and spa facility; and Breeze Café for family friendly dining.
Book our VIP Ferry Package from Falmouth to Winnetu Oceanside Resort at South Beach, Edgartown, Martha's Vineyard…It's a quick crossing time on the ferry and we'll transport you to/from the Resort. Featuring 1-4 bedroom suites, cottages and private homes; complimentary shuttles to Edgartown; Children's Programs; fitness center; heated pools; tennis; and yoga. Enjoy family friendly dining at The Dunes.
Plan your getaway at both Resorts and we'll transport you door-to-door between the islands.
35 Landmark Drive Plymouth, MA, 02360 Phone: 508-209-2626 Toll-Free: 877-647-2328
An oasis of relaxation just minutes from downtown Boston
Who knew a gracious resort like Mirbeau Inn & Spa could be so close to Boston and Providence? Our 50-guestroom inn in Plymouth, MA combines the elegance of a French manor house with a world-class spa and classic dining. The buildings are surrounded by beautifully landscaped Monet gardens, complete with tranquil waterfall and Koi fish ponds. Mirbeau leaves its guests feeling at home and cared for by a skilled staff who ensure an exquisite and worry-free experience during their stay. Guests can unwind in our 14,000-square-foot, full service Spa Mirbeau with beautiful treatment rooms, steamrooms, fitness areas, and outdoor amenities, enjoy comfort food at The Bistro & Wine Bar, and stay in luxurious guestrooms with soaking tub and fireplace.

Mirbeau accolades include AAA Four Diamonds and Conde Nast Top 20 Resorts in New England and Top 100 Hotels and Resorts in the World.
Historic Shore Street Falmouth, MA, 02541 Phone: 508-540-3000 Toll-Free: 800-352-7100
The traditional and contemporary in a unique Cape Cod resort
This family-owned and operated resort sits in the restful solitude of Cape Cod. 80 rooms with the scent of preservation provide a singular lodging experience. Four fully restored 18th century Sea Captain's houses offer traditional furnishings and yesteryear charm. Two contemporary buildings offer more conventional hotel rooms with a residential and "retro" feel. Traditional or contemporary, all guest rooms feature private bath, cable television, complimentary Wi-Fi, refrigerator, and coffee/tea maker. Enjoy the full-resort option with a fitness center and health club, indoor and outdoor pools, his and her sauna, green lawns, lawn games and umbrella tables. Just a short walk into charming Falmouth Village and to Surf Drive Beach with spectacular views of Martha's Vineyard and Nobska Lighthouse.
At South Beach on Martha's Vineyard -- 31 Dunes Road Edgartown, MA, 02539 Phone: 508-310-1733 Toll-Free: 866-335-1133
The Only Resort at South Beach, Martha's Vineyard – Close to Cape Cod
The Winnetu Oceanside Resort is the only Resort at South Beach, Edgartown, Martha's Vineyard, off the Cape Cod coast. We offer studios, 1-4 bedroom suites and cottages, and 3-5 bedroom private home rentals. Included are complimentary shuttles to Edgartown; heated pools; fitness center; tennis; yoga; life-size chess; Concierge Services; Children's Programs; antique fire truck rides; and a path to South Beach. Also available: massages, bike rentals, and family friendly dining in our ocean-view restaurant, The Dunes – with an outdoor deck.
Book our Two-Island Adventure Trip. Start at Cape Cod and plan a beach getaway at the Winnetu Oceanside Resort and a stay at our sister property in downtown Nantucket, The Nantucket Hotel. We will transport you door-to-door between the islands and our Resorts.
134 Acapesket Road East Falmouth, MA, 02536 Phone: 508-548-4747 Toll-Free: 800-548-5556
The full bounty for a vacation to remember
Green Harbor is set in a beautiful wooded setting, with spacious lawns on a breathtaking ocean inlet. All waterfront rentals feature a slider to a balcony or patio overlooking the water. Rooms are heated and air conditioned, have private bath with tub and shower, cable TV, coffee maker, and free high-speed wireless Internet access. Soak in the relaxing Cape Cod experience with its lighthouses, nearby Martha's Vineyard, and Plymouth, site of the first pilgrim landing. Boat, fish, and beach comb in the private saltwater cove. Celebrate being near the ocean inlet and nature then head out for the many local attractions and activities that make this part of the world so inviting. Bring the family pet and make it a full-family vacation.
183 Main Street West Yarmouth, MA, 02673 Phone: 508-771-3666 Toll-Free: 866-469-8222
Cape Cod beckons you to the Cove!
Settle into the Cove at Yarmouth, the largest year-round resort on Cape Cod. 229 spacious suites and townhouses each featuring living room, master bath, wet bar, refrigerator, appliances, two LCD TVs, stereo and DVD. Two pools and a fully equipped fitness facility and spa will keep you active. Washers/dryers and nearby dry cleaner and convenience store will keep you supplied and looking your best. There's racquetball, volleyball, indoor and outdoor tennis and a children's play area. Dine by candlelight on-site and enjoy exceptional Italian Cuisine, specialty dishes and family priced meals. The Cove is near great Cape beaches, golf, sailing, fishing, biking and shopping. Take a day tip to Martha's Vineyard and Nantucket. Sail into the Cove, your harbor for exceptional vacation fun.
Route 7 Lenox, MA, 01240 Phone: 413-637-1469
Everything is here for that home away from home vacation
This magnificent resort sits on a secluded 223-acre estate sheltered in a scenic area and framed by breathtaking mountains and its picturesque pond. Forty-eight condominium units offer guests one and two bedroom condominiums, each with a master bathroom with Jacuzzi, kitchen, dining area, living area with a sleeper sofa, a deck, and fireplace. Recreational activities abound with an indoor and outdoor pool, exercise room with hot tub and sauna, plus tennis, basketball, a playground, rowboats and canoes, and trails for walking, hiking, biking or cross country skiing. For your convenience, wireless Internet access is available in all units and the Clubhouse at no extra charge. Offsite are the fabulous Berkshires with unlimited family activities, cultural events, historic sites, museums and more.
Several Wonderful Locations Nantucket, MA, 02554 Phone: 508-325-1000 Toll-Free: 800-475-2637
Exceptional service, accommodations on Nantucket
Everything is exceptional at the inns, cottages, lofts and residences that make up Nantucket Island Resorts. Luxurious accommodations range from spacious rooms at the White Elephant Hotel, Jared Coffin House and Wauwinet to cozy seaside cottages and stunning town lofts that open up onto cobblestone streets. Fine dining can be enjoyed at foodie-favorite Topper's at the Wauwinet, the popular Brant Point Grille at the White Elephant or the Jared Coffin House's Nantucket Prime steakhouse. Service begins with a pre-visit concierge to help you plan your stay. Berth your boat at a full-service marina; relax at a spa, pool or private beach; walk among the hydrangeas; or just enjoy the spectacular views to be found at each of the resorts.