Massachusetts Fairs & Festivals create festive fun in all seasons
For more fun activities, see Massachusetts Events page
Massachusetts folks celebrate their history and heritage all year round. Make a
cozy inn
your lodging headquarters and head out for fun, inspiration, and adventure. You'll find fairs and festivals with competitions, animal encounters, reenactments, fireworks and parades, barbecue dinners and pancake breakfasts. There are religious and ethnic
events
, hot air balloon rides, great music and dance; on the Fourth of July join the Boston Pops to celebrate Independence Day. Then keep on celebrating through the cranberry harvest and the winter holidays.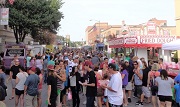 Kalon Farms - 339 Seven Bridge Road Lancaster, MA, 01523 Phone: 978-424-5483
Sample dozens of cuisines at this farm-based festival
Venture to the farm-rich center of Massachusetts for the August 26 Clustertruck Food Festival, where you can dig deep into a variety of foods that span many specialties, from trucks serving bacon or barbecue, right on to crepes and Asian fusion. Located at Kalon Farm in Lancaster, the food truck festival will rely heavily on local farms and food producers, which you can support economically with every bite you take. This is not about food only. Wachusett Brewery will selling beer and Kalon Farm will be offering wine tasting. You can give your taste buds a rest by taking the kids aside for bungee racing, laser tag, and shopping the works of local artisans. Bring a canned food donation for the Worcester County Food Bank.
61 Market Street, Unit 1C Lowell, MA, 01852 Phone: 978-459-6150
Festivals celebrate Merrimack's legendary history and characters
Greater Merrimack Valley is a deeply historic part of New England with a delightful variety of ethnicities, all with unique stories. Probably its best-known celebration is Patriots' Day in mid-April, when Minute Man National Historical Park in Concord hosts re-enactments of the opening battle of the Revolutionary War. The city of Lowell turns out some marvelous annual events, like the annual Lowell Folk Fest, serving up outdoor music all around the city, and the Lowell Celebrates Kerouac Festival, honoring the city's famous writer. The Southeast Asian Water Festival is among several fests that celebrate the city's ethnic heritage. The Yankee Doodle Homecoming Festival honors patriot Thomas Ditson of Billerica, the inspiration of the song "Yankee Doodle Dandy." Harvest, Christmas, October fests take their places in the seasonal lineup.
Harpoon Brewery, 306 Northern Avenue Boston, MA Phone:
September 29-30, 2017
This Octoberfest has been a tradition for decades for Boston's brew-loving population. The party serves Harpoon beer, German food, oompah bands, chicken dancing, keg bowling game, and German chocolate cake. Tickets are not sold in advance. Please pay entry fee in cash at the door. Must be 21 or older. Time: Friday, 5:30-11 p.m. and doors close at 9:30 p.m.; Saturday, 1-7 p.m. and doors close at 5:30 p.m. Admission: Entrance and one beer for $30 and entrance and two beers for $36. Shuttles will be running from South Station. Pick up is on Summer Street heading toward Fort Point Channel. The MBTA's Silver Line serves the neighborhood.