Massachusetts Fairs & Festivals create festive fun in all seasons
For more fun activities, see Massachusetts Events page
Massachusetts folks celebrate their history and heritage all year round. Make a
cozy inn
your lodging headquarters and head out for fun, inspiration, and adventure. You'll find fairs and festivals with competitions, animal encounters, reenactments, fireworks and parades, barbecue dinners and pancake breakfasts. There are religious and ethnic
events
, hot air balloon rides, great music and dance; on the Fourth of July join the Boston Pops to celebrate Independence Day. Then keep on celebrating through the cranberry harvest and the winter holidays.
61 Market Street, Unit 1C Lowell, MA, 01852 Phone: 978-459-6150
Festivals celebrate Merrimack's legendary history and characters
Greater Merrimack Valley is a deeply historic part of New England with a delightful variety of ethnicities, all with unique stories. Probably its best-known celebration is Patriots' Day in mid-April, when Minute Man National Historical Park in Concord hosts re-enactments of the opening battle of the Revolutionary War. The city of Lowell turns out some marvelous annual events, like the annual Lowell Folk Fest, serving up outdoor music all around the city, and the Lowell Celebrates Kerouac Festival, honoring the city's famous writer. The Southeast Asian Water Festival is among several fests that celebrate the city's ethnic heritage. The Yankee Doodle Homecoming Festival honors patriot Thomas Ditson of Billerica, the inspiration of the song "Yankee Doodle Dandy." Harvest, Christmas, October fests take their places in the seasonal lineup.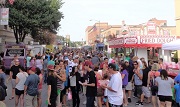 Kalon Farms - 339 Seven Bridge Road Lancaster, MA, 01523 Phone: 978-424-5483
Sample dozens of cuisines at this farm-based festival
Venture to the farm-rich center of Massachusetts for the August 26 Clustertruck Food Festival, where you can dig deep into a variety of foods that span many specialties, from trucks serving bacon or barbecue, right on to crepes and Asian fusion. Located at Kalon Farm in Lancaster, the food truck festival will rely heavily on local farms and food producers, which you can support economically with every bite you take. This is not about food only. Wachusett Brewery will selling beer and Kalon Farm will be offering wine tasting. You can give your taste buds a rest by taking the kids aside for bungee racing, laser tag, and shopping the works of local artisans. Bring a canned food donation for the Worcester County Food Bank.
African Festival of Boston 2017
Rose Kennedy Greenway Boston, MA Phone:
July 29, 2017
Come and explore the African continent's diverse music, drum call parade, African-style face painting, health and wellness, children and family pavilion and a day of Afro-fashion show through performances by local and internationally known African artists.Time: 11 a.m. to 7 p.m. Free (donation requested).
various locations Cape Cod, MA Phone:
July 7-16, 2017
Ten days of open gardens Cape-wide from Provincetown to Woods Hole. Take a glimpse into some of Cape Cod's most spectacular gardens during the 10-day festival. The festival will include tours of all types of private gardens organized by local nonprofits and museums, along with special hydrangea-themed events and promotions. Cape Cod Hydrangea Fest Opening Night Party is a at Cape Cod Beer on July 6, 6:30-8:30 pm. Party with garden lovers and try delicious food.
Greenfield Community College (I-91, Exit 26) Greenfield, MA Phone: 413-341-3317
July 14-16, 2017
The Green River Festival combines a lineup of dozens of acts on three stages, local food, beer and wine, handmade crafts, a dance tent, kids' activities and entertainment, hot air balloon rides and a balloon glow. Lineup includes: Lake Street Dive, Joe Russo's Almost Dead, The Mavericks, Houndmouth, Funky Meters, The Infamous Stringdusters, Rachael Price & Vilray, The Suitcase Junket, Amadou & Mariam, The Dustbowl Revival, Pokey Lafarge, Bridget Kearney, Darlingside, San Fermin, Big Sam's Funky Nation, Mandolin Orange, Robbie Fulks, Dan Bern, Chicano Batman, Big Al Anderson, John Brown's Body, River Whyless, Parsonsfield, Kat Wright, Larry Campbell & Teresa Williams, Western Centuries, Tank And The Bangas, Madam Uncle, Twisted Pine, The Deslondes, Sweetback Sisters, Fulaso, Pedrito Martinez Group, and Aliya Cycon Project.
Stage Fort Park, Hough Avenue Gloucester, MA Phone:
August 5, 2017
National and regional country acts will be performing at Stage Fort Park. Featured performers are Martin and Kelly, Stefanie Jasmine Band, Scarlett Drive, and Shanna Jackman. Plenty of convenient parking available as well as many food vendors on site. Admission: $30-$40 Time: Gates open 11 a.m.; music at noon.
358 George Carter Road Becket, MA Phone: 413-243-0745
June 21-August 27, 2017
Jacob's Pillow, America's longest-running dance festival, brings audiences, dancers, choreographers, composers, teachers, experts and novices together to enjoy the art of dance. This year, come to see the explosive footwork of the powerhouse Miami City Ballet, modern dance ensemble Paul Taylor Dance Company, UK-based artist Aakash Odedra, Camille A. Brown, and Japanese-born artist Eiko Otake in a special, site-specific piece during a limited engagement on the Pillow grounds..
Free Inside/Out Performances
on Wednesday evenings. Also: talks, exhibits, tours, classes, and dining.
Look Park, 300 N Main Street Northampton, MA Phone: 413-862-8095
July 15, 2017
Festival activities include Highland dance competition, Highland athletic competition, pipe and drum competitions, individual pipe and drum competitions, Scottish food and vendors, two entertainment stages, and lots more. New this year: The Brigadoons, and more music by Albannach, Screaming Orphans, The Brigadoons, and Charlie Zahm. Cost: Adults, $16; children age 6-12, $5. Time: 9 a.m.-5 p.m.
Revere Beach Blvd. Revere, MA Phone:
July 21-23, 2017
The festival draws 900,000 spectators from all over the country who come to watch master sand sculptors at work, Also; food trucks, live entertainment, local vendors, exhibit booths, children's sand sculpting lessons, and fireworks. Take the MBTA Blue Line to the Wonderland or Revere Beach stops. Free parking and shuttle service to the T will be available at Suffolk Downs. Parking is also available at the Wonderland Garage.
Time: Saturday, 10 a.m.-10 p.m.; Sunday, 10 a.m.-8 p.m.