Massachusetts zoos, aquariums, animal parks are excellent, world-famous
The exciting and mysterious worlds of
science and nature
are on display around Massachusetts for a day of fun and learning for children and adults. Zoos bring you up close for animal encounters and interactive exhibits with large and small, exotic wildlife from here and around the world. Aquariums feature saltwater and freshwater tanks to offer a unique view into sea life and to serve as an introduction to marine ecology.
Family friendly lodging
nearby your destination makes your visit all the more fun.
2 Southwick Street Mendon, MA, 01756 Phone: 800-258-9182
Bringing the wildlife to a place near you
A highly accessible zoo, New England's largest presents enough entertaining and enlightening animal attractions, exhibits and encounters to take your breath away. 115 species of animals both large and small await your visit and you can learn all about them at the Earth Discovery Center. There's a 35 acre deer forest, a petting zoo, and parakeet aviary to experience on foot, or you can ride the Woodlands Express train, or the Skyfari Sky Ride to meet elk, chimpanzees, camels, alligators, zebra. and ostrich from inside or above. Don't miss the big cats, snakes, dragons, and the always popular Madagascar Hissing Cockroach. Southwick's Zoo is handicap accessible and parking is free.
One Franklin Park Road Boston, MA, 02121 Phone: 617-541-5466
A great park and a great Zoo for a truly great time
The seventy-two acre Franklin Park Zoo is located in the northeast portion of the park, Boston's largest, and the last component of the city's famed Emerald Necklace. Featured attractions are wildlife from around the world like African lion, Masai giraffe and Grevy's zebra each in their own special exhibit such as the Kalahari Kingdom and the Giraffe Savannah. The Tropical Forest is home to western lowland gorillas, lemurs, mandrills and more. The Aussie Aviary presents a wonderful free-flight, interactive bird adventure open seasonally and home to hundreds of brightly colored budgies. Opened to the public in 1912, it is operated by Zoo New England, which also operates the Stone Zoo in Stoneham and both are accredited by the Association of Zoos and Aquariums (AZA) since 1990. Closed Thanksgiving and Christmas.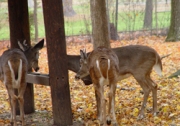 300 North Main Street Florence, MA, 01062 Phone: 413-584-5457
Talk to the animals who have stories to tell
Visit Christenson Zoo in Look Park and listen to the sounds, feed the animals, and learn how they live. The fallow deer are all related and share the same buck for a father. There are strutting peacocks, clucking chickens, adorable pygmy goats, a proud Bald Eagle, Red-Tailed Hawks, Barred Owls and much more. The hawks, eagle, owls and turkey vultures are all rescued animals that would not survive in the wild because of injuries and enjoy safety and care in Look Park. Bring the family, plan a birthday party, an outing for your company, school or youth group and enjoy. The zoo is a free attraction and meets all safety and animal care criteria established by the USDA and MSPCA.
149 Pond Street Stoneham, MA, 02180 Phone: 617-541-5466
Large and exotic animals spoken here
Once a small collection of local animals, the Walter D. Stone Memorial Zoo is today a medium sized zoo on 26 acres near the Spot Pond reservoir and features a veritable cavalcade of exotic and larger species animals from around the world. Over its lifespan the zoo has launched new attractions and state-of-the-art exhibits including a large free-flight aviary. In the 70's and 80's, it began breeding endangered species. Featured are elephants, giraffes, zebras, pygmy hippopotami, sea lions as well as monkeys, wolves, jaguars, cougars, and a wildly popular black bear exhibit. Named for its inspirational director during the mid 20th century, the zoo is operated by Zoo New England and is an accredited member of the Association of Zoos and Aquariums (AZA). Open year round except Thanksgiving and Christmas.
Maria Mitchell Association Aquarium
28 Washington Street Nantucket, MA, 02554 Phone: 508-228-5387
Open: Seasonally; call for hours.
Satwater and freshwater tank exhibition and a gift shop with unique gifts for all ages. The aquarium is the starting point for marine ecology field trips led by staff members. There is an admission fee.
Lupa Zoo
62 Nash Hill Road Ludlow, MA, 02051 Phone: 413-583-8370
Non-profit wildlife facility dedicated to promoting appreciation and respect for the conservation of animals and their ecosystems; while offering enjoyable, educational and family-oriented experiences in an urban recreational setting. Open daily April-November from 10:00 AM – 5:00 PM.

Capron Park Zoo
The zoo has revitalized itself with new exhibits and animals from all over the world: African lion cubs, North American river otters, snow leopards, and creatures of the rain forests. Activities give children the chance to handle small animals, conduct daily rounds with zookeepers, and to clean exhibits and feed animals. If the day is hot, kids can take a break in the mist tent for a gentle, cooling shower.