Massachusetts resorts pamper with luxury spa services for your getaway
Resorts, hotels, and stand-alone spas of Massachusetts welcome you to a relaxing day treatment or overnight spa visit during your family vacation,
romantic interlude
, or getaway with friends. Spas and lodgings with spa services stretch from the tip of Cape Cod to the Berkshire Mountains. State-of-the-art treatment centers pamper you with massage, wraps, scrubs, facials, and on and on -- the list is long. Overnight packages and other deals and discounts are easy to find.
Spas often are accompanied by fitness facilities, Jacuzzi, hot tubs, and fitness classes like yoga. The Langham in Boston employs the five principles of Traditional Chinese Medicine along with oils, incense, and teas to help guests feel rested and rejuvenated. On a vacation or weekend stay, couples can enjoy a duo treatment, or spend some time apart as one person enjoys the spa and the other takes advantage of nearby
opportunities for golf
,
places to hike
or shop. Read the listings before and plan your spa getaway today.
10 Huntington Avenue Boston, MA, 02116 Phone: 617-262-9600 Toll-Free: 888-627-7216
Relax and rejuvenate with spa treatments and healthy food
The Westin Copley Place is the place to stay if you're looking to relax and rejuvenate during your visit to the city. Our Grettacole Spa features all the latest treatments to soothe your spirit and bring out your natural beauty. Try a vitamin infusion or an anti-aging and radiance treatment. Enjoy a facial or a relaxing massage. The hotel features an indoor pool and a 24-hour fitness center. For just $5, we can provide New Balance athletic shoes and apparel for use during your stay. Enjoy a healthy breakfast at our Huntington Boston restaurant, open weekdays from 6:30 to 11 a.m. and weekends until noon. Options include Greek yogurt with berries or fruit and oatmeal pumpkin pancakes, served with nutmeg butter, agave nectar, and fresh berries.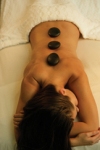 Route 20 - Lee Road Lenox, MA, 01240 Phone: 800-272-6935
Get your body and soul back in the heart of the Berkshires
Everything is here for a scenic Berkshires break in your routine. Breathtaking views, 114 gracious guest rooms and outstanding amenities and service, and three acclaimed restaurants for fine, casual and family dining and cuisine: Wyndhurst and the Music Room, the Gilded Age Mansion, and Sloane's Tavern. Settle into this fine all-season resort and spa featuring a 35,000-square-foot state-of-the-art facility with a 60 foot indoor pool, fitness center, and 16 treatment rooms. A wide array of 50 spa and wellness services from soothing massages and detoxifying wraps to rejuvenating skin and body treatments are individually designed for your needs by highly trained specialists. For more fun and activity there are 380 acres with an historic 18-hole golf course, tennis courts, and x-country ski trails.
776 Boylston Street Boston, MA, 02199 Phone: 617-535-8888 Toll-Free: 866-796-5475
Sublime Style in the beautiful Back Bay
We offer beautiful rooms, fabulous food and one of the city's best spas. Mandarin Oriental, Boston enjoys a landmark location on the city's famous Boylston Street. Our rooms and suites exude a sense of classic luxury. A unique taste of Boston is your to enjoy at Mandarin Oriental, Boston; sample our fresh, delicious, flavorful dishes, delightful cocktails and healthy spa cuisine.
Three Battery Wharf Boston, MA, 02109 Phone: 617-994-9000 Toll-Free: 800-257-7544
A collection of spa, fitness, healing and relaxation programs
Boston's newest and highly acclaimed full-service Exhale Spa has officially opened its doors to hotel guests, residents and the local community at The Battery Wharf Boston! Designed as a center of well-being, Exhale Battery Wharf integrates spa, fitness, healing and relaxation programs. Inside the light-filled sanctuary are spacious studios where guests can experience Exhale's revolutionary mind body classes, including Core Fusion®, Core Fusion® Cardio, Core Fusion® Sport, Core Fusion® Yoga and Music Yoga Flow. Exhale's skin care and body therapies are mindful, effective, and administered by a team of experienced practitioners dedicated to healing and transformation.
Slip into one of our luxurious robes and experience our results-oriented spa and wellness therapies.
70 Rowes Wharf Boston, MA, 02119 Phone: 617-439-7000 Toll-Free: 800-752-7077
Spa Retreat at the Boston Harbor Hotel
Relax, unwind and rejuvenate as you enjoy a customized Spa Retreat at the Boston Harbor Hotel. Step away from the fast pace of everyday life and take time to focus on wellness.
The Spa Retreat Package includes:
Luxurious harborview accommodations featuring panoramic views of Boston's glistening waterfront
Spa amenity
Choice of two specialty 50-minute massage treatments
Three-Course Spa lunch for two at the Pool Lounge or Rowes Wharf Sea Grille
Complimentary use of 60 foot indoor swimming pool and Health Club
*Please call the hotel direct to secure this package or visit
http://www.bhh.com/spa
.
Package available Thursday - Sunday.
Packages and Rates are subject to availability.
100 Stuart Street Boston, MA, 02116 Phone: 617-261-8700
The Spa is Bliss - the rest is rapture
This fun, flirty and fabulous Boston Hotel offers guests splendor, serenity and special touches at the Bliss Spa. The background music is jazzy blues tunes and the pampering treatment rooms are for massages, wraps, manicures/pedicures, facials and highlighted by their very special Ginger Rubs, Hangover Herbies, Betweeny Waxes and Triple Oxygen Treatments. You'll find separate men's and women's locker rooms and lounges featuring steam showers and sinkside samples. Boston guests can also look forward to "BIP" (Bliss Important Person) status for priority reservations and exclusive in-room samples and amenities. A restorative urban retreat, it energizes with a signature menu of spa services, from massages, body treatments, and facials to beautifying services, including waxing and manicures/pedicures.
35 Landmark Drive Plymouth, MA, 02360 Phone: 508-209-2626 Toll-Free: 877-647-2328
Take the plunge into comfort and relaxation
Come to Mirbeau Inn & Spa at The Pinehills in Plymouth, and you'll forget that grueling commute and the ten-hour work days. Instead, you'll find rejuvenation at Mirbeau, a 50-guest room spa retreat combining the amenities of a gracious French manor house and a world-class spa. In this protected place of elegance and comfort, you can unwind and rejuvenate with a variety of spa treatments as well as our steamrooms, Resting Area, and fitness classes such as yoga and indoor cycling. Guests can rest at our Aqua Terrace, an outdoor oasis offering a relaxing hot whirlpool, waterfall, and bar. We offer many spa packages to make it a getaway!

Mirbeau accolades include AAA Four Diamonds and Conde Nast Top 20 Resorts in New England and Top 100 Hotels and Resorts in the World.
2907 Main Street (Route 6A) Brewster, MA, 02631 Phone: 508-896-9000 Toll-Free: 800-343-6074
Add some extra getaway to your Cape Cod getaway
The new Beach House Spa at Ocean Edge Resort & Golf Club is the perfect place to pamper and feel your best as you celebrate a wedding, a memorable vacation or just a little "me" time. The Spa offers a variety of treatments including manicures, pedicures, massages and facials -- including the popular Hydrafacial – and features all-natural and cruelty-free skincare products from Farmaesthetics. The Spa's airy and elegant Side Porch is the perfect setting for bridal parties, baby showers, birthday nail parties -- catering to guests' every whim with food and beverage service. In the summer months, the Beach House Spa offers wellness programming including Meditation, Acupuncture Happy Hour, Drumming on the Beach and more. The Beach House Spa is open to the public.