Especially off-season, Massachusetts offers grand places for an affordable wedding
The words enchanting and affordable easily describe the wedding you and your loved one are planning in historic and scenic Massachusetts. For accommodations, think of old
inns
and
boutique hotels
,
resorts
and
waterfront lodgings
. Take your vows in the Berkshires, the Pioneer Valley, or by the sea along the scenic coast from Newburyport to Cape Cod. You'll find spacious and intimate places for your rehearsal dinner, ceremony and reception, and comfortable lodgings in picturesque settings offering every amenity. Off season is an affordable time to celebrate the wedding of your dreams in style and within budget in cities, towns, and quaint villages all across the state.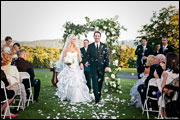 Route 20 - Lee Road Lenox, MA, 01240 Phone: 800-272-6935
A variety of options for your wedding day at this Berkshires spa
You can have your wedding ceremony at one of the largest spas in the Northeast, complete with historic buildings and the beautiful Berkshires in the background, without breaking the bank. Wedding staff at the Cranwell Spa & Golf Resort will work with you to choose the perfect package, which includes the wedding suite on your wedding night and special rates for guests. Would you like your ceremony on the Mansion front lawn? Your rehearsal dinner or reception in the newly renovated Harvest Barn? A Music Room farewell brunch buffet prepared by award-winning chefs? Or, to take advantage of lower rates, consider asking about last-minute availability. And, if it's just the two of you, ask about the elopement package, which includes the ceremony and a two-night stay in the wedding suite.
1 Old Sturbridge Village Road, off Route 20 Sturbridge, MA, 01566 Phone: 508-347-3362 Toll-Free: 800-733-1830
An historic wedding setting to fit your budget
Step into history and a future together on 200 acres of pristine New England countryside. Old Sturbridge Village offers an experienced staff to work with you to create a memorable and affordable wedding. Stay within your wishes and budget from start to finish, from rustic to modern. On-site lodging is available for the bride and groom, wedding party, and guests. Choose from more than 40 nineteenth-century buildings, several gardens, two gazebos, dozens of fireplaces, and a covered bridge for your indoor or outdoor, daytime or evening ceremony. Your reception can be held at the modern Oliver Wight Tavern, or in the rustic charm of the 19th-century Bullard Tavern. Winner of the 2017 Wedding Wire and Tie the Knot Awards.
Historic Shore Street Falmouth, MA, 02541 Phone: 508-540-3000 Toll-Free: 800-352-7100
Affordable wedding destination with all the trimmings
Off season is a great time to visit Cape Cod and it's also an affordable time to celebrate your wedding at this unique inn in beautiful and historic Falmouth. Explore well-priced options from November through early June that are seldom available on the Cape during other times of the year. Your wedding party and registered overnight guests will enjoy 80 charming guest rooms and a hot breakfast bar daily. Plan a lobster clambake or themed wedding reception with dining and dancing indoors or in tented venues on site. The inn can provide customized decorations, personalized printed menus and whimsical props to go along with a cost-saving B.Y.O.B. Cocktail Service and memory-making rehearsal dinner. Call for available dates for your engagement party, rehearsal dinner, ceremony or reception.
44 Middlesex Turnpike Bedford, MA, 01730 Phone: 781-275-5500
Wedding packages cut back costs, not amenities
Seeking a convenient wedding site where the couple will still be able to afford a honeymoon? Look no further than the DoubleTree by Hilton Hotel Boston-Bedford Glen, just 18 miles from Boston. The hotel's affordable wedding packages include cocktail and dinner receptions, three- and four-course dinners, fresh flowers on tables covered by floor-length linens, a wedding planner, a photo room for the wedding party, a suite for the wedding couple, two additional complimentary guestrooms and discounted rates for your wedding room block. Choose an outdoor wedding on the flower-lined terrrace amid 24 wooded acres or select one of two elegant ballrooms. A professional and experienced wedding staff will help you create the customized wedding of your dreams without breaking the bank.
297 North Street Pittsfield, MA, 01201 Phone: 413-358-4741
A Berkshire wedding can be yours without breaking the bank
You can be treated like royalty at your wedding without having to pay a king's ransom to make it happen. Talk with the experienced staff at Hotel on North, a Berkshires boutique hotel that celebrates its Victorian-era roots and its urban-chic touches. They will work with you to create an affordable package for your big day, to include everything from pre-ceremony parties to post-ceremony lodging in one of the hotel's individually appointed luxurious rooms or suites. Whether you are seeking an intimate ceremony in a comfortable room or a dramatic reception in The Hall, with its 11-foot ceilings and vintage chandeliers, Hotel on North is ready to make your wedding spectacular without a spectacular bill.
277 Main Street - Route 131 Sturbridge, MA, 01566 Phone: 508-347-3313 Toll-Free: 800-782-5425
Marry in historic style for less than you think
Celebrate the New England wedding of your dreams at a price you can afford at this historic full-service destination wedding venue in Sturbridge, MA. Since 1771, rustic charm and Yankee hospitality have brought couples here to say their vows. Choose from year-round wedding packages for small intimate affairs and larger ceremonies and receptions in private banquet rooms and picturesque country settings that can accommodate up to 220. The experienced team of wedding consultants will help you address every need from time-lines, menu and linen selections, seating plans, and lodging, to custom designed wedding cakes created by the talented pastry chefs in the renowned Bake Shoppe. You'll also receive the prime vendor listing of florists, entertainment, photographers, horse drawn carriages, and more.
30 Main Street Stockbridge, MA, 01262 Phone: 413-298-5545
A Red Lion Inn wedding to fit your budget
The wedding of your dreams can fit your budget when you celebrate at the historic Red Lion Inn. Be it a civil union, wedding & commitment ceremonies, or other relationship celebration, the Inn's experienced and LGBTQ –friendly staff will assist you every step of the way. There are affordable options for wedding venues for the rehearsal dinner, the ceremony, reception, and/or morning after brunch. And the Inn will help you identify vendors for everything from Justices of the Peace, limousines, and photographers, to flowers music and more. Executive Chef Brian Alberg and his staff will offer menus that reflect New England culinary traditions, natural flavors and local ingredients to create fresh and contemporary dishes for both buffet and sit down dinner.
1 Cathedral Avenue Rockport, MA, 01966 Phone: 978-546-6321 Toll-Free: 800-964-5550
Rockport inn weddings designed to fit your dreams and budget
The Emerson Inn is more than an exquisite site for weddings, with its ocean views and varied venues, each offering its own charms. It is also a place devoted to the idea of giving the wedding couple the ceremony and reception that fits their vision – and their budget. Whether you are having a small elopement or a huge wedding, dedicated coordinators will help you choose a venue, from the inn's sweeping lawn and gardens to the spectacular ocean-view Grand Parlor; catering menu, from buffets to formal plated dinners, including kid-friendly options to contain costs; and all the other details (music, florists, photos, cake) that will make your day, and night, magical. Affordable packages are also available for guest accommodations.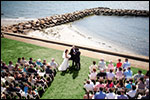 1 Lighthouse Inn Road West Dennis, MA, 02670 Phone: 508-398-2244
A romantic wedding with a price to make your dreams come true
An affordable wedding on Cape Cod is not a dream, nor is an oceanfront ceremony, breathtaking views, historic charm and unsurpassed service! It's all here at this charming Inn. Our extensive reception menu offerings include plated meal and food station packages at several different price points. Special rates for overnight accommodations, including a full breakfast buffet each morning, are offered to wedding guests in the spring and fall. There are no hidden fees, including no function room rental fee. Using the expertise and experience attained over twenty years at Lighthouse Inn, our wedding coordinator will guide and assist you through the entire planning process to insure your special day is everything you've dreamed of but still within your budget!
180 Water Street Plymouth, MA, 02360 Phone: 508-747-4900 Toll-Free: 866-719-8185
A wedding day is brighter when your budget fits well
There's nothing like an enchanting wedding to begin the rest of your life together on the right note. The elegant and historic Hotel 1620, on a downtown waterfront location, is a beautiful place to start, and we want to prove that the bride's special day doesn't have to cost a fortune. More than the wi-fi is complimentary and convenient, such as the relaxing sauna and well-equipped exercise center. As well as spacious reception and banquet areas, there is a breakfast restaurant on-site and a full-service bar and lounge. Our catering specialists will fine-tune a menu to the exact needs of you and your guests. Everyone will have a fine time – and you will enjoy an affordable one as well.
37 Corey Road -- Route 43 Hancock, MA, 01237 Phone: 413-738-5500 Toll-Free: 800-882-8859
Venues (and views) for every budget at mountain resort
At Jiminy Peak Mountain Resort, you can have the wedding of your dreams without the nightmare of coming home to a huge after-the-honeymoon bill. Let the resort wedding planners help you craft a ceremony, reception and menu to fit your budget. And that doesn't mean skimping on the details to make your day memorable, from a breath-taking mountaintop ceremony and lodge reception for all your friends and family, up to 350 folks, to a more intimate setting of up to 40 people in a cozy country inn. One thing every venue features that comes totally free: the amazing vistas seen from 2,380 feet up. That panoramic view, coupled with the resort's impeccable service, is guaranteed to make your wedding a dream.
58 Washington Street Marblehead, MA, 01945 Phone: 781-631-2186
Plan your affordable wedding in an historic and romantic setting
An affordable wedding in one of the country's top ten romantic inns has a nice "ring" to it. Set in two elegant Federalist mansions filled with working fireplaces, the buildings have been connected to form an elegant Inn. You're in the heart of the historic harbor district in a town full of fine shops, galleries and great restaurants. You and your family and friends will find every luxury and amenity including an intimate and popular Tavern plus first class accommodations and amenities found in only the finest of lodgings and hotel facilities. And the concierge will see to it that every detail from local florists, photographer, rentals, caterers, to off-site local event locations will be addressed without breaking your budget.