Beautiful Fall Foliage in Massachusetts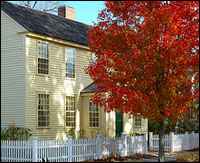 Massachusetts – especially in the Central region and the Berkshire Mountains – has lofty peaks and gorgeous river valleys that are ideal for seeing the leaves change color during fall foliage season. Great views of fall color – starring the sugar maple -- also are found in the North of Boston Cape Ann region, and around Plymouth, where cranberry bog harvests brighten the landscape. Choose a scenic foliage drive below. Finally...watch for farm stands and pick-your-own farms!
Getting Ready
See useful information about when to visit, how to find color, and what to wear and pack
HERE.
More Resources:
Where to Drive
Find directions and tips for great views and attractions for at the drive tours described below.
BERKSHIRES and WESTERN MASSACHUSETTS
The Mohawk Trail (Route 2) Western – Greenfield to North Adams
You could hardly find a more beautiful road than Route 2, the Mohawk Trail. This historic road travels through the northern Berkshire Mountains. One starting point is Greenfield and Rocky Mountain Park on the Connecticut River. The park is a unique forested ridge stretching two miles along the river. The park has hiking and biking trails and the popular Poet's Seat Tower. Nice for walking, bird-watching, peaceful contemplation, or for tiring out young children.
Shelburne Falls, farther west of Route 2, is a pretty town on the Shelburne River and right in its center is the famous
Bridge of Flowers
, a former trolley bridge that is planted with 500 varieties of flowers, vines, and shrubs. It is open April 1 to October 30. Stroll to 1 Ashfield street to visit the Salmon Fall Artisans Showroom and to watch the river racing over a mesmerizing falls. (This is the location of several scenes from the feature movie, "The Judge.") With some advance planning, you can schedule a zip line tour at
Zoar Outdoor
or
Berkshire East
, both in Charlemont, on or very close to Route 2. Or continue on through the Mohawk State Forest. Before you get to the next major town, North Adams, you will navigate a
crazy
, nearly 360-degree hairpin turn, with the Golden Eagle Restaurant at the very tip. You cannot fall off the mountain, but brace yourself anyway. North Adams is full of culture and shopping and interesting sights. If you are ending your day here, enjoy a nice meal. Or if you have at least 2 more hours of driving and viewing in you, continue through North Adams on Route 2 and turn left onto Notch Road for a drive to the stunning summit of Mount Greylock (see next entry).
Visitor Center, 30 Rockwell Road
Lanesborough, MA
The eight-mile drive from the Visitor Center to the top of Mount Greylock in the Berkshires is a magnificent adventure. October foliage colors are glorious. The summit is 3,491 feet and it yields views of the Green Mountains of Vermont and the Taconic Range. At the top is Bascom Lodge , offering meals and overnight accommodations. Also at the top is an elegant tower dating from 1932 and honoring the state's fallen soldiers. Access road closes November 1.
Directions to Visitor Center from the south, east or west via MassPike (I-90): Take Exit 2 in Lee. Follow US Route 20 west to US Route 7 north to Pittsfield for 11.8 miles. From downtown Pittsfield continue north on US Route 7 to Lanesborough for 6.6 miles. At the brown Mount Greylock sign turn right onto North Main Street. Follow the brown lead-in signs 1.5 miles from Route 7 to the Visitor Center and park entrance. Driving distance from Visitor Center to summit is 8 miles.
Directions from Route 2 / Mohawk Trail: Turn south onto Notch road from Route 2, just 1.3 mile west of downtown North Adams

Brake for Farm Stand! – If you are headed up Mount Greylock from the southern, Lanesborough direction, make a stop at Lakeview Orchard at 94 Old Cheshire Road in Lanesborough. Enjoy the panoramic views of Hoosac Lake and stock up for your adventure with apples, apricots, plums, and homemade pierogi, golumpki, ravioli, and gnocchi. (413-448-6009).
The Connecticut River starts at a pond near the New Hampshire / Canada border and swells to a 410-mile north-south waterway, bisecting the region until it empties in Long Island Sound near Essex, CT. The Massachusetts part of the Connecticut River National Byway cuts through the center of the state, from Northfield at the northern end to South Hadley at the southern end, mostly along routes 63 and 47. Distance between Northfield and South Hadley is 37 miles.
South Hadley is home to Brunelle's Marina on the Connecticut River at 1 Alvord Street. You might choose to suspend your road trip for a short river cruise on the Lady Bea , docked at Brunelle's Marina. The 75-minute cruise meanders up the Connecticut River to Northampton. The pristine water, unspoiled views, sandy beaches, and interesting history are fun and wonderfully informative. Cruises run from Memorial Day to Columbus Day. (413-315-6342).

Brake for Farm Stand! North Hadley Sugar Shack at 228 River Drive in Hadley is a fun place to browse and stock up on maple products, honey, pancake mix, jams, deli meals. Open daily. If you're traveling with kids, the Farm Tale is a 2-acre farm animal play park, May to October, where families can learn about farm animals and enjoy all of the kid friendly play equipment. (413-585-8820).
Moving along routes 63 and 47, you are traveling through the bread basket of Massachusetts. You will see plenty of beautiful fall foliage as well as farms, town centers, panoramic views of rolling hills, forests, and pastures. Many farms that date back more than 100 years, including the Mount Toby Dairy Farm in Sunderland. You can indulge your sweet tooth when you reach the Northfield Creamie in Northfield, the northern terminal of this drive.
Here are some of the parks that make a good side visit along this drive: Skinner State Park just south of Hadley offers access points to the New England National Scenic Trail. At the peak of Mount Holyoke in Skinner Park, you can explore The Summit House, a 19th-century hotel. Mount Sugarloaf in Deerfield, Mount Toby in Sunderland, and Mount Holyoke in Hadley all offer hiking opportunities with spectacular views of the valley.
------------------------------------------------------------------------------------------------
CENTRAL MASSACHUSETTS
The Mohawk Trail (Route 2) Eastern – Harvard to Northfield
Route 2 is a beauty, passing through small towns and glorious views. A nice start can be in the town of Harvard, home of Fruitlands Museum. Founded in 1914, the museum takes its name from am 1843 utopian community led by Bronson Alcott (father to writer Louisa May Alcott) on this site. Today, visitors can explore a historic farmhouse, a Shaker Museum, a gallery of Native American art, a gallery with paintings of the Hudson River School, and lots of walking trails.
Continue west on Route 2. In Phillipston, plan a stop to stretch your legs and buy some treats At Red Apple Farm at 455 Highland Avenue (978-249-6763). Brace yourself for apples and cider, cider donuts and kettle corn, and cheeses. If you want to plan a sit-down meal, Johnson's Farm at 210 Wheeler Avenue in Orange, just a bit farther west on Route 2, serves meals and offers a neat gift shop. Homemade breads and maple syrup to take home, too!
A wonderful experience awaits you at Northfield Mountain Recreational and Environmental Center at 99 Millers Falls Road in Northfield (800-859-2960). Located along a beautiful sweep of mountainside, with facilities along a 7-mile stretch of the Connecticut River, this recreational center has 26 miles of trails, canoeing or kayaking at Barton Cove, nd a guided riverboat cruises on the 60-seat Quinnetukut II. Also, rock climbing at Rose Ledge for foliage views.
------------------------------------------------------------------------------------------------
NORTH of BOSTON / CAPE ANN
Rockport / Gloucester / Essex / Newburyport
This drive tour will take you past or through some of the prettiest coastal towns of New England. You will see beautiful foliage and other autumnal sights, like pumpkin patches and corn mazes. Plan to get out of the car and explore often.
Rockport, at the tip of a peninsula jutting into the Atlantic, is famous for its many great galleries. Walk out onto Bearskin Neck for souvenir shopping and look at Motif No. 1, the often-photographed fishing shack, and Straitsmouth Island Lighthouse. Dock Square and Main Street are chock full of shopping and artwork. We love Toad Hall Bookstore. It is packed with new and used books and local characters.
Take Route 127 southwest to …
Gloucester is a historic fishing port, made famous by the movie "The Perfect Storm." Take a look at the stalwart image of the men who brought you that seafood dinner at the Gloucester Fishermen's Memorial on Western Avenue. The Annisquam Lighthouse on Wigwam Point River is a beauty. Dogtown is an unusual walking park north of town, off Route 27. It is a wild area filled with mysterious mottos carved into boulders, mementoes of a vanished community.
Take Route 128 and then Route 133 west to …
Essex is a pretty town is immersed in ship building history, antique shops, and surrounded by beautiful marshes and marsh meadows. For a beautiful side trip to the shore, take Argilla Road from Ipswich out to Castle Hill on the Crane Estate. An elevated view from the hill gives you a cloud's-eye view of gorgeously marshes and marsh meadows spread all around you.

Brake for Farm Stand! – If you go to Ipswich, be sure to stop at Russell Orchards, 143 Argilla Road in Ipswich. It's a lush farm stand – actually, a beautiful barn -- with food, wines, plants, books, food and farm gifts, pick-your-own crops in season, and animals to visit. (978-356-5366).
Newburyport is on a tidal portion of the Merrimack River, just upriver from the Atlantic. It is a place of wonderful art galleries. Here is a side trip to a beautiful coastline wildlife refuge where you will not see fall foliage; but we recommend that you don't miss the chance to visit Parker River National Wildlife Refuge on Plum Island. (Follow Water Street out of Newburyport to Plum Island Turnpike.)
------------------------------------------------------------------------------------------------
BOSTON REGION
Lexington to Lincoln to Concord
This drive, starting in the town of Lexington, is only six miles, but it takes you through beautiful scenery and also the flash points of the early years of the American Revolution. History buffs may want to park in Lexington and take a narrated bus tour with Liberty Ride. The tour passes sites like the Lexington Battle Green, North Bridge, Battle Road, Orchard House, Colonial Inn, the Old Manse, Concord Museum, and Emerson House. (Tours offered through October 25).
From Lexington, drive to the Minute Man National Historical Park at 250 North Great Road (Route 2A) in Lincoln, and explore this fine park. Next, get on Route 2A and then switch to Lexington Road, into Concord. This pretty town will charm you with its Colonial flavor. Stop for a meal at Concord's Colonial Inn, built in 1716 and Listed on the National Register of Historic Places. The inn is surrounded by landmarks of literary and revolutionary history.
Find
more
Scenic Drive Tours in Massachusetts
.