Information & visitor centers in Massachusetts smooth out your MA travel
Travel in Massachusetts includes a stop at well-stocked and -staffed visitor and information centers. You'll find many here offering helpful guidance about lodging, food, shopping, major
events
,
festivals
, and attractions plus videos, films, exhibits, directions, maps, brochures, even schedules, tickets, and rentals. Many provide picnic tables, handicapped accessible restrooms, vending machines and gift shops with local products, stamps, and sundries You might even find a rocking chair to sit a spell and catch your breath.
Visitor Center - 134 Court Street Plymouth, MA, 02360 Phone: 508-747-7533 Toll-Free: 800-872-1620
We'll Tell You All About Plymouth
In Plymouth, Massachusetts, one of your first stops should be at the Visitor Information Center, at the Rotary across the street from Plymouth Harbor. The Center contains a wealth of information and a friendly staff to help you navigate your way around "America's Hometown". Find brochures about attractions, restaurants, shopping, and lodging, special events. Pick up the Dining and Activities Guide.
Hours: April 1-November 1, daily; 9 a.m.-5 p.m. during spring and fall; extended evening hours until 8 p.m. in mid-summer.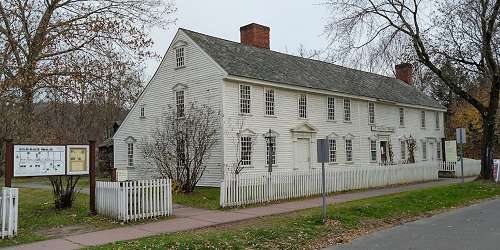 5 Main Street Greenfield, MA, 01301 Phone: 413-773-5463
Franklin County is the most rural county in the Commonwealth of Massachusetts, filled with farms, fields, valleys, historic villages, and bustling towns. Also: fine museums, educational institutions and cultural centers.
Hours: Chamber office is open year-round, Monday-Friday, 8:30 a.m.-4:30 p.m.
Information: www.franklincc.org
Nantucket Island Visitor Services and Information Bureau
25 Federal Street Nantucket, MA Phone: 508-228-0925
This visitor center produces a tourism and visitor brochure that includes useful information like ferry schedules, and car and bike rentals, and sightseeing tours guides. The center maintains a list of available lodgings, updated daily. Restrooms.
Information: www.nantucket-ma.gov/pages/NantucketMA_Visitor/whatisvs
Province Lands Visitor Center -- Cape Cod National Seashore
Race Point Road, off Route 6 Provincetown, MA Phone: 508-487-1256
The observation deck at this Visitor Center provides a 360-degree view of the Province Lands dunes, the Outer Beach and the Atlantic Ocean. From this location you can see Race Point Ranger Station, Race Point Beach, the Old Harbor Life-Saving Station and the Pilgrim Monument in Provincetown. Exhibits about local plants and animals and the Pilgrim's landing in Provincetown are featured. The indoor theater routinely screens five short films daily on a rotating schedule. Eastern National has a bookstore with books, tapes, videos, toys and gifts all related to some aspect of Cape Cod and the National Seashore.
Hours: Daily from May 1 through October 31, 9 a.m.-5 p.m.
Information: www.nps.gov/caco/planyourvisit/visitorcenters.htm
Mount Greylock State Reservation Visitor Center
30 Rockwell Road Lanesborough, MA, 01237 Phone: 413-499-4262
At 3,491 feet, Mount Greylock is the highest point in Massachusetts. Rising above the surrounding Berkshire landscape, dramatic views of 60-90 miles distant may be seen. The Visitor Center offers trail maps and orientation, regional tourist information, and exhibits on natural and cultural history of the park.
Hours: Daily, Memorial Day through Labor Day, 9 a.m.-5 p.m.; September through May, 9 a.m.-4:30 p.m.; closed Thanksgiving, Christmas, and New Years Day.
Information: www.mass.gov/dcr/parks/mtGreylock/index.htm
15 State Street Boston, MA Phone: 617-242-5642
This is the National Park Service site for Faneuil Hall, Old South Meeting House, the Paul Revere House and Old North Church. Visitor centers and sites are open year-round; handicap accessible; restrooms.
Faneuil Hall Visitor Center, open daily, 9 a.m. to 6 p.m.
Charlestown Navy Yard Visitor Center, open daily, 9 a.m. to 5 p.m., later in summer.
Bunker Hill Monument, open daily from 9 a.m. to 5 p.m. Last climb at 4:30 p.m.; later in summer.
Battle of Bunker Hill Museum, open daily from 9 a.m. to 5 p.m. ; later in summer.
USS Constitution, November 1 - March 31, open Thursday through Sunday, 10 a.m. to 4 p.m. April 1- October 31, open Tuesday through Sunday, 9 a.m. to 6 p.m.
Boston Harbor Islands Pavilion and Information Center
On the Rose Kennedy Greenway between Long Wharf and Faneuil Hall Boston, MA Phone: 617-223-8666
At the information center, you can oriented yourself to the harbor and park's 34 islands; learn about free daily activities; pick up brochures, maps, schedules, ferry tickets, and Park Passport stamps; books, gifts, memorabilia, and sundries at the only landside Harbor Islands store.
Hours: May to Octobeer, daily, morning to evening.
Information: www.bostonharborislands.org/
USS Constitution "Old Ironsides" at Charlestown Navy Yard
National Historic Park Charlestown, MA Phone: 617-242-5692
Provides extensive orientation to the history of the Charlestown Navy Yard. Maps, brochures and restrooms; 10-minute video of the Navy Yard and the Serving the Naval Fleet exhibit.
Open daily, 9 a.m. to 5 p.m.
Information: www.nps.gov/bost/planyourvisit/visitorcenters.htm
Martha's Vineyard Chamber of Commerce
P.O. Box 1698 Vineyard Haven, MA, 02568 Phone: 508-693-0085 Toll-Free: 800–505-4815
Martha's Vineyard is a world apart.
Located just 7 miles off the Massachusetts coastline, the beautiful island of Martha's Vineyard is a world apart, offering a vacation ambiance unlike any other. Explore the diversity of our six island towns, take long walks along our pristine shores, and step back in time to a more leisurely pace. Each season offers something different.
Plymouth Visitor Center at Route 3
Route 3 at Exit 5 northbound and southbound Plymouth, MA Phone:
Plymouth tourist information center and service plaza is open daily, 254 hours a day. Offering restrooms, McDonalds, Honey Dew Donuts, and ATM.
Oak Bluffs Information Booth
Farland Sq Oak Bluffs, Martha's Vineyard, MA Phone:
Maps, brochures, guides to attractions, lodgings, tours, rentals.
Open seasonally.
Greenfield Rest Stop on I-91
Exit 26 northbound and southbound at the Massachusetts / Vermont border Greenfield, MA Phone:
Tourist Information Center open mid-April to November; Registry of Motor Vehicles open; restrooms; vending machines; Park 'N' Ride lot.
Blackstone Valley Visitors Bureau
110 Church Street Whitinsville, MA Phone: 508-234-9090
Tourist information and referrals.
HOurs: Monday-Friday, 8:30 a.m.-5 p.m.
Information: www.blackstonevalley.org/tourism/visitor
The National Park Visitor Center is located in the heart of New Bedford Whaling National Historical Park. Find orientation documents, and get helpful information on the park, its history, and places to stay, eat, shop, and visit in the historic whaling city of New Bedford.Handicap accessible; restrooms.
Information: www.nps.gov/nebe/planyourvisit/visitorcenters.htm
Salt Pond Visitor Center of Cape Cod National Seashore
Salt Pond Visitor Center, Nauset Road and Route 6 Eastham, MA Phone: 508-255 - 3421
This is Cape Cod National Seashore's main visitor facility, with seashore orientation movies, a bookstore, a museum, and restrooms. The indoor theater offers five short films daily on a rotating schedule. Offering breathtaking views of Nauset Marsh and the Atlantic beyond, this Visitor Center is also convenient to the popular 1.5-mile Nauset Marsh Trail; the Buttonbush Trail, a 0.25 mile multi-sensory trail that featuring a guide rope and text panels printed in large lettering and Braille; and the Nauset Bicycle Trail.
Hours: Year-round, daily 9 a.m.-4:30 p.m.
Information: www.nps.gov/caco/planyourvisit/visitorcenters.htm
Prudential Center, 800 Boylston Street Boston, MA, 02116 Phone: 888-733-2678
Here you can find the information and tools you need to make the most out of your stay. Speak to a visitor information representative who will help plan your trip.
Hours: Brochures and maps are available 24 hours a day; office is open year-round, daily, Monday-Friday, 9:30 a.m.-5:30 p.m.; Saturday, 10 a.m.-5:30 p.m.; Sunday, 11 a.m.-5:30 p.m.
Visitor Center features include a 41-foot US Army Corps of Engineers patrol boat, a 46-seat theater showing continuous films on canal history, canal critters, and canal wildflowers, real time radar and camera images of the waterway, and interactive exhibits. The rocking chairs on the deck are a perfect spot to enjoy the sea breeze and watch ships on the canal. Park rangers provide free public programs on many subjects. Tide charts, canal guides, and brochures are available.
Hours: Open May to October. Admission is free.
Information: http://1.usa.gov/qUZDUR
Boston Common Visitor Information Center
139 Tremont Street Boston, MA, 02111 Phone: 617-536-4100 Ext - 88
Located near the Park Street MBTA subway station, the Boston Common Visitor Information Center is at the start of the Freedom Trail. Maps and tourist information. Handicapped accessible; restrooms; lodging reservations or recommendations.
Hours: Year-round; weekdays, 8:30 a.m.-5 p.m.; weekends, 9 a.m.-5 p.m.
Lawrence Heritage State Park Visitor Center
1 Jackson Street Lawrence, MA Phone: 978-794-1655
This state park describes the history of Lawrence, an early American version of a planned industrial city. Stories at the park show the lives mill workers and industry, the workers' role in the 1912 Bread and Roses Strike. A walk down the esplanade of a 19th-century canal and through a park created within the walls of an industrial-era building illuminates the era.
Open daily 9 a.m.–4 p.m.
Information: www.mass.gov/dcr/parks/northeast/lwhp.htm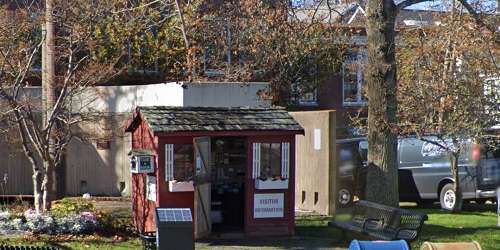 Upper Main Street (Route 127) Rockport, MA, 01966 Phone: 978-546-9372 Toll-Free: 888-726-3922
Fall in love with Rockport
Find maps, brochures, and a wealth of information for your visit to the lovely, artistic town of Rockport.
Information: www.rockportusa.com/
485 Ware Road / Route 9 (3 miles east of intersection of routes 9 and 202) Belchertown, MA Phone: 413-323-7221
Quabbin Reservoir is one of the largest man-made public water supplies in the United States, permitting shoreline fishing, hiking, bicycling, walking, bird watching, snowshoeing, and hunting with restrictions. The Quabbin Interpretive Services Program operates the Quabbin Visitor Center and provides general information.
Hours: Daily, 8:30 a.m.-4:30 p.m. (Office may not be staffed at all times).
Information: www.mass.gov/dcr/parks/central/quabbin.htm
Johnny Appleseed Visitor Center
Route 2 westbound, between exits 35 and 34 Lancaster, MA Phone: 978-534-2302
This "Gateway to North Central Massachusetts" offers rest rooms, picnic tables under shady apple trees, pamphlets of local places to stay, eat and play at like pick your own orchards, petting zoo's, bed and breakfast stays or indoor water parks. Many books on Johnny Applseed and a small sampling of Johnny Appleseed memorabilia. Johnny Appleseed Logo Products are also available. The Country Store has many local products for sale year round like jam, jellies, local honey, fudge, maple syrup products, local apple cider. Also hot coffee, cold soda and snack items.
Hours: Daily 9 a.m.-6 p.m.
Information: www.facebook.com/JohnnyAppleseedCountry