Plan a Dreamy Wedding at a Gorgeous Waterfront Resort
What could be more romantic and scenic than a wedding next to the sandy shores or spectacular cliffs of New England? Waterfront resorts offer spectacular natural seaside views along with the best of hospitality, lodging, dining, and other amenities and services to help you and your family and friends enjoy the wedding of your dreams next to the water.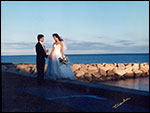 1 Lighthouse Inn Road West Dennis, MA, 02670 Phone: 508-398-2244
Wedding on the waterfront – a match made in heaven
Let the ocean stand beside you as you start your life together. If you've always dreamt of a wedding on the water, you'll find no location closer to the ocean or as uniquely Cape Cod as The Lighthouse Inn! Our extensive reception menu offerings include passed and stationary hors d'oeurves, plated meal and food station and, for a true seaside experience, a classic Cape Cod Clambake. In the spring and fall the Inn accommodates weddings up to 220 and during July and August up to 85. Using the expertise and experience attained over twenty years at Lighthouse Inn, our wedding coordinator will guide and assist you through the entire planning process to insure your special day is everything you've dreamed of!

45 Hull Shore Drive Hull, MA, 02045 Phone: 781-925-4500
Ocean views from floor to ceiling
The Nantasket Beach Resort has all the ingredients for your perfect New England wedding destination! Panoramic Ocean views from our Surf and Nantasket Ballrooms. Enjoy the breathtaking sunsets, exceptional cuisine and our experienced staff that will cater to your every need.
Our resort is set along miles of sandy beach, amidst the brilliant blue Atlantic Ocean, we offer a true oceanfront wedding experience. Your guests will also be delighted by our tastefully appointed guest rooms, oceanfront ballrooms, expert management team, scrumptious dining, and Three-Diamond commitment to exceeding expectations.
One Seaport Lane Boston, MA, 02210 Phone: 617-385-4000
Choose from five different venues for your waterfront wedding
At The Seaport Boston Hotel you can say "I do" with a view -- of the city's bustling waterfront. We can offer you five ballroom locations with waterfront and skyline views. Our Flagship Ballroom is a distinctive octagonal room with floor-to-ceiling windows on five sides offering stunning views of the harbor. It offers space for 130 guests. Our Plaza Level includes elevator access to 2,500 parking spaces, and includes the outdoor Plaza Garden, with Boston Harbor views. The Lighthouse Ballroom features floor-to-ceiling glass windows that offer dramatic panoramas of the harbor and the city skyline. The Harborview Ballroom, with room for 190 guests, boasts column-free space for unobstructed views of the water. Cityview Ballroom is a high-ceilinged venue with views of downtown excitement.
1 Cathedral Avenue Rockport, MA, 01966 Phone: 978-546-6321 Toll-Free: 800-964-5550
Marry in the sea breezes with family and friend nearby
The Atlantic Ocean, Pigeon Cove, a heated outdoor swimming pool and a seaside terrace bring the water to you and your guests on your special wedding day or weekend, and there's plenty of room for family and friends in 36 guest rooms. The ocean-views and amenities are inspiring. Wedding coordinators attend to the details while you and yours enjoy traditional elegance and impeccable service, menus customized to meet your needs, an extensive wine list and popular spirits now available on Cape Ann. Indoors or out there is a special place on the property for your ceremony, and banquet rooms to accommodate 150 guests for the reception of a lifetime.
Three Battery Wharf Boston, MA, 02109 Phone: 617-994-9000 Toll-Free: 800-257-7544
A wedding by the waterfront
Like a treasured piece of art work or musical composition, no two weddings at Boston's Battery Wharf are ever the same. Featuring a unique reception location, upscale ballroom and a team of highly skilled planners, we make sure that your wedding is simply exquisite.

Discover an array of Boston wedding packages with customized menus, talented and dedicated staff and restaurant style service, presentation and feel. Known for creating both intimate and large reception style weddings, The Battery Wharf Boston creates a contemporary backdrop for your wedding that will be both a unique and distinctive experience for all of your guests.

This exceptional luxury hotel in Boston's North End is also a wonderful venue for elegant wedding showers or festive rehearsal dinners.
Route 28 on Pleasant Bay Chatham, MA, 02633 Phone: 508-432-5400 Toll-Free: 800-225-7125
Cape Cod splendor for your special wedding day
Cape Cod's premier romantic getaway has your wedding portfolio from a personal catering planner to manicured lawns, English style gardens and panoramic views of the Atlantic Ocean, Pleasant Bay and Round Cove. Large or smaller weddings and receptions share dramatic settings. Wed under a colorful canopy with a warming fireplace. Stand atop verandahs, on wrap around porches, amidst rich architectural details and enjoy fabulous resort style elements, sumptuous cuisine and the sound of music filling the fresh salt air. This magnificent hideaway on 27 acres boasts 120 five-star luxury guest rooms and suites, four acclaimed restaurants, two magnificent pools and two extraordinary beaches. Add the sun-dappled lanes, salt marshes and woodlands, water gardens, frog ponds and meandering brick pathways and you have an idyllic waterfront wedding destination.
2907 Main Street (Route 6A) Brewster, MA, 02631 Phone: 508-896-9000 Toll-Free: 800-343-6074
Marry by the sea in a Cape Cod architectural landmark
Hold your very special wedding at a very special place on 400 pristine acres along the sea at a renowned and enchanting architectural landmark. Historic charm, unlimited amenities, and first-class service will light your day and frame your memories of it. The professional staff will see that everything from menu selection, linens, and seating plans to photographers, decorations, and audiovisual needs are addressed. Formal receptions or casual clambakes and brunches are all on the table for an ideal celebration setting. Take your initial walk-through and depart for your honeymoon with deluxe service to make your wedding a spectacular affair. 2014-15 customized wedding packages range from $149 to $219 per person and can be customized to accommodate many budgets. Some minimum revenue requirements may apply during higher demand seasons.