Beach Weddings in Massachusetts (MA)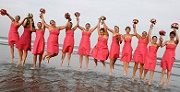 45 Hull Shore Drive Hull, MA, 02045 Phone: 781-925-4500
Celebrate your wedding along the scenic New England shore
A spectacular 3-mile stretch of sandy white beach in Hull just south of Boston awaits you and your guests for the oceanfront wedding of your dreams. Just offshore are three of Boston's most historic lighthouses and the sun drenched waters of the Atlantic. Your wedding details will be addressed by the resort's expert management team that will make its Three-Diamond commitment of service to meet and exceed your needs and expectations. Here is the perfect setting for your waterfront wedding and the Surf and Nantasket Ballroom offering panoramic floor to ceiling views of the sea. You'll enjoy tastefully appointed guest rooms, an indoor pool and fitness club and within walking distance, places to eat and shops and boutiques to browse.
2907 Main Street (Route 6A) Brewster, MA, 02631 Phone: 508-896-9000 Toll-Free: 800-343-6074
Let Cape Cod Bay be your something blue
What is more quintessentially Cape Cod than vows at the edge of the Bay, surrounded by the sand, gentle water and sunshine of private Bay Pines Beach? Up to 150 guests can bask in the joy of the private Bay Pines Beach at Ocean Edge Resort & Golf Club, recently named "Best Resort Cape Cod" by Boston magazine's 2017 Best of Boston Awards. Follow with cocktails on the sought-after Ocean Terrace. You'll find wedding packages to suit your style, guest list, and culinary tastes as well as special customized packages to accommodate your budget for your rehearsal, ceremony and reception. The new Beach House Spa is ready to cater to your every whim with its airy and elegant bridal lounge.