Rainy day on vacation? Come indoors to play in Massachusetts
Into every life a little rain must fall. When it does, Massachusetts turns up the indoor fun and competition. You can find indoor climbing gyms with sky ropes courses that test your balance and agility, including specially designed courses for kids ages 2-7. Indoor play spaces allow teenagers to enjoy their favorite multi-player video games and dance games; the youngest in the bunch can climb jungle gyms and ride slides in a three-story-tall play space. Parents will find spaces and places to join in the fun, eat great food, watch TV, and relax. Nearby are
family friendly lodging
and
museums and galleries
for more indoor adventures.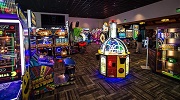 434 Main Street Tewksbury, MA, 01876 Phone: 978-349-0000
Rainy-Day fun is nearby and awesome.
When the weather moves you inside, get your rainy-day fun at the area's most unique family entertainment center in Tewksbury. You'll find luxury candlepin and ten pin lanes with comfortable seating areas at each lane. The Full Swing Golf Simulator places you in a virtual golf environment. Join or even start a bowling or cribbage league. Kids big and little will enjoy the world class redemption arcade featuring over 60 of the most popular games in the industry and an upscale prize redemption center with electronics, games, novelty items, stuffed animals and more. Hold a party, meeting or celebration here for up to 400. You'll find great food, weekend and weeknight specials, and a whole lot more. Let it pour.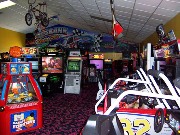 1098 Fall River Avenue Seekonk, MA, 02771 Phone: 508-336-8307
Rain or shine the action never stops
When the tracks are wet and the weather cold or rainy, the action doesn't stop at Seekonk Grand Prix, it just moves indoors. Find yourself at the arcade and challenge your family and friends on more than 60 of your favorite games including Guitar Hero, Ski Ball, Air Hockey and Dance Dance Revolution and more. Rain or shine there's always great competitive fun at an affordable price. When the weather clears, be sure to come back for all the on-track action that never fails to amaze and amuse. The new updated state of the art facility has all your go-kart fun to test your skills and moxy, now even two-seater go-karts that can race up to 12 at a time.
200 Daniel Webster Highway Nashua, NH, 03060 Phone: 603-888-1940
Rainy Day Solution #1 – Get the Family Over to Fun World
Rainy weather shows no courtesy for people on vacation. But there's no need for tears in Nashua. Fun World is an all-indoor play space where everyone in the family can find action to fit their tastes. Teenagers will flock to the multi-player video games and dance games, or bunch up at the prize showcase to claim prizes for their redeemable tickets. Meanwhile, the tots of the family can wear themselves to a frazzle climbing jungle gyms and riding the slides in the three-story-tall play space, which also has a ball pit for little-kid foolishness. Parents will appreciate the beautiful carousel imported from Italy, and they might even take a spin on the indoor roller coaster. Eat a pizza lunch, and keep on playing!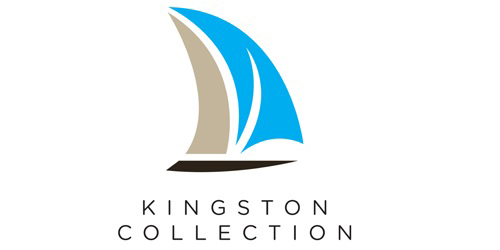 101 Kingston Collection Way Kingston, MA, 02364 Phone: 781-582-2445
Indoor Fun from Shopping to Trampolines Entertains at Kingston
The occasional rainy day during your vacation in Plymouth County is actually good news. That's because the Kingston Collection, a mall packed with shopping, dining, and entertainment for kids and adults, is just a short drive from Plymouth. "Mall" usually denotes shopping, but Kingston Collection offers far more. In addition to shopping at national brand-name stores, a day here can offer play time at Big Top Playland or Billy Beez or Mystery Room or Sky Zone Trampoline Park; haircuts and eyebrow shaping; dining and live entertainment at Waxy's Modern Irish Bar; and seasonal special events, like the Yankee Candle Halloween Event. You can even leave your car back at home or your hotel; new commuter rail line that connects the region to Boston and Cape Cod.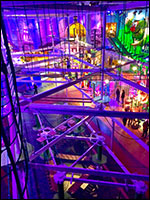 50 Walkers Brook Drive Reading, MA, 01867 Phone: 781-942-9816
Come indoors for high adventure on a sky ropes course
Get everyone out of the rain and up and out on the exciting BeanStalk™ Adventure Ropes Course. Enjoy high thrills as you test your balance and agility moving from one activity to the next. Challenge the zig zag beams, crisscross angled rope ladders, and spaghetti hand lines at 12' and 24' and while you're there, walk the plank, step out on a 6 inch standalone beam, and if you dare, pivot and return. Two levels of rope courses feature 30 exciting activities and a specially designed course for children ages 2-7, the BeanSprout.™ Adventurers must be at least 48" tall or 42" if accompanied by a chaperone. Groups of 10 or more on the same transaction receive a 10% discount.