Rainy day on vacation? Come indoors to play in Massachusetts
Into every life a little rain must fall. When it does, Massachusetts turns up the indoor fun and competition. You can find indoor climbing gyms with sky ropes courses that test your balance and agility, including specially designed courses for kids ages 2-7. Indoor play spaces allow teenagers to enjoy their favorite multi-player video games and dance games; the youngest in the bunch can climb jungle gyms and ride slides in a three-story-tall play space. Parents will find spaces and places to join in the fun, eat great food, watch TV, and relax. Nearby are
family friendly lodging
and
museums and galleries
for more indoor adventures.
55 Salisbury Street Worcester, MA, 01609 Phone: 508-799-4406
50 centuries of world art treasures in central Massachusetts
Spend an enchanting rainy day discovering art treasures: paintings, prints, photographs, sculpture, decorative art and items from 50 centuries of world cultures. Considered one of the finest museums of its size in the country, the WAM offers more 37,500 pieces to ponder through tours, interactive programs, workshops, and classes. There's a library, a museum for browsing and a café for light fare and chat. You'll find a Renaissance Court features a rare Roman floor mosaic. A medieval Chapter House from west central France. The "Remastered" exhibit provides a new look at the old European Masters from Cassatt, Gauguin, Goya, to Monet, Sargent, and Homer. WAM is also home to collections of arms, armor and art from China, Japan and India.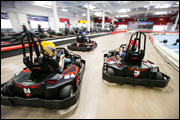 101 Kingston Collection Way Kingston, MA, 02364 Phone: 781-582-2445
Indoor fun from shopping to trampolines and go-kart racing entertain at Kingston Collection
The occasional rainy day during your vacation in Plymouth County is actually good news. That's because the Kingston Collection, a mall packed with shopping, dining, and entertainment for kids and adults, is just a short drive from Plymouth. In addition to shopping at national brand-name stores, a day here can offer play time at K1 Go-Kart Racing, Billy Beez, Mystery Room, PiNZ or Sky Zone Trampoline Park; haircuts and eyebrow shaping; dining and live entertainment at Waxy's Modern Irish Bar and Bar Rustic. You can even leave your car back at home or your hotel; commuter rail line that connects the region to Boston and Cape Cod. Visit our website and follow us on Facebook, Instagram and Twitter for a complete directory of stores, ongoing specials, promotions and a calendar of events.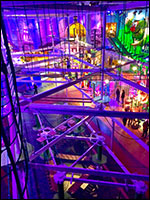 50 Walkers Brook Drive Reading, MA, 01867 Phone: 781-942-9816
Come indoors for high adventure on a sky ropes course
Get everyone out of the rain and up and out on the exciting BeanStalk™ Adventure Ropes Course. Enjoy high thrills as you test your balance and agility moving from one activity to the next. Challenge the zig zag beams, crisscross angled rope ladders, and spaghetti hand lines at 12' and 24' and while you're there, walk the plank, step out on a 6 inch standalone beam, and if you dare, pivot and return. Two levels of rope courses feature 30 exciting activities and a specially designed course for children ages 2-7, the BeanSprout.™ Adventurers must be at least 48" tall or 42" if accompanied by a chaperone. Groups of 10 or more on the same transaction receive a 10% discount.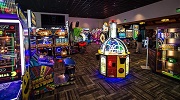 434 Main Street Tewksbury, MA, 01876 Phone: 978-349-0000
Rainy-Day fun is nearby and awesome.
When the weather moves you inside, get your rainy-day fun at the area's most unique family entertainment center in Tewksbury. You'll find luxury candlepin and ten pin lanes with comfortable seating areas at each lane. The Full Swing Golf Simulator places you in a virtual golf environment. Join or even start a bowling or cribbage league. Kids big and little will enjoy the world class redemption arcade featuring over 60 of the most popular games in the industry and an upscale prize redemption center with electronics, games, novelty items, stuffed animals and more. Hold a party, meeting or celebration here for up to 400. You'll find great food, weekend and weeknight specials, and a whole lot more. Let it pour.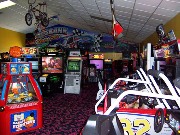 1098 Fall River Avenue Seekonk, MA, 02771 Phone: 508-336-8307
Rain or shine the action never stops
When the tracks are wet and the weather cold or rainy, the action doesn't stop at Seekonk Grand Prix, it just moves indoors. Find yourself at the arcade and challenge your family and friends on more than 60 of your favorite games including Guitar Hero, Ski Ball, Air Hockey and Dance Dance Revolution and more. Rain or shine there's always great competitive fun at an affordable price. When the weather clears, be sure to come back for all the on-track action that never fails to amaze and amuse. The new updated state of the art facility has all your go-kart fun to test your skills and moxy, now even two-seater go-karts that can race up to 12 at a time.
1 Old Sturbridge Village Road, off Route 20 Sturbridge, MA, 01566 Phone: 508-347-3362 Toll-Free: 800-733-1830
Revolutionary fun and creature comforts in all kinds of weather
Rain or shine, Old Sturbridge Village and the Old Sturbridge Village Inn offer seasonal activities and celebrations for all ages. Warmth and convenience abounds in this popular and historic destination. You'll find accommodations at the Reeder Family Lodges with 29 modern air conditioned units with free wireless internet, 32" flat-screen cable TVs, iPod/iPad docking stations, coffeemaker and free continental breakfast. Relax in the swimming pool and poolside-seating area while the kids can take on the playground and a great collection of 19th-century toy and game baskets. The 10-room Oliver Wight House provides historic ambiance and additional amenities including four-poster canopy beds, Included with your reservation is discounted admission to OSV plus special packages and discounts available to all OSV members.
200 Daniel Webster Highway Nashua, NH, 03060 Phone: 603-888-1940
Rainy Day Solution #1 – Get the Family Over to Fun World
Rainy weather shows no courtesy for people on vacation. But there's no need for tears in Nashua. Fun World is an all-indoor play space where everyone in the family can find action to fit their tastes. Teenagers will flock to the multi-player video games and dance games, or bunch up at the prize showcase to claim prizes for their redeemable tickets. Meanwhile, the tots of the family can wear themselves to a frazzle climbing jungle gyms and riding the slides in the three-story-tall play space, which also has a ball pit for little-kid foolishness. Parents will appreciate the beautiful carousel imported from Italy, and they might even take a spin on the indoor roller coaster. Eat a pizza lunch, and keep on playing!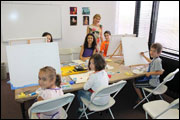 65 Main Street Watertown, MA, 02472 Phone: 617-926-2562
Museum celebrates the culture, and spirit, of the Armenian people
Three thousand years of history come to life at the Armenian Museum of America, where collections include everything from magnificent inscribed rugs and textiles to the tiniest of medieval coins. The spirit of the tenacious Armenian people comes through in exhibits documenting the 1915-1923 genocide as well as in artifacts – schoolbooks, letters, photos – from immigrants who came to the U.S. starting in 1890. Exquisite museum pieces include illuminated books and paintings from the 13th century (including a gospel book handwritten during the Crusades); intricate costumes, embroideries and lace; religious artifacts; 15th century pottery; and artifacts from the Urartian Empire, going back to 900 B.C. Check the museum calendar for a wide range of classes, concerts, workshops, lectures and films.
598 Assembly Row Somerville, MA, 02145 Phone: 866-228-6439
Legoland's miniature world is perfect for a rainy day
Spend a fun rainy day with your children at LEGOLAND Discovery Center and learn building tips from the Master Model Builder Workshops. It's all here, a 4D cinema, Kingdom Quest laser ride, Merlin's Apprentice, plus 10 LEGO build and play zones and the city of Boston in miniature in MINILAND®. LEGOLAND is fully accessible for families and those in wheelchairs. There's a delicious café and the amazing retail shop is filled with the latest LEGO® products including Marvel Super Heroes, Nexo Knights and Ninjago plus exclusive limited edition items. Stay nearby at one of LEGOLAND's hotel partner locations.