Massachusetts amusement parks provide tons of family fun
Families, school and social groups, and companies alike are discovering the incredible variety in fun places to enjoy an outing. Whatever amusements you're looking for in the form of rides, roller coasters, games, or arcades, they're all here. And so is the largest indoor water park in New England, the longest family go cart track in New England, the largest ski and snowboard resort in southern New England, and North America's longest mountain coaster. In between is every amusement you could want, where the fun comes in droves, and
affordable
and
family friendly
lodgings are nearby.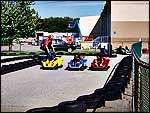 1098 Fall River Avenue Seekonk, MA, 02771 Phone: 508-336-8307
Competitive & affordable fun
As unique an amusement park as you might find anywhere, Seekonk Grand Prix has go karts and much more. The ¼ mile family track, the longest in New England, features hairpin turns, a bridge, 2 tunnels and new two-seater go-karts. Some fast hand work is needed to get you around the Slick Track's slippery oval where you can race up to 12 of your friends. Little guys and gals have their own Rookie Track and can graduate to the Kiddy Track and Beginner Track. Bumper cars and boats are for bumping while the arcade offers more than 60 of your favorite games like Guitar Hero, Ski Ball, Air Hockey and Dance Dance Revolution. Here's competitive fun at affordable prices.
37 Corey Road -- Route 43 Hancock, MA, 01237 Phone: 413-738-5500 Toll-Free: 800-882-8859
All-Season Outdoor Fun for the Entire Family!
Jiminy Peak Mountain Resort offers lodging for any Berkshire getaway. Choose from our Country Inn Suites or two or three bedroom mountainside Vacation Homes. Amenities and activities include shopping and dining in the Village Center and Country Inn, outdoor heated swimming pool, the In-Touch Day Spa, fitness room, game room.
Jiminy Peak is home to the largest ski and snowboard resort in southern New England. Jiminy's 45 trails and 9 lifts cater to all skill levels, while our three terrain parks provide rails and jibs for the new and experienced park riders.
Since opening in 1948 Jiminy Peak has evolved to become a 4 season resort, our mission to provide memorable Mountain Resort experiences with outstanding, friendly and helpful service in beautiful surroundings.
66 Thunder Mountain Road Charlemont, MA, 01339 Phone: 413-339-6617
Bring your kids. You can play and stay.
Come check out and ride North America's longest mountain coaster! And there's lots more too. Where do you want to start? Depending on the season there is skiing, snowboarding and tubing, zip lining, white water rafting, and downhill mountain biking. We also have a great family friendly place to stay while you're enjoying all of the activities, a restaurant - the Crazy Horse Bar and Grill for lunch or dinner, a friendly staff and we are committed to being the best at whatever we do. We're easy to find and not far away – just off of Route 2/The Mohawk Trail in Charlemont. We are just 2 hours from Boston, three hours from New York City.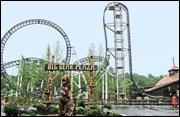 85 North Policy Street Salem, NH, 03079 Phone: 603-893-3560
The fun never stops!
Originally a trolley park, Canobie Lake Park has opened every summer since 1902 featuring amusement games, arcades, more than 50 thrilling rides and endless fun to families across New England and beyond. There's entertainment on two stages and the Dancehall Theater, a water park and more just 30 miles north of Boston. Enjoy several roller coasters, a hand-painted antique carousel, steam train, a ferris wheel, one of the only "dark rides" in New England, over a dozen kiddie rides and a dedicated Kiddieland area, plus evening fireworks. Food choices abound and you'll find special events and lots of tax free shopping for everyday items, keepsakes and souvenirs. Check out the discounts for school and company outings and nearby special summer lodging packages. Free parking every day.
50 Ferncroft Road Danvers, MA, 01923 Phone: 978-777-2500
SPLAAAAAAASH. Aaaaaaaah! More please!
Water feels good especially when it's warm and relaxing and all out nonstop fun. That's the scene at Coco Key, the largest indoor water park in Massachusetts. Open every day for every kid of every age, you are transported to a tropical paradise where it's 84 degrees no matter what the thermometer says. There are water slides, a lazy river, a splash pad and dip-in-the- theater arcade, private, cozy cabanas and more. Hold a birthday party, fundraiser, group swim, or hey!... buy out the whole park for a day. Right next door you can dry off, chow down and settle in at the fabulous Doubletree Hotel Boston North Shore. Coco Key discounts and special packages include overnight accommodations, water resort access, and breakfast in the family-friendly TradeWinds Restaurant.
200 Daniel Webster Highway Nashua, NH, 03060 Phone: 603-888-1940
It's a big wide fun world out there!
So, it's amusement you're looking for? And, you wouldn't mind tiring out all those children that follow you around, after long hours in the car. Fun World – a castle form the outside and a play pit on the inside – has you covered. For a reasonable cost and the convenience of in-house dining, families can keep the littlest members entertained with slides, tumbling in a ball pit, jungle gym climbing, and simple rides. Meanwhile, teenagers can collect redeemable tickets and all kinds of trendy prizes by playing at a huge assortment of video, multi-play, dance, sport, and classic arcade games, from Transformers Theater to old-school air hockey. Moms and dads may join the action, or settle in to a more-sedate ride on the imported carousel from Italy.