Hotels and inns near colleges and universities in Massachusetts
Massachusetts, particularly the area around Boston, is chock full of world-class colleges and universities. Many Massachusetts hotels and inns offer campus lodgings, and welcome students, parents, faculty, alumni, and other campus visitors. Mass. campus lodgings range from large hotels in the cities with swimming pools, restaurants, and other amenities to small inns and bed and breakfasts. All are close to historic sites, dining, shopping, entertainment, and other
attractions
that make Massachusetts a home to famous universities and colleges of all sizes.
1090 Main Street Williamstown, MA, 01267 Phone: 413-458-9371
Guests enjoy comfort and culture in a collegial setting
Williams College the town of Williamstown in Western Massachusetts lives up, in appearance, to its pedigree: founded in 1793, it is a private, residential, liberal arts place of learning housed in stone or clapboard buildings scattered among sloping green lawns. Students, parents, and visiting scholars from far and wide have reason for staying near the college, and Williamstown Inn fits perfectly with their expectations. Classical columns at the entrance welcome guests to inner comforts: a lobby fireplace, heated pool, hot tub and sauna, and two dining facilities serving hearty American fare and a continental breakfast. The Inn is literally on the campus property, and an easy walk from campus buildings. Guests can enjoy nearby museums and performance centers, the summertime Berkshire Theatre Festival, and drives to the pinnacle of beautiful Mount Greylock.
30 Washington Street Somerville, MA, 02143 Phone: 617-628-1000
A historic setting for your campus visit lodging
Just two blocks from Boston's celebrated 'T' line of trolleys and subway cars, this full service hotel is less than ten minutes to many Boston-area colleges and universities including Tufts, Harvard, MIT, Boston University, and Northeastern. 184 tastefully appointed guestrooms feature complimentary Wi-Fi internet access, a restaurant & bar, large indoor pool, whirlpool, sauna, 24-hour fitness center and complimentary parking - a true value for Boston hotels. A scheduled shuttle service is also available. While you are here checking out schools and colleges take some time to visit Fenway Park, Fanueil Hall or the Museum of Science. Historic landmarks including Bunker Hill Monument and USS Constitution Museum are nearby. Harvard Square, with its shops and great eateries is two miles and another world away.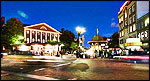 16 Garden Street Cambridge, MA, 02138 Phone: 617-547-4800
Boston's college and university campuses are a step from your door
Located in Harvard Square, the Sheraton Commander is the ideal place to stay while visiting your homesick freshman or when attending to academic business. A subway station is just minutes away, providing quick access to many Boston-area colleges and universities. Treat the family to lunch at Nubar Restaurant, where meals are made with vegetables and herbs harvested from the hotel's own garden. Relax and rejuvenate in our fitness center, open 24 hours a day and equipped with treadmills, ellipticals, stationary bikes and free weights. The hotel's 174 rooms are all recently renovated, and feature Sheraton Sweet SleeperTM beds to ensure an extra comfortable night's rest. There's plenty to see and do in nearby neighborhoods. Browse Harvard Square bookstores, cheer the Harvard football team, or visit the university's art museums.