Brewery Tours in Massachusetts
Tasting a variety of interesting beers under guidance from experts and with secure transportation has never been simpler or more fun. Sign on to a brewery tour to visit and visit a series of breweries, brew pubs, and beer-loving restaurants. Tours include expert guidance to some of the state's most unique and respected brewers of regional, craft beers. A beer-infusing lunch is usually offered. Fun and safe for individuals or groups of friends.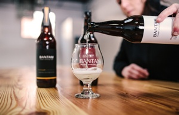 40 Merriam Street Somerville, MA, 02143 Phone: 617-299-8600
There's a new hard cider in town, aimed at the palate of beer lovers
You've tried hard cider, and said "no thanks" to more. You'll change your mind after a visit to Bantam Cider's production facility and tasting room in Somerville's Union Square. This young cidery aims for a new slant on hard cider – tart and full-bodied, just right for beer drinkers looking for a fresh experience. Visit and sip a true craft brew that calls to mind the cider houses in Spain's Basque region. Take a walk through the cidery, and see how it's made. The apples have traveled only from nearby western Massachusetts. After your tour visit our tasting room and sample up to eight ciders on draft, including limited edition batches such as Dry Hopped, Hibiscus Mint, or Wild One. Reopen your mind and palate to hard cider – refreshment for adults, as our New England ancestors meant it to be.