The South Shore & Plymouth region offers unforgettable vacations at beach and ocean resorts
In New England the beach beckons. Whatever pulls you to the ocean New England has it - from quiet coves, to wide sand beaches, and up the coast to rock cliffs pounded by waves. The best way to enjoy your getaway beach vacation is to stay at one of these fine beach resorts. Expect waterfront accommodations, fine service, and great dining. Add to that spa service, charter fishing, and fine dining along the beach or with an ocean view. This is where romance is kindled and families come to play. From Rhode Island's South County, northward to the unparalleled beaches and luxury resorts of Cape Cod, Nantucket and Martha's Vineyard are many fine waterfront lodgings. North of Boston along Cape Ann and into Maine you will discover more sandy beaches and spectacular cliffs pounded by waves. Expect great lodging and service from New England's finest ocean and beach resorts and you will not be disappointed.
150 Warren Avenue (Rte. 3-A) Plymouth, MA, 02360 Phone: 508-747-0900 Toll-Free: 800-729-7263
That joyful splash you heard just might be you
This beachfront destination features a scenic walk to Plymouth Long Beach, an unspoiled shoreline within sight of Plymouth Harbor. Sixty-two non smoking rooms offer refrigerator, continental breakfast and free internet access. Two bedroom luxury apartments sleep up to four and feature two balconies facing the ocean, pool and Eel River preserve. Amenities include living room/dining area, fully equipped kitchen, master bedroom, a second bedroom and bath. Handicapped-accessible rooms and assisted-listening devices are available and children 6 and younger stay free. There's a business center and coffee shop, indoor and outdoor pools and nearby golf, fishing, whale watching, antiquing and endless Cape Cod fun. Plan your wedding, rehearsal dinner, shower or sit down dinner for up to 60.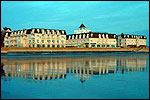 45 Hull Shore Drive Hull, MA, 02045 Phone: 781-925-4500
Stay, Play and Relax Just Steps From the Beach
Situated on a 3-mile stretch of sandy white beach stands the Nantasket Beach Resort, tall, white and brilliant with a sense of New England charm felt from the moment you arrive. Close to Boston and the Cape, Hull is your gateway to historic Plymouth, and to New England's popular tourist attractions and historic sites. Here you can stay and play just steps from the beach.
Enjoy spectacular sunrises and views of three of Boston's historic lighthouses. Full service amenities include Concierge service, our on-site restaurant, indoor pool, full fitness club, oceanfront conference center, and an array of excellent restaurants and attractions within walking distance, scattered among eclectic shops and boutiques. Enjoy the New England beach and waterfronts views just minutes from Boston.