North of Boston/Merrimack Valley
50 Ferncroft Road Danvers, MA, 01923 Phone: 978-777-2500
Get your feet wet, then the rest of you!
Hold the ultimate birthday party, fundraiser, group swim or business meeting in the water. Buy out the whole park for a day. You've earned it. Make a splash with family and friends at the largest indoor water park in Massachusetts then stand back and take the thanks. You're in a tropical indoor paradise where it's 84 degrees and who cares what it is outdoors? Laugh hard, embarrass yourself and your kids on the water slides, grab some shut eye on a lazy river float, jump off the splash pad and dip-in-the- theater arcade. Then slink into your own private, cozy cabana and brag about your exploits. The Park is just 19 miles north of Boston and open every day year round. Awesome at any age.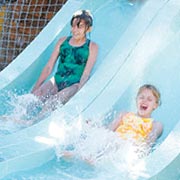 85 North Policy Street Salem, NH, 03079 Phone: 603-893-3560
Enjoy hot summer fun and cool down afterwards
Here's a cool deal. Just 30 miles north of Boston, cool off on a hot summer day after some hot summer fun at Castaway Island Water Park at Canobie Lake Park and the largest water play complex of its type in New England. You'll find water cannons, 9 water slides, waterfalls, and more than 180 ways of getting wet. Be sure to bring your bathing suit and hit the Island splashing. Castaway Island operates from Memorial Day Weekend through Mid-September weather & temperature permitting. Proper swim attire is required and strictly enforced. Work up a good sweat on the Park's breathtaking thrills and rides then get your chill on. Admission is included in your one-price general admission to Canobie Lake Park.