Cape Cod's waterfront lodging and beach hotels are delightful
With its spectacular waterfronts on Cape Cod Bay and the Atlantic Ocean, Cape Cod, Massachusetts is a natural vacation destination for visitors who love waterfront and beachfront fun. Beach hotels and beach motels in the Cape Cod, MA, towns of Dennis, Yarmouth, Hyannis, Provincetown, Truro, Falmouth, and Brewster offer a large range of amenities and costs, accommodating every taste and budget. These Cape Cod oceanfront and beachfront hotels, motels, inns and lodgings include everything from cozy, romantic settings with wonderful views for romantic getaways to basic motel rooms with casual dining for children and families, and every option in between.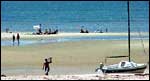 696 Shore Road North Truro, MA, 02652 Phone: 508-487-1041 Toll-Free: 888-768-7666
Beach front setting located directly across from the National Seashore
The Blue Sea is located directly across from the National Seashore and the Dunes with unsurpassed views of Provincetown Harbor and Cape Cod Bay. We offer a variety of rooms from standards to efficiencies to ocean front views or poolside. Amenities include private bath, heat and A/C, cable color TV, coffeemakers and refrigerator as well as an indoor heated pool and coin-operated laundry on site. You can stroll the miles of endless beaches, ride through the dunes of the National Seashore Park or discover the miles of bike trails for pedaling or walking. Provincetown, where you can enjoy shopping, galleries, summer theater, whale watching, fishing and the best dining on Cape Cod, is two miles away. We are a shuttle bus stop. You can pick up the bus across the street from our office.
26 Robbins Road Falmouth, MA, 02540 Phone: 508-548-4300 Toll-Free: 866-469-8222
Cape Cod fun and flavor on an historic waterfront
The historic waterfront of Falmouth Harbor provides sights, sounds and scintillating Cape Cod fun and flavor. Overlooking the harbor is this popular lodging offering spacious hotel rooms, renovated suites with a sitting area, and two-room suites with the option of adjoining to a second bedroom. All feature a refrigerator and microwave and some have kitchenettes and an outdoor tanning deck for getting your daily dose of Vitamin D. Hit one of the beautiful beaches or sit by the pool and watch the boats go by. Then check out the delicious dining downtown, take a ferry trip to the Islands, or climb aboard a charter fishing excursion. The luxurious yachts, shops and activities of this historic seaside village are always within easy reach and gaze.
At South Beach on Martha's Vineyard -- 31 Dunes Road Edgartown, MA, 02539 Phone: 508-310-1733 Toll-Free: 866-335-1133
Easy to Reach from Cape Cod - Open April-October
Winnetu Oceanside Resort is close to the Cape at South Beach, Edgartown, Martha's Vineyard and features spectacular ocean views. We offer guests an easy-to-use on-Island pick-up & drop-off service to/from our Resort, connecting with the Island Queen Ferry in Falmouth, and a 35-minute crossing time to the Vineyard. Once here, enjoy our scenic beach path, 1-4 bedroom suites, and family friendly, ocean-view restaurant, The Dunes. Also included are complimentary Children's Programs, shuttle service to Edgartown, heated pools, fitness center, tennis, yoga, antique fire truck rides and outdoor life-size chess. Also available: a Two-Island Adventure Trip to our sister resort on Nantucket – The Nantucket Hotel – bike rentals, massages, a Water Taxi Cruise to Edgartown, Children's Evening Program, and more.
543 Commercial Street Provincetown, MA, 02657 Phone: 508-487-1726
Fall in love with Cape Cod at Surfside Hotel
The ocean and the sunshine are Cape Cod's main attractions, and at Surfside Hotel & Suites in Provincetown, Mass., you'll find plenty of both. We're nestled alongside Cape Cod Bay, with balconies overlooking the waves pounding the white sands. Swim and play on our own stretch of private beach. Or catch some rays by the heated saltwater pool in our courtyard, where you can sip drinks from our Lighthouse Bar while you relax. Up for something more active? Take a dune tour on the Cape Cod National Seashore, and discover a unique natural ecosystem. Or join a whale watch cruise, and shake the fin of a humpback. Explore Provincetown, a quaint fishing port turned happening resort. Stroll Commercial Street, with its galleries, eclectic shops, and fine restaurants.
134 Menauhant Road Falmouth, MA, 02536 Phone: 508-548-0313 Toll-Free: 866-469-8222
Cape Cod's best for any season
The sea around you is made up of several different bodies of water. Each holds its own history and natural beauty and each is at your beck and call. Nearby lay sandy beaches on the Atlantic and Nantucket Sound. Great Salt Pond behind you. An indoor and outdoor pool is a step away. Enjoy some dry land activities like Bocce, shuffleboard and tennis. Relax in studios and one or two air-conditioned bedroom suites all with private decks, facilities for cooking, TV with VCR and whirlpool spa. The rest of Cape Cod and the Islands lie just outside your door and are a short drive or ferry ride away. Open year round, InnSeason Resorts Surfside is fully wheelchair accessible. No charge for the majestic views that go on forever.
37 Neptune Lane South Yarmouth, MA, 02664 Phone: 508-394-9801 Toll-Free: 866-469-8222
Cozy lodgings and close to everything on Cape Cod
On the banks of Parker's River in South Yarmouth, this unique resort offers 44 studio, one-bedroom, and 2-bedroom units. All units are well-equipped with refrigerator, microwave, coffee maker, cable TV and wireless Internet access. Relax in the indoor pool or step up in the fitness center. Washers and dryers and a community kitchen are there for chores and chat. A game room with pool table, barbeque grills and picnic tables and an outdoor play area make it perfect for families and small groups. You're centrally located in the heart of Cape Cod where shopping, restaurants, and historic attractions abound in the Cape's 15 distinctive towns. The finest beaches, golfing, biking, or kayaking are close at hand, as are an endless array of land and sea activities.
134 Acapesket Road East Falmouth, MA, 02536 Phone: 508-548-4747 Toll-Free: 800-548-5556
Tie up and let your Cape Cod vacation begin
Set off the Atlantic on a serene wooded inlet, this Cape Cod waterfront lodging is that special vacation getaway. A private boating beach and a free ramp and dock are available for hotel guests. Pet friendly accommodations offer queens and double beds, a private bath, cable TV, in-room coffee, microwave and refrigerator and free high-speed Internet. All rooms are non-smoking and full kitchen units are also available. Vacation rentals include a three-bedroom cottage with fireplace and wide screen TV. A large heated outdoor pool and kiddie pool provide the cool while barbecue grills supply the heat. Outstanding golf courses, beaches, historic attractions and just the best Cape Cod fishing are all nearby. There's whale watching and the Woods Hole Oceanographic Institute for some out of the box fun.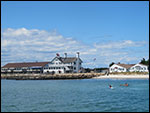 1 Lighthouse Inn Road West Dennis, MA, 02670 Phone: 508-398-2244
Refreshing Ocean Breezes to Rejuvenate Your Spirit
Picturesquely situated along the shoreline of Nantucket Sound, The Lighthouse Inn provides complete seclusion and relaxation with the convenience of a location central to all points of interest. An oceanfront, country inn complex located on nine secluded acres, we offer a wide selection of accommodations in cottages with fireplaces, Cape-style houses with guest rooms, individual suites, and rooms in the Main House. Enjoy our private sandy beach, outdoor heated pool and tennis. Stroll along more than a mile of sandy beach at the adjacent West Dennis Beach. However long your stay, you will find a friendly, caring staff to help make your visit memorable. For your next vacation, experience the rejuvenating spirit of the ocean at The Lighthouse Inn.
2907 Main Street (Route 6A) Brewster, MA, 02631 Phone: 508-896-9000 Toll-Free: 800-343-6074
Refined accommodations, private beach, catering to every whim
Located on the shore of Cape Cod Bay in Brewster, MA, Ocean Edge Resort & Golf Club offers stunning natural beauty and spectacular amenities, and was named "Best Resort Cape Cod" by Boston magazine's 2017 Best of Boston Awards. The Mansion at Ocean Edge offers exclusive access to the Resort's private beach, and consists of 90 Mansion luxury guestrooms as well two and three-bedroom Presidential Bay Collection villas featuring a private concierge. Guests will enjoy the new Beach House Spa, an 18-hole Nicklaus Design golf course, The Beach Bar, three outdoor pools, two indoor pools, nine tennis courts, three restaurants, bike rentals, kayak & stand-up paddleboard rentals, complimentary wi-fi, and beach chair and towel service.
241 Grand Avenue Falmouth, MA, 02540 Phone: 508-548-1010 Toll-Free: 866-469-8222
The ocean beckons and this resort answers the call
Escape to the Cape in summer or the quiet season when peace and romance can be found in abundance. Both this resort and its sister ship docked at Surfside (and features an indoor pool) offer studios and spacious one and two bedroom oceanfront suites luxuriously appointed with in-room whirlpool tubs and fireplaces in every master bedroom, with deck or balcony. You'll also find living rooms and efficiency kitchens with dishware and cooking utensils. Located just minutes away from downtown Falmouth and across the street from Falmouth Heights Beach on Vineyard Sound, you'll feel a world away from home. Discover the best of the Cape in quaint shops, intriguing galleries, warming taverns, fireside dinners, year round theater and the many other pleasures that await your visit that you won't soon forget.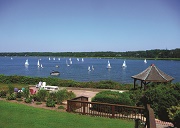 13 South Orleans Road - Route 28 Orleans, MA, 02653 Phone: 508-255-1203 Toll-Free: 800-343-2233
Wake up to a warm breeze right off the water
The heart of a Cape Cod vacation is the nearness to the ocean and Cape Cod Bay, along with the pleasures that implies: from feeling the ocean breeze during a quiet walk in the dunes to jet skiing or surfing or nature cruises. The Cove on the Waterfront, in centrally located Orleans and cheek-to-cheek with the Cape Cod National Seashore, places you near all this beauty. Rest well in rooms or suites that may include waterfront views, kitchenettes, flat screen TV with HBO and ESPN. Your day can be as active as you want it to be. Unwind with a good book on a sandy beach, lulled by the rhythm of the ocean or head out for golf, shopping and dining in Provincetown, or antique browsing along the King's Highway.