Cape Cod offers unforgettable vacations at beach and ocean resorts
In New England the beach beckons. Whatever pulls you to the ocean New England has it - from quiet coves, to wide sand beaches, and up the coast to rock cliffs pounded by waves. The best way to enjoy your getaway beach vacation is to stay at one of these fine beach resorts. Expect waterfront accommodations, fine service, and great dining. Add to that spa service, charter fishing, and fine dining along the beach or with an ocean view. This is where romance is kindled and families come to play. From Rhode Island's South County, northward to the unparalleled beaches and luxury resorts of Cape Cod, Nantucket and Martha's Vineyard are many fine waterfront lodgings. North of Boston along Cape Ann and into Maine you will discover more sandy beaches and spectacular cliffs pounded by waves. Expect great lodging and service from New England's finest ocean and beach resorts and you will not be disappointed.
At South Beach on Martha's Vineyard -- 31 Dunes Road Edgartown, MA, 02539 Phone: 508-310-1733 Toll-Free: 866-335-1133
The Only Resort at South Beach, Martha's Vineyard – Close to Cape Cod
The Winnetu Oceanside Resort is the only Resort at South Beach, Edgartown, Martha's Vineyard, off the Cape Cod coast. We offer studios, 1-4 bedroom suites and cottages, and 3-5 bedroom private home rentals. Included are complimentary shuttles to Edgartown; heated pools; fitness center; tennis; yoga; life-size chess; Concierge Services; Children's Programs; antique fire truck rides; and a path to South Beach. Also available: massages, bike rentals, and family friendly dining in our ocean-view restaurant, The Dunes – with an outdoor deck.
Book our Two-Island Adventure Trip. Start at Cape Cod and plan a beach getaway at the Winnetu Oceanside Resort and a stay at our sister property in downtown Nantucket, The Nantucket Hotel. We will transport you door-to-door between the islands and our Resorts.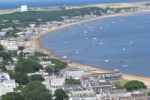 696 Shore Road North Truro, MA, 02652 Phone: 508-487-1041 Toll-Free: 888-768-7666
Waterfront Lodging With Unsurpassed Views of Provincetown Harbor and Cape Cod Bay
Welcome you to the Blue Sea on Cape Cod where you will enjoy the pleasures available in this beachfront setting directly across from the National Seashore and the Dunes. Experience the joy of this resort which offers comfortable and handsomely appointed rooms and efficiencies that are designed to make your seashore living a delight. Amenities include private bath, heat and A/C, cable color TV, coffeemakers, refrigerators and an indoor heated pool and coin-operated laundry on site. Stroll beaches, ride through the dunes or discover the miles of bike trails for pedaling or walking. Provincetown is two miles away. There you can enjoy shops, galleries, summer theater, whale watching, fishing and the best dining on Cape Cod. We are a shuttle bus stop. The bus stop is across the street from our office.
95 Chase Avenue Dennisport, MA, 02639 Phone: 508-398-6922 Toll-Free: 866-469-8222
Just a step from your own private beach
Set on the shores of Nantucket Sound in Dennisport are more than 400 feet of beautiful private beach and the perfect setting for a mid-Cape escape. Most of the 76 units at this year round resort - including studios and one & two bedroom suites - feature ocean views, a gas fireplace, and all include an efficiency-sized kitchen and wireless internet service. Guests step from their doorstep to the beach, indoor and outdoor pools, a fitness center and a seven-hole putting green. On site in summer are a bevy of great children's activities with a wide variety of family activities in the surrounding local area. Name you fun – the ocean, the pool, great shopping, interesting museums, go-karts, ice cream, lobster rolls or golf - it's all here awaiting your arrival.
134 Acapesket Road East Falmouth, MA, 02536 Phone: 508-548-4747 Toll-Free: 800-548-5556
The ocean calls and Green Harbor answers
This Cape Cod waterfront lodging features comfortable accommodations, modern amenities and activities for the whole family including a private boating beach with ramp and dock, free use of rowboats and paddleboats, heated outdoor pool, barbecue grills all set on a beautiful ocean inlet. Nearby are popular local attractions including Plymouth Rock, Martha's Vineyard, sun-drenched sandy beaches, golf courses, and the best Cape Cod fishing. There's whale watching and the Woods Hole Oceanographic Institute for some out of the ordinary vacation fun. All waterfront rentals feature a slider to a balcony or patio. Each waterfront guest room is heated and air conditioned with private bath, tub and shower, cable TV, microwave, refrigerator and coffee maker, and free high-speed wireless Internet access.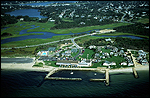 1 Lighthouse Inn Road West Dennis, MA, 02670 Phone: 508-398-2244
Refreshing Ocean Breezes to Rejuvenate Your Spirit
Picturesquely situated along the shoreline of Nantucket Sound, The Lighthouse Inn provides complete seclusion and relaxation with the convenience of a location central to all points of interest. An oceanfront, country inn complex located on nine secluded acres, we offer a wide selection of accommodations in cottages with fireplaces, Cape-style houses with guest rooms, individual suites, and rooms in the Main House. Enjoy our private sandy beach, outdoor heated pool and tennis. Stroll along a mile of sandy beach at the adjacent West Dennis Beach. However long your stay, you will find a friendly, caring staff to help make your visit memorable. For your next vacation, experience the rejuvenating spirit of the ocean at The Lighthouse Inn.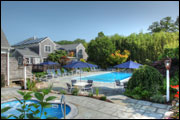 1191 Orleans Road Chatham, MA, 02633 Phone: 508-945-1133 Toll-Free: 800-547-1011
This Chatham resort is a relaxing headquarters for all who seek to commune with the sea
Surrounded by water on three sides, the picture-perfect town of Chatham beckons anyone who wants a vacation by the sea. And sitting on six lovely acres in Chatham is Pleasant Bay Village, where guests for years have been relaxing in the pool or their spacious rooms, getting in a game of shuffleboard or just sitting in the magnificent gardens. Water-based pursuits in Chatham include taking a day trip to Martha's Vineyard or Nantucket, going deep-sea fishing, exploring a lighthouse or taking a water taxi to a secluded beach. And you are only a short drive from the Cape Cod National Seashore and its fabulous beaches. The harbor, ocean and bay views on this part of the Cape are spectacular. And, p.s., so is the seafood!
Two Luxurious Locations Martha's Vineyard and Nantucket, MA, 02539 Phone: 866-335-1133
World-Class Cape Cod Beaches Await You
The Nantucket Hotel, in downtown Nantucket, is near unique shops and restaurants and an hour from Cape Cod via the high-speed ferry. Enjoy complimentary Children's Programs; The Nantucket Club fitness and spa facility; heated pools; and shuttle service to nearby beaches and ferries. Offering hotel rooms, 1-3 bedroom suites and cottages, and on-site dining.
Winnetu Oceanside Resort is the only Resort at South Beach, Edgartown, Martha's Vineyard. Stay in a studio, 1-4 bedroom suite or cottage and enjoy complimentary shuttles to Edgartown, heated pools, fitness center, tennis, and yoga. Also available: massages, bike rentals, and ocean-view Lure Grill.
Plan your beach vacation at both the Winnetu Oceanside Resort and The Nantucket Hotel and we'll transport you door-to-door between the islands.
543 Commercial Street Provincetown, MA, 02657 Phone: 508-487-1726
At the center of Provincetown fun
At Surfside Hotel & Suites, the ever-rolling sound of waves will rock you to sleep. We're located along tranquil Cape Cod Bay, so close to the shore the patios overlook the beach. Swim, sunbathe, fish, or just unwind on our private stretch of coastline. Or lounge by our heated outdoor saltwater pool, with a cool drink served to you poolside from our Lighthouse Bar. Stroll Commercial Street, the quaint resort town's main thoroughfare, and stop in one of the many great restaurants for a lobster dinner. In the evening relax by the firepit on the sky-lit patio. Or head to one of the Provincetown nightclubs and dance the night away. And for a bit of ocean adventure, make a whale watch cruise part of your vacation.
2907 Main Street (Route 6A) Brewster, MA, 02631 Phone: 508-896-9000 Toll-Free: 800-343-6074
One Great Resort, Two Cape Cod experiences
Located in historic Brewster, Ocean Edge Resort & Golf Club was named "Best Resort Cape Cod" by Boston magazine's 2017 Best of Boston Awards, and offers stunning natural beauty and spectacular amenities.
The Mansion at Ocean Edge features elegantly appointed guestrooms and two or three-bedroom villas with exclusive access to the Resort's private beach, including towel and chair service. The Villages at Ocean Edge feature family-friendly one, two and three-bedrooms villas with all the comforts of home. All guests are welcome to enjoy the Resort's 18-hole Nicklaus Design golf course, the new Beach House Spa, three restaurants, The Beach Bar, three outdoor and two indoor pools, nine tennis courts, fitness centers, bike rentals, and kayak and stand-up paddleboard rentals.