All Weddings Listings in Cape Cod Massachusetts (MA)
Historic Shore Street Falmouth, MA, 02541 Phone: 508-540-3000 Toll-Free: 800-352-7100
Say "I do" and celebrate your wedding here
Cape Cod has always been sweet, quiet and delicious in the off season. This cozy Inn on a secluded street in historic Falmouth just might be the place to plan a truly memorable off-season and more affordable wedding. An experienced and professional staff will help you craft a custom or themed Cape Cod wedding proposal designed to harness romance in the fall, winter or spring, keeping your budget in mind. Dining arrangements from basic to elegant and even a traditional Cape Cod clambake can be prepared on-site by the experienced staff. Large or small parties will find blocks of rooms available in any of the Inn's buildings. November to June you can enjoy an engagement party, rehearsal dinner, ceremony, reception, and guest accommodations to long remember.
2907 Main Street (Route 6A) Brewster, MA, 02631 Phone: 508-896-9000 Toll-Free: 800-343-6074
The Cape's quintessential wedding destination
The beautiful estate grounds at Ocean Edge Resort offers the perfect place to say "I do." You'll find a variety of wedding packages to suit your style, guest list, and culinary tastes and a customized package will accommodate your budget for your rehearsal, ceremony and reception. Ocean Edge offers a diverse array of hotel guest rooms and multi-bedroom villas. A group rate and room block can be arranged upon request based on availability. Packages include premium brand open bar service, stationary displays, butler passed hors d'oeuvres, tableside house wine service, champagne toast, three course plated meal, custom wedding cake and complimentary guest room for the evening of the wedding for the Newlyweds Ask about rehearsal dinners, beach fires, brunches and more.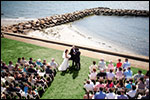 1 Lighthouse Inn Road West Dennis, MA, 02670 Phone: 508-398-2244
A classic Cape Cod wedding
You will find no location closer to the ocean nor any site that is as uniquely Cape Cod as Lighthouse Inn. A magical seaside location reminiscent of a time gone by, the Inn offers breathtaking views, historic charm and unsurpassed service. Our extensive reception menu offerings include passed and stationary hors d'oeurves, plated meals, food stations and, for a true seaside experience, a classic Cape Cod Clambake. In the spring and fall the Inn accommodates weddings up to 220 and during July and August up to 85. Using the expertise and experience attained over twenty years at Lighthouse Inn, our wedding coordinator will guide and assist you through the entire planning process to insure your special day is everything you've dreamed of!
543 Commercial Street Provincetown, MA, 02657 Phone: 508-487-1726
Begin your life together on our beautiful private beach
Say your vows in style at Surfside Hotel & Suites, one of the most beautiful wedding venues in Provincetown, Mass. Enjoy a romantic ceremony performed on our private beach under a trellis dripping with flowers to match your color scheme. We can arrange for a gay-friendly minister to officiate. Sign up for our wedding package, and you will enjoy two nights in a beautiful waterfront guestroom with stunning views of Cape Cod Bay. A champagne toast and a special gift are also included. Your guests will be offered a special group rate. Spend your wedding weekend relaxing by our private beach, our lounging by our heated outdoor saltwater pool with a cocktail. Our hotel is a great place for you to begin your life together.