Berkshires & Pioneer Valley have lots of resources in spas and wellness
Every season is the right season to indulge in the comforts of spa treatments, but winter is an especially good time to offer aid and comfort to the physical self. Winter's weather can bring on the blues or chase all but the most avid skiers or boarders indoors for comfort. For pure pleasure it is hard to top a two-hour massage or a day of expert pampering for the skin, hair, and nails, for women and men, as well.
Visit-Massachusetts.com can help you beat the winter blahs through these extensive listings of spas and their health and beauty services. Many spas, hotels, and resorts offer special packages that include overnight accommodations; access to fitness rooms, saunas, and whirlpools; massages and other services; and amenities like champagne, flowers, and chocolates. So sit back with a glass of wine and review below the great spa packages offer by these fine New England establishments.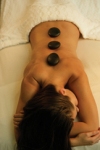 Route 20 - Lee Road Lenox, MA, 01240 Phone: 800-272-6935
Get your body and soul back in the heart of the Berkshires
Everything is here for a scenic Berkshires break in your routine. Breathtaking views, 114 gracious guest rooms and outstanding amenities and service, and three acclaimed restaurants for fine, casual and family dining and cuisine: Wyndhurst and the Music Room, the Gilded Age Mansion, and Sloane's Tavern. Settle into this fine all-season resort and spa featuring a 35,000-square-foot state-of-the-art facility with a 60 foot indoor pool, fitness center, and 16 treatment rooms. A wide array of 50 spa and wellness services from soothing massages and detoxifying wraps to rejuvenating skin and body treatments are individually designed for your needs by highly trained specialists. For more fun and activity there are 380 acres with an historic 18-hole golf course, tennis courts, and x-country ski trails.