Berkshires and Pioneer Valley resorts offer vacations with lavish comforts
Massachusetts's resorts offer luxuries and activities limited only by the imagination. Among the fine offerings at MA resorts are luxury guest rooms and townhouses, swimming pools, golf, spas and spa service, tennis, fitness centers, fine food, access to nearby outdoor sporting activities, and white-glove service. The Berkshires towns of Great Barrington, Stockbridge, Lee, and Lenox, and the Connecticut River Valley towns of Springfield, West Springfield, Northampton, and Amherst are home to some high-quality resorts where skiing and golfing are the centerpiece of attention.
Route 7 Lenox, MA, 01240 Phone: 413-637-1469
Everything is here for that home away from home vacation
This magnificent resort sits on a secluded 223-acre estate sheltered in a scenic area and framed by breathtaking mountains and its picturesque pond. Forty-eight condominium units offer guests one and two bedroom condominiums, each with a master bathroom with Jacuzzi, kitchen, dining area, living area with a sleeper sofa, a deck, and fireplace. Recreational activities abound with an indoor and outdoor pool, exercise room with hot tub and sauna, plus tennis, basketball, a playground, rowboats and canoes, and trails for walking, hiking, biking or cross country skiing. For your convenience, wireless Internet access is available in all units and the Clubhouse at no extra charge. Offsite are the fabulous Berkshires with unlimited family activities, cultural events, historic sites, museums and more.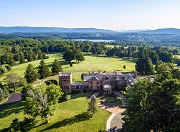 Route 20 - Lee Road Lenox, MA, 01240 Phone: 800-272-6935
Romantic and unmatched lodgings with impeccable service and amenities
This romantic Berkshire's resort with breathtaking scenery, unmatched service and amenities can change the way you think about relaxation. You'll find 114 gracious guest rooms from classic kings and doubles to junior, superior, mansion and townhouse rooms and suites. Three acclaimed restaurants offer fine, casual and family dining and cuisine. The all-season resort and spa feature a 35,000-square-foot state-of-the-art facility with a 60-foot indoor pool, fitness center, and 16 treatment rooms. Fifty wellness services offer every spa-ciality from soothing massages and detoxifying wraps to rejuvenating skin and body treatments individually designed for your needs. There's also the historic 18-hole golf course, tennis courts, x-country ski trails and 380 acres for year round fun.