Lodgings for college campus visits available in Berkshires, Pioneer Valley
Massachusetts, particularly Boston and the Berkshires town of Northampton, is chock full of world-class colleges and universities. Many hotels, motels, and inns in the Berkshires region of Massachusetts, including Great Barrington and Stockbridge, offer accommodations for campus visits and welcome students, parents, faculty, alumni, and others. Mass. campus lodgings in the Berkshires and the Connecticut River Valley towns of Springfield, West Springfield, Northampton, and Amherst are close to historic sites, dining, shopping, entertainment, and other attractions that make Massachusetts a home to famous universities and colleges of all sizes.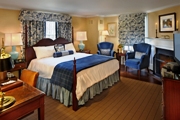 30 Boltwood Avenue Amherst, MA, 01002 Phone: 413-256-8200 Toll-Free: 800-742-0358
A treasured landmark in the five college community.
A transformation is underway in the heart of New England, where the lush, maple-lined lawn of Amherst Common meets the campus of Amherst College. The historic Lord Jeffery Inn, a treasured landmark in the Five Colleges community since 1926, is the ideal location for students and families to stay while visiting the prestigious colleges and universities in the area. The historic Inn offers 49 unique and well appointed guest rooms with modern amenities including free wireless Internet and fully equipped fitness center. Each room includes LCD HD TV's and private baths. Local farm to table cuisine is featured at our full service restaurant 30Boltwood. The Library, Rooftop Terrace and exterior gardens offer unique settings for relaxing, socializing or getting caught up with your favorite student.
1090 Main Street Williamstown, MA, 01267 Phone: 413-458-9371
Guests enjoy comfort and culture in a collegial setting
Williams College the town of Williamstown in Western Massachusetts lives up, in appearance, to its pedigree: founded in 1793, it is a private, residential, liberal arts place of learning housed in stone or clapboard buildings scattered among sloping green lawns. Students, parents, and visiting scholars from far and wide have reason for staying near the college, and Williamstown Inn fits perfectly with their expectations. Classical columns at the entrance welcome guests to inner comforts: a lobby fireplace, heated pool, hot tub and sauna, and two dining facilities serving hearty American fare and a continental breakfast. The Inn is literally on the campus property, and an easy walk from campus buildings. Guests can enjoy nearby museums and performance centers, the summertime Berkshire Theatre Festival, and drives to the pinnacle of beautiful Mount Greylock.