Massachusetts zip line canopy tours provide adventure at treetop height
Massachusetts wants to take you higher. Zip line canopy tours offer tree top adventure for any age with safety built in for all. Test your mettle on zip line canopy tours from the newcomer to the expert. Enjoy multiple and progressively faster zips, dual racing lines sky bridges and rappels, and an assortment of towers in the stratosphere. You'll also love incredible scenery as you fly from tree to tree. Indoors take on an adventure rope course that demands balance and agility as you move through zig zag beams, crisscross angled rope ladders, and spaghetti hand lines with specially designed courses for children ages 2-7. Stay nearby in
family friendly lodging
at
affordable prices
.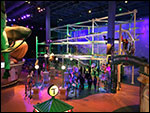 50 Walkers Brook Drive Reading, MA, 01867 Phone: 781-942-9816
Move along this sky ropes course or hold on tight – it's all good
Enjoy high thrills at Jordan's one-of-a-kind BeanStalk™ Adventure Ropes Course in Reading, Massachusetts. Test your balance and agility and move from one activity to the next that takes you from 12'-24' up and out. Challenge the zig zag beams, crisscross angled rope ladders, and spaghetti hand lines. Then at 24" walk the plank, step out on a 6 inch standalone beam, and if you dare, pivot and return. There are two levels of challenging ropes courses, 30 exciting activities, and one specially designed course for children ages 2-7, the BeanSprout.™ Adventurers must be at least 48" tall or 42" if accompanied by a chaperone. Groups of 10 or more on the same transaction receive a 10% discount. Call for details.
66 Thunder Mountain Road Charlemont, MA, 01339 Phone: 413-339-6617
Featured by USA Today as one of the Top 10 Zip lines of the United States.
Choose from one of three great zip line canopy tours!:
The Base Tour: Zip our introductory course - four zip lines for 30 dollars. Who can beat that? After you've tried the Base, hop on either the VJ or Mtn. Top Tours and receive our group price discount!
Mountain Top Tour: 7 zips, two lovely hikes, and two great ski lift rides. Ride dual racing lines and brave towers 45' in the air. Features incredible views of the valley, and an experience that the whole family can enjoy!
Valley Jump: Extreme fun! One of the best tours in North America. Featured in the Washington Post and in reviews all over the internet. You'll love it - Two half-mile-long zips, with approaches 200' off the ground. This is a category killer!
Route 2 (Mohawk Trail) Charlemont, MA, 01339 Phone: 800-532-7483
Zip through the forest canopy of the Berkshires!
It's not just an ordinary zip line at Zoar Outdoor in the Berkshires: It's a genuine canopy built directly in the trees, with 11 zip lines connected through platforms and two sky bridges to give you that real sensation of flying through the forest. The three-hour exhilarating canopy tour, with two experienced guides for every eight guests, features plenty of opportunities to gaze out over the gorgeous Deerfield River Valley and Northern Berkshires. And cameras (bring a lanyard!) are OK on the progressively faster course, which reaches a height of 50 feet. Ages 10 and up are welcome as are groups of up to eight. A safety and training lesson on the ground and a practice zip precedes the tour, which goes rain or shine unless there is lightning or excessive winds.