Massachusetts serves guests in luxury at its fine dining establishments
Fine dining -- for a full vacation, romantic getaway, or weekend getaway -- is varied and easy to find in Massachusetts. Options can range from classic New England and American and Continental foods in white-tablecloth traditional inns to seafood, French, or ethnic cuisines, among many others.
44 Middlesex Turnpike Bedford, MA, 01730 Phone: 781-275-5500
Recipient of 2016 TripAdvisor Certificate of Excellence Award
What makes dining at the DoubleTree by Hilton Boston-Bedford Glen unique is that we incorporate the freshest ingredients, delicate preparation, and professional culinary craft into each meal. Our promise, along with award-winning Executive Chef Jayson DeMarco, is to provide guests with a variety of high-quality nutritional and tasteful food, and a professional level of service throughout your stay. We invite you to join us and see for yourself what dining at our Bedford restaurant, SORA, can offer.
Open for breakfast, lunch and dinner daily, SORA is a Mediterranean restaurant set in a relaxing atmosphere. Featuring our renowned Wake Up DoubleTree Breakfast Buffet, you'll start the day off right with our signature bountiful spread offering fresh seasonal fruit, refreshing juice, low-fat yogurt and granola, scambled eggs, breakfast meats, potatoes, assorted pastries and breakfast breads, oatmeal and cold cereals. SORA also offers impressive lunch and dinner menus featuring Italian and Mediterranean inspired cuisine. Savor cocktails and dinner on our outdoor terrace featuring live music and seafood raw bar during summer nights and enjoy s'mores and dessert by the fire pit.
Click here to view our menus.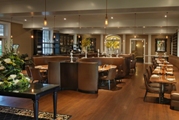 30 Boltwood Avenue Amherst, MA, 01002 Phone: 413-256-8200 Toll-Free: 800-742-0358
Elegance and comfort and cuisine to match
The "Jeff's" full-service restaurant, "30Boltwood,"provides an elegant & comfortable atmosphere that embraces the beauty of the Inn's natural surroundings. An enticing menu stresses the pleasures of farm-to-table cuisine prepared with natural, farm-fresh local ingredients. The restaurant offers an approachable and creative wine list where each offering is hand selected with the intention of creating the perfect meal. During the warm-weather season, outdoor dining is available under the covered porch and on the patio just off of the main bar. Other options at 30Boltwood include a small private dining room and a greenhouse room that showcases a common table that seats up to 16 people and features a sloped glass ceiling that offers exquisite views of the heavens.
15 Beacon Street Boston, MA, 02109 Phone: 617-670-1500 Toll-Free: 877-982-3226
Unrivaled service, cuisine, and ambiance
The magnificent and restored Beaux Arts hotel XV Beacon, features Mooo… for your dining pleasure for breakfast, lunch, dinner, Sunday brunch, and lighter bar fare as well. Step into the intimate lounge for a drink and savor the selection of fine cocktails, wine, and beer to start your evening or end the day. You'll find the private dining room and event venue, the Wine Cellar, on the lower level with vaulted ceiling, stone floors and walls lined with an impressive collection of rare and fine wines. Enjoy he attentive service, sophisticated décor and the creative spin on the classic steakhouse menu to please the modern palate. Staying at the hotel? Enjoy in-room dining and select from the complete Mooo… restaurant menu 24 hours a day.
15 Arlington Street Boston, MA, 02116 Phone: 617-536-5700
The Café
"The Café", a charming 66-seat space with views of fashionable Newbury Street, is home to Executive Chef Daniel Dumont who is recognized for his inspired mastery of American regional cuisine. Taj Boston has infused a new panache into The Café, a Boston landmark for over 55 years. Enjoy the new Raw Bar, nightly "From the Grill" Angus Beef, and The Café's Indian dishes and daily specials.

Attire: No workout attire, tee shirts, shorts or tennis shoes.

Route 28 on Pleasant Bay Chatham, MA, 02633 Phone: 508-432-5400 Toll-Free: 800-225-7125
"…Twenty-eight Atlantic, securely in the category of luxury, does it with a flourish." – The Boston Globe.
A posh waterfront location, spectacular cuisine and superb service combine to create a unique Cape Cod dining experience. Twenty-eight Atlantic is the Wequassett Resort's signature restaurant and enjoys the highest ratings on the Cape from AAA, Forbes and Zagat. Eight foot windows frame the panoramic views of Pleasant Bay, while Shaker-style furnishings, hand blown glass chandeliers, nautical etchings, Limoges china and Reidel stemware create an atmosphere of eclectic style and quiet luxury. Chef Bill Brodsky's distinctive menu celebrates native and seasonal ingredients with creative award-winning flair.
50 Easton Street Nantucket, MA, 02554 Phone: 508-228-2500 Toll-Free: 800-445-6574
Watch a harbor sunset as you dine at Nantucket resort
The anchor of the menu at the the White Elephant resort's Brant Point Grill might be the fresh lobster dinner, but patrons also rave over the Pineland Farms all-natural steaks and lobster mac and cheese that is not to be missed. The menu at the Brant Point Grill, known fondly by Nantucket residents and return visitors as BPG, is a seasonal delight, the dishes artfully prepared and presented by attentive staff. (Second only to dinner is the bountiful Sunday brunch.) And the setting is a worthy backdrop to the meals: The White Elephant is right on Nantucket's picturesque harbor, so while you dine, inside or out, you can watch the sailboats glide and the sun set across the water.
369 Main Street Sturbridge, MA, 01566 Phone: 774-304-1011
Visit yesterday, then enjoy a meal today
Old Sturbridge Village will keep you well fed and smiling during your visit with everything from delicious baked goods and fudge to full course meals. A special dining experience awaits at the Oliver Wight Tavern, a modern adaptation of an 1830s rural New England tavern that seats more than 300 in four distinct dining rooms featuring working fireplaces and delicious food served with historic New England hospitality. Selections include New England cheeses and chowders, salads and sandwiches, hot entrees with an assortment of side dishes. The Sunday Brunch provides an extensive buffet in a charming setting. The tavern is available for wedding receptions and other private events. Prices and menus change for special events and holiday brunches while hours vary seasonally.
120 Wauwinet Road Nantucket, MA, 02584 Phone: 508-228-0145 Toll-Free: 800-426-8718
Innovative cuisine, award-winning wine list at seaside restaurant
A longtime favorite of foodies worldwide, and named by Zagat's as the best restaurant on Nantucket, Topper's at The Wauwinet seaside inn showcases exemplary service, imaginative cuisine and a carefully curated list of 1,450 wines repeatedly honored with the Wine Spectator Grand Award. The restaurant's a la carte and prix fixe menus feature seasonally inspired locally sourced cuisine. Recent offerings include Seaweed Butter Poached Lobster and Gin-Cured Ocean Trout, but you really should try the Retsyo oysters, cultivated 300 yards away. Room for dessert? Consider the rhubarb flan. Then take a stroll upstairs to the deck to sip a cocktail and watch the sun set over Nantucket Bay. If you wake up in the morning and want more, there's always brunch!