Ski areas in Massachusetts welcome skiers and snowboarders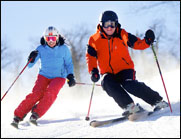 The profile of ski area locations in Massachusetts is very distinct: almost all ski areas are in the central and western region of the beautiful and historic Berkshire Mountains, reaching nearly to the border with upstate New York. An important exception is the small but very dynamic Blue Hills ski area in Canton, just 10 miles from Boston and a great resource for people on a vacation or ski trip in eastern Massachusetts.
In addition of several solid and well-serviced downhill ski mountains in the Berkshires, the areas is also awash in excellent cross-country (Nordic) skiing, much of it at farms that have groomed and prepared fields, trails and woodlands for cross-country skiing. The
Western Massachusetts Cross Country Ski Areas Association
is a great resource for that sport, which is great for all ages.
Massachusetts Snow Conditions
See below on this page for
Nordic (Cross Country) Ski Areas
, and
Ski Area Listings
.
Cross-Country (Nordic) Ski Areas
Lots of great cross-country ski areas can be found in Massachusetts. A trade group, the The
Western Massachusetts Cross Country Ski Areas Association
, offers a great Sampler Pass that is in effect for two years, and is good for one visit apiece to six areas that are members of the group. Pass can be shared and it costs $45. See more detail at our
cross country skiing page.
Canterbury Farm, Becket. A B&B and lodge with a system of 32 km, both wide and narrow, groomed daily for ski skating and for track skiing. Trails available for all skill levels. Rentals and lessons for cross country skiing and ice skating by professional instructors. Lodge with fireplace and food. Group nature tours on Saturday mornings.
Cranwell Resort, Lenox. Ten 10 kilometers of scenic, groomed trails open for Nordic skiing and snowshoeing. Ski center rents ski and snowshoe equipment, accessories, and healthy trail snacks.
Hilltop Orchards, Richmond. Working apple orchard operates a farm-based winery and a Nordic Ski Center. Trails in the orchard accommodate track skiing and skating-style skiing and snowshoeing. Good for beginners and intermediates.
Maple Corner Farm, Granville. This working farm includes a cross country ski center, lodge, 20 kilometers of marked trails appropriate for beginners to experts, prepared and groomed for track and skate-skiing. Snowshoe trails available with scenic views. Ski and snowshoe rentals, lessons.
Northfield Mountain, Northfield. Two dozen miles of trails are groomed for track and skate-skiing Nordic skiing, Beginner-to-intermediate trails includes some that require an 800-foot vertical climb for the most-fit skiers.
Notchview, Windsor. Notchview has a high base elevation of 2,000 feet, meaning plenty of snow over a long ski season. There is a safe area for children to ski and 30 to 45 groomed backcountry trails through woods and meadows over an expansse of three thousand acres.
Stump Sprouts, Hawley.This little ski area on a mountaintop farm has a long-snowy season because of its high altitude. Twenty-five kilometers of trails are designed for track skiing and snowshoeing. Beautiful wooded glades.
Ski Area Listings
37 Corey Road -- Route 43 Hancock, MA, 01237 Phone: 413-738-5500 Toll-Free: 800-882-8859
Skiers of all levels will love this Berkshire resort
Whether you've never skied or have conquered double black diamonds, you will love Jiminy Peak Mountain Resort. Nestled in the northern Berkshires, with a mountain elevation of 2,380 feet, the largest ski and snowboard resort in Southern New England is 167 acres of winter fun, from its 17 easy trails to three double black diamonds. And getting up there has never been easier with nine lifts, including the high-speed six-passenger Berkshire Express. Beginner or need to brush up? The resort offers individual and group lessons and a Discovery Zone area to test new skills. In the bustling alpine village, you'll find a country inn, day care and dining options from food courts to a tavern and John Harvard's Restaurant.
66 Thunder Mountain Road Charlemont, MA, 01339 Phone: 413-339-6617
Berkshire East is as much a riders mountain as you will find in New England. Whether you are a refugee from the northern resorts, a first timer, or die hard regular, the Beast has got you covered if you want great conditions, great terrain, great people, and an awesome atmosphere that caters to people who are done putting up with corporate b.s. and overpriced tickets.

What's new? This winter you will see a wind tower. This unit will generate 130% of our annual need. We have some great lifts and a bunch of new snow guns. Berkshire East has always been a locals place, but that's not because we only get people from western Mass. It means that when you buy a pass or a ticket here, that the money stays here and gets reinvested into our awesome mountain.
Bradford Ski Area
South Cross Road Haverhill, MA, 01835 Phone: 978-373-0071
Nine lifts service 13 trails and glades. There is also a terrain park.
Blandford Ski Area
41 Second Division Road Blandford, MA, 01008 Phone: 413-848-2860
22 trails; 2 terrain parks; night skiing; 465-foot vertical drop; 80% snow making; 2 lodges; 158 acres of skiable terrain
Skiing & Snowboarding -- Most of the terrain at Blandford is designated for novices and intermediates, but advanced skiers and snowboarders can find enough trails to keep them challenged.
Everything Else -- Two lodges; ski lift and lessons discounted passes and packages; rentals and repairs; racing
Blue Hills Ski Area
4001 Washington Street Canton, MA, 02021 Phone: 781-828-5070
12 trails for skiing and snowboarding; 1 terrain park; night skiing on 50% or terrain; 309-foot vertical drop; 60 acres of skiable terrain; 90% snow making
Skiing & Snowboarding -- Just 10 miles from Boston, Blue Hills is the only ski area in eastern Massachusetts. The state of Massachusetts owns the ski area, which has been leased by numerous companies. A big revitalization began in 2007. Nice area for families and relaxed skiing; not expensive.
Everything Else -- Ski school and lessons. A season-long equipment leasing program allows people to lease and keep equipment with them all season (called off site), or to lease equipment, phone ahead, and find equipment ready to go when they reach the mountain. Various season passes and college passes and other discounts. School vacation ski camps.
Ski Ward Ski Area and TubaSlide
1000 Main Street Shrewsbury, MA Phone: 508-842-6346
Nine groomed trails; five lifts, including a triple chair and T-bar; five tuba slide lanes with two lifts; instructional terrain garden and learning pipe; race facility with dual TAG Heuer timing gear, including a start shack and finish shack; mogul field; quarter pipe and terrain garden; ski school; rental facility; fireside lodge; snack bar. Tube uses must be age six or older and at least 42 inches tall.
Butternut Ski Area
380 State Road (Route 23) Great Barrington, MA, 01230 Phone: 413-528-2000
22 trails; 2 terrain parks; 110 skiable acres; snow tubing; 100 percent snow making
Skiing & Snowboarding -- Butternut prides itself on being an affordable and family-friendly ski area an easy drive from New York City and many locations in Connecticut via major highways. The mountain welcomes people new to skiing and snowboarding. Butternut promotes is affordable lift tickets and cheap season passes. Rentals and lessons for skiing and snowboarding are available, with opportunities for discounted packages. There is a seven-lane snow tubing center.
Everything Else -- Ski shop, demonstration demo tent. The nearby town of Great Barrington is a fun place to visit, with restaurants, lodging, and a variety of attractions and entertainment for adult and kids. Also, theaters, shopping, and museums.
Bousquet's Ski Area
101 Dan Fox Drive Pittsfield, MA, 01201 Phone: 413-442-8316
24 trails; 3 terrain parks, 200 skiable acres; 85 percent snow making
Ths family-friendly ski area offers lots of deals and passes for lift tickets and lessons. Racing.
Otis Ridge Ski Area
Route 23 Otis, MA, 01253 Phone: 413-269-4444
Eleven trails serviced by five lifts at this family ski area with a 400 foot vertical drop.
Nashoba Valley Ski Area
79 Powers Road Westford, MA Phone: 978-692-3033
14 trails; 1 terrain park; snow tubing; 52 acres skiable terrain
Skiing & Snowboarding -- This skiing and snowboarding area is less than one hour's drive from Boston. This is where Olympic downhiller Pam Fletcher learned to ski. Note that the ski area is located at 79 Powers Road, Westford, and the tubing park is located at 179 Great Road, Littleton. Snow tubing park with 15 lanes is open daily and nightly.
Everything Else -- The tubing park also consists of an on-site lodge, with snack bar and TV. Hours: Weekdays, 1 to 10 p.m.; weekends, holidays and holiday weeks, 9 a.m.-10 p.m. Check out The Overlook Restaurant & Bar.