Classic Foods of Massachusetts range from cod to baked beans & more

New England has many regional foods that are rooted in history, like Native Americans' use of maple sap, and in traditional uses of the land, like cheese from Vermont dairy farms and lobster from Maine fisheries. Other New England traditions include cod, cranberries, clam chowder, apples, blueberries, and Boston baked beans. For some description and history of these regional dishes and tips on where to find them, see below at
• Seafood, • Boston Baked Beans, • New England Boiled Dinner, • Historic Yankee Fare, • Italian Food, • Apples, • Cranberries, and • Odds 'n' Ends
Seafood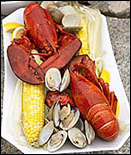 Seafood is a specialty and a point of pride in New England cuisine. Finfish like cod, scrod, haddock, halibut, and trout, and shellfish like lobster, scallops, clams, oysters, and mussels are served throughout New England, with some regional specialties: lobster is synonymous with Maine; Rhode Islanders love their quahogs (a type of clam); everyone devours fried clams. At a traditional New England clam bake, shellfish and vegetables are steamed in a pit in the beach lined with hot rocks and layered with damp seaweed.
Where to Find Seafood in Massachusetts
Boston region

Atlantic Fish Co.
761 Boylston Street
Boston
Prices: $30-$60 for meal, drink, tax, and tip

Go! magazine says, "This top-rated seafood spot serves buzz-worthy lobster pot pie, sea bass chowder, steamed mussels and has a killer raw bar." A customer raved, "If you are a seafood fan you must try the New England Lobster Feast." The North Atlantic salmon is superb and the raw oysters are described as fresh and tasty. In the Back Bay neighborhood. Attire: Casual. Open daily, 11:30 a.m.-11 p.m. Map
Neptune Oyster
63 Salem Street
Boston
Prices: $30-$60 for meal, drink, tax, tip

Neptune Oyster, a tiny and legendary seafood restaurant with a fabulous raw bar, is tops for delicious, fresh shellfish, stocking in particular a large variety of oysters. Also great is the hot lobster roll. Good variety of wines for ideal pairings. Seating is limited; there are only 18 seats at the raw bar and 26 at banquettes. Does not accept reservations. Not for children. In the North End neighborhood. Attire: Casual. Hours: 11:30 a.m. to 11 p.m. Map

The Daily Catch
323 Hanover Street
Boston
Prices: $10-$30 for meal, drink, tax, tip

Established in 1973, this original hole-in-the-wall storefront offers a daily selection of New England's freshest shellfish and fish. The Daily Catch has resisted change with its simple, no-fuss décor and service. It continues to prosper in its 38th year of serving Sicilian-style seafood and pasta prepared before your eyes and served in the pan the food was cooked in. In the North End neighborhood. Other locations at Harborwalk Fan Pier in Boston (617-772-4000) and at 441 Harvard Street in Brookline (617-734-2700). Open year-round, daily. Map

Summer Shack
10 Scotia Street / 50 Dalton Street
Boston
Prices: $10-$30 for meal, drink, tax, and tip

"The philosophy behind Jasper White's Summer Shack is "Food is Love," and proof is in the dishes. The Shack offers the freshest seafood available, including famous pan-roasted lobster, hearty chowders, grilled fish, award-winning fried chicken, and even corn dogs for the kids," says The Restaurant Review. Boston's Back Bay Summer Shack is walking distance to Fenway Park and Symphony Hall. Open daily. Other locations are at 149 Alewife Parkway in Cambridge (617-520-9500) and 96 Derby Street in Hingham (781-749-6837). Map
Cape Cod region

Lobster Pot
321 Commercial Street
Provincetown
Prices: $10-$30 for meal, drink, tax, tip

An institution in the heart of downtown Provincetown, the Lobster Pot has two waterfront dining rooms overlooking Provincetown harbor. Serving the finest and freshest seafood, Portuguese specialties, steaks, poultry, vegetarian and light fare. Home of the beloved Tim's Clam Chowder by executive chef Tim McNulty, winner of numerous awards. Casual. Open from early April to the end of October. Entire menu served starting at 11:30 a.m.
Beachcomber Restaurant at Cahoon Hollow Beach
1120 Cahoon Hollow Road
Wellfleet
Prices: $10-$30

The Beachcomber Restaurant, located next to tall bluffs that drop down to the magnificent Cahoon Hollow Beach, is a waterfront restaurant and bar that welcomes people of all ages who like good food and fun times. The menu includes fried and grilled seafood and crispy fried clams. There is a kids menu, arcade, and a famous raw bar. The Beachcomber was voted best live entertainment on the Outer Cape. Most nights there is a live band. Map

Spanky's Clam Shack
138 Ocean Street
Hyannis
Prices: $10-$30 for meal, drink, tax, tip

Spanky's Clam Shack, across Ocean Street from the docks of Hy-Line Cruises in Hyannis, is a great place to tuck into some fresh Cape Cod seafood. It is on the beaten path, and everyone who goes through Hyannis stops here. Selections include fried clams, scallops and shrimp; clam chowder; fish and chips; and New England lobster dinner. This place is fun, family-friendly, and affordable. Attire: Casual. Season: April 15 to October 31.

> Captain Frosty's Fish and Chips
219 Main Street
Dennis, MA
Prices:$10-$30

Captain Frosty's is not on the water, but it is a true-blue clam shack. Among the treats are fresh Chatham cod in the fish and chips, lightly fried local clams and scallops, premium lobster salad, clam cakes, hand-cut onion rings, black Angus burgers, and soft-serve ice cream to finish. Very casual and lots of fun for the kids. Map
Central region

Sole Proprietor
118 Highland Street
Worcester
Prices: $10-$30 for meal, drink, tax, tip

The favorite seafood restaurant of central Massachusetts diners since 1979, The Sole Proprietor has garnered four-star reviews and many awards, including being named one of America's top 10 seafood restaurants. At The Sole, the menu features seasonal dishes and favorites like seafood sauté, tuna steak Barcelona, dijon and horseradish bluefish, salmon and scallops basilio, and seafood Alfredo. Attire: Casual. Open daily.
South of Boston region
Cabby Shack
30 Town Wharf Road
Plymouth
Price Range: $10-$30 for meal, drink, tax, tip
The CabbyShack on Plymouth harbor is the spot for gorgeous views, seating under the sun, live music, and seafood so fresh it practically jumps from the ocean to the kitchen. The basic boiled lobster weighs in at a pound and a quarter but you can also tuck into a three-and-a-half pounder. Equally eye-popping is the Big Shack lobster roll. The menu is loaded with fun foods like onion rings, shrimp cocktail, fried clams, and pizzas. The restaurant is renowned for its clam chowder, served in a bread bowl. Casual atmosphere. Open year round, daily, 11 a.m.-1 a.m.
Map

Wood's Seafoods Restaurant & Fish Market
15 Town Wharf
Plymouth
Price Range: $10-$30 for meal, drink, tax, tip

The 50-seat restaurant at Wood's Seafood overlooks Plymouth Harbor, and the commercial fishing fleet unloads its boats within the view of all diners. The menu features fried clams, seafood platters, lobster dinners, and clambakes as well as baked scrod, haddock, salmon, and a variety of sandwiches including lobster roll, scallop and clam rolls. The market sells live lobsters, swordfish, clams, shrimp, and the freshest selection of the catch of the day. Open year-round. Map
North of Boston region

Woodman's of Essex
121 Main Street (Route 133)
Essex
Price Range: $10-$30 for meal, drink, tax, tip

Founded in 1914 by Chubby and Bessie Woodman as a roadside grocery stand, Woodman's of Essex claims to be the inventor fried clams, selling its first batch on July 4th, 1916. Since that time, Woodman family has served up hearty portions of seafood and memories to generations of loyal fans. The restaurant is also known for its clam chowder and fresh lobsters. Awards include Best Seafood North and Best Seafood in America. Open year-round, but hours change seasonally. Map
Nathaniel's Restaurant at the Hawthorne Hotel
18 Washington Square West
Salem
Price Range: $30-$60 for meal, drink, tax, and tip

This restaurant's signature dish, shrimp and scallops Sophia, leads a menu rich with historic items from a bygone era along with seafood dishes like seared scallops, cornmeal-fed oysters, seafood chowder, baked haddock, and salmon, Nathaniel's offers demi-portions of its most popular items. Prize-winning Sunday brunch. In the heart of historic Salem, Attire: Dressy. Map

Bistro 127 at the Yankee Clipper Inn
127 Granite Street
Rockport
Price Range: $30-$60 for meal, drink, tax, tip

The restaurant offers casual ocean-side dining in an art deco mansion. The menu is stuffed with traditional seafood choices: local lobster, haddock, shrimp scampi, scallops, halibut, salmon. The views are as wonderful as the food.
Dube's
317 Jefferson Avenue
Salem
Price Range: $10-$30 for meal, drink, tax, tip

It is hard to get people to tone down their raves about Dube's seafood, particularly its fried clams. Some recent posted comments include "there are only two places to get fried clams on the East Coast. Dube's serves the traditional style old school big clams with big bellies that personifies the idea of fried clams." A good choice is the fisherman's platter. The atmosphere is simple and rustic; good for kids. Attire: Casual. Map
Boston Baked Beans

Boston baked beans are made from navy beans, usually stewed (despite the name). Boston baked beans use a sauce made from pork and molasses, and are so popular the city has been nicknamed "Beantown." In other parts of New England, baked beans are sweetened with maple syrup. In Colonial New England, baked beans were cooked on Saturdays and left in the brick ovens overnight so that people could eat a hot meal on Sundays without cooking that day. They can be found at many of the region's classic diners.
Where to Find Baked Beans in Massachusetts
Boston region

Durgin-Park
340 Faneuil Hall Market Place
Boston
Price Range: $10-$30 for meal, drink, tax, tip

For more than 180 years, Durgin-Park, located in Faneuil Hall Marketplace, has served traditional Yankee dishes like fish chowders, Indian puddings, apple pan dowdy, jonny cake, and New England boiled dinners. This is the place to find homemade Boston Baked Beans, among other New England specialties. Attire: Casual. Hours: Year-round, daily 11:30 a.m.-10 p.m. Map
Marliave
10 Bosworth Street
Boston
Price Range: $30-$60 for meal, drink, tax, tip

Authentic Boston baked beans are served as a side dish. Menu is New American and French. Guests rave about the seafood, including the oysters, fish and chip made with cod, trout, and other American standards. Décor is low-key, traditional, and quiet. Not for children. Hours: Daily, 11 a.m.-10 p.m. Map
New England Boiled Dinner

New England boiled dinner consists of corned beef or a smoked picnic ham shoulder, with cabbage and other vegetables like potato, rutabaga, parsnip, carrot, white turnip and onion. Although not a traditional Irish meal, it has been an integral part of Irish-American culture and is often served during Irish holidays such as Saint Patrick's Day.
Where to Find New England Boiled Dinner in Massachusetts
Boston region

Corrib Pub
201 Harvard Street
Brookline
[Great Boston region]
Price Range: $10-$30 for meal, drink, tax, tip

This authentic Irish pub, with locations in Brookline, West Roxbury, and Brighton, has the alluring slogan, "It's Like Home But With More Taps." Corrib Pub serves New England Boiled Dinner on Thursdays. Very "neighborhoody," with a welcoming and slightly older crowd. Apart from the boiled dinner on Thursday, the Corrib is a place to enjoy Irish fare like bangers and mash, Irish breakfast, great burgers, and seafood. A great place to enjoy St. Patrick's Day. Other locations at 2030 Centre Street in West Roxbury (617-469-4177) and at 396 Market Street in Brighton (617-787-0882). Map
Historic Yankee Fare
New England's Puritan settlers from England brought their own cooking traditions, like baked beans, baked turkey, and apple pie. The newcomers also acquired food traditions from the Native Americans, who used corn meal in a form of jonnycakes and many kinds of fish in chowders and clam bakes. Native people also gathering and used maple sap, a prelude to modern maple syrup. Molasses and rum were common in New England cuisine. Hard apple cider was a beverage for people of all ages. Cranberries and potatoes were used extensively.
Where to Find Historic Yankee Fare in Massachusetts
Central region

Old Sturbridge Village
1 Old Sturbridge Village Road
Sturbridge
Price Range: Above $60

Old Sturbridge Village is a living history museum, replicating New England life from 1790-1840. Among the Village's buildilngs is the Oliver Wight Tavern, an adaptation of an 1830s rural New England tavern. The Oliver Wight presents the foodways, recipes, furnishings, and ambiance of a "licensed house" that provided early New Englanders with food and socialization. On selected Saturdays from November to March, the Tavern hosts at Dinner in a Country Village, where visitors can prepare and eat a meal as early New Englanders did. In all seasons, the Village hosts occasional special events about New England foodways. Topics can include chocolate preparation, family cooking at the hearth, maple production, and summer vegetable harvests. Great for children. Open year-round; hours change seasonally.

Old Mill
69 State Road East
Westminster,
Price Range: $10-$30 for meal, drink, tax, tip

Located at the gateway of the Mohawk Trail in western Massachusetts, the Old Mill operated 250 years ago as a sawmill. Today, the Old Mill is noted for tempting foods served in a charming setting. Voices of diners mingle with the music of water rushing over the mill dam and beautiful vistas are doubled by their reflection in the mill pond. The lovely lake, gazebo, and archway to the dining room make this a bucolic and romantic getaway. The menu is rich with tempting meats like veal marsala; seafood choices, including the baked haddock with seafood stuffing; and combinations, like the flat iron steak with shrimp. Open year, round, daily except Mondays. Map
Berkshires and Pioneer Valley region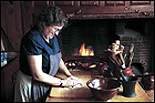 Historic Deerfield
80 Old Main Street
Deerfield
Price Range: $30-$60

Step into early America as you tour Historic Deerfield's 11 house museums along with the Flynt Center of Early New England Life along an original, mile-long street. The Open Hearth Cooking program interprets 18th- and early 19th-century foodways. The interpreters offer Saturday cooking demonstrations in spring, early summer, and fall that focus on seasonal foods, food preservation, the Cooks' Garden, and food history. Hours: Open year-round; limited access from late November to mid-April. Map

Red Lion Inn
30 Main Street
Stockbridge
Price Range: $30-$60 for meal, drink, tax, tip

For an authentic Colonial dining experience, one of the top destinations is the Red Lion Inn in Stockbridge. Among the dining options here is the cozy Widow Bingham's Tavern, named for Anna Bingham, who established a general store in Stockbridge in 1773 on the road from Boston to Albany. The store evolved into a stagecoach stop, tavern, and inn under the sign of the red lion. Today, the Tavern is a cheerful room of wide-plank floors and dark paneling adorned with authentic historic artwork. The menu brims with local highlights such as New England clam chowder, butternut squash bisque, local cider and maple. Map
Greater Boston & Cambridge region

Italian Food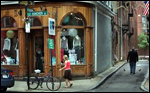 The North End is the common name for Boston's Little Italy. In fact, it is the city's oldest residential area; people have lived here continuously since the 1630s. In a space of less than one-half a square mile, you can find about 100 eating establishments. Italian food served here is 100 percent authentic. Small establishments with front awnings and sidewalk seating evoke a feel for old Italy. Many traditional Italian festivals are celebrated here. The North End is a must-stop for people who love real Italian food.
Where to Find Italian Food in Massachusetts
Boston region

North End Market Tour
6 Charter Street
Boston
Fee: $50 per person.

The North End (Little Italy) neighborhood of Boston is a delightful place to stroll and dine, but people who love Italian food and want to get under the surface of the story should sign up for Michele Topor's North End Market Tour. During this three-hour walking and tasting tour, you can discover one of the most vibrant ethnic neighborhoods in this country. Learn about how Italians eat, and find out on how to identify and where to buy the best ingredients. Tours are held Wednesday, Friday, and Saturdays. It is a cooking class on the move. Map

Giacomo's
355 Hanover Street
Boston
Price Range: $10-$30 for meal, drink, tax, tip

Wonderful Italian food with a heavy emphasis on seafood. Wow dishes include the seafood special, butternut squash ravioli, pumpkin tortellini, frutti di mare with the Fra Diavolo sauce, and the calamari. Atmosphere is cozy, intimate, and non-pretentious. Great for visitors who want a real feel for Boston's Italian food. The restaurant is very small, so be prepared to wait (outdoors). Service is rapid and turnover is quick. Cash only. Not for children. This location is in the North End. A second location is at 431 Columbus Avenue in the Back Bay of Boston (617-536-5723.) Open daily. Map

Lucca
226 Hanover Street
Boston
Price Range: $30-$60 for meal, drink, tax, tip

Named for the Tuscan town renowned for its olive oil, Lucca offers Northern Italian classics combined with new innovations. Upon entering Lucca Restaurant, guests encounter sultry music, Italian granite floors, and alluring candlelight. The mahogany bar displays an award-winning array of exotic liquors, Port wines, grappa, and more. This, combined with the granite walls and stained glass, lends the room an aura of warmth and intimacy. Located in the North End, with a second location in the Back Bay at 116 Huntington Avenue, Boston Massachusetts (617-247-2400). Dinner served nightly. Map

La Famiglia Giorgio's
112 Salem Street
Boston
Price Range: $10-$30 for meal, drink, tip, tax

If you have a big appetite for good Italian food, this place will satisfy you. The inside is small and quaint like any other North End restaurant and the staff is kind and helpful. The menu is overwhelming, with many sauces to pair with different types of pasta. Pesto and mussels fra d'avalo are supurb. There is a decent selection of wines, moderately priced. You will end up with leftovers for the following two days. Good for kids. Open daily. Map
Berkshires / Pioneer Valley region

Joe's Cafe Spaghetti and Pizza House
33 Market Street
Northampton
Price Range: $10 to $30 for meal, drink, tax, tip

Fight the chains! Joe's Pizza is a funky, crowded neighborhood place with its very own, unpretentious personality where great pizza is enjoyed by people of all ages and types. This Northampton institution's décor hasn't changed in decades, and everyone from toddlers to college students rub elbows to dive into the spaghetti and meatballs, wonderful grilled asparagus, big salads, piccata, and mussels. Casual; good for kids. Map
Apples
Apple growing has found a fertile home in rocky soils, long, hot summers, and crisp fall days of New England. The New England apple industry is still largely family-owned and orchards are an important community resource. Many growers offer pick-your-own sales and farm stands that sell homemade apple butter, applesauce, pies, and more. Among the other treats is apple cider -- fermented ("hard") or non-fermented. Until the mid-1800s, hard cider was the most popular beverage in North America because apples were plentiful; it was cheap to make and, unlike milk, it would not go bad. See lists of Pick-Your-Own Farms in Massachusetts and Farmers Markets in Massachusetts.
Where to Find Apples in Massachusetts
Central region
Bolton Orchards
125 Still River Road (at routes 110 and 117)
Bolton

Today, 250 acres yield apples, peaches, pears, nectarines, plums, sweet corn, tomatoes, squash and pumpkins. The Orchard also produces two unique varieties of fresh pressed cider. Bolton Orchards also offers fruit baskets, shippable gifts, fresh flowers, seasonal bedding plants, Christmas trees, and old fashioned ice cream. Open year round, 8 a.m.-6 p.m.
Map

Keown Orchards
9 McClellan Road
Sutton


Keown Farms is a fourth-generation family business located on 175 acres in Worcester County. The farm offers a wide variety of apples as well as pears, peaches, and many other fruits and vegetables. Keown Farm makes its own brand of apple blossom and wild flower honey from the farm's hives. The farm grows herbs, annuals, and perennials and has fresh-cut flowers daily in season and, pick-your-own apples and pumpkins in the fall. Open daily from April through Christmas. Map
Cranberries

Native Americans used cranberries in a many foods, especially for pemmican, a sort of early energy bar made from fat and proteins, and also as a dye. American Indians may have introduced cranberries to English settlers in Massachusetts, who incorporated the berries into their feasts. The first European cultivation of cranberries in the New World may have happened in Dennis on Cape Cod in the 1800s. In the fall, cranberries fields are flooded to create shallow bogs, from which the berries are harvested. Many cranberry operations invite the public to visit and watch the harvesting, from September into October.
Where to Find Cranberries in Massachusetts
South of Boston region

Flax Pond Farms
1 Robbins Path
Carver


Tours of this 100-acre family-owned cranberry farm are offered mid-May through October. At the farm's screening house you can sort the tart fresh cranberries as they come out of the antique separator and even eat a few if you dare (pucker up).The Cranberry Gift Shop offers juice samples and recipes, cranberry condiments, cranberry-land honey, and many other treats from this all-American of foods. Tours offered mid-May to mid-September, weekdays, 1-4 p.m. From mid-September to October 30, open daily from 1 to 5 p.m. Map
A.D. Makepeace Co.
158 Tihonet Road
Wareham


Makepeace and its subsidiaries have been growing cranberries since the 1800s. While the most popular time of year to see the bogs is during the cranberry harvest in October, A.D. Makepeace Co. invites visitors to tour the property throughout the year. Makepeace guides can discuss the growing cycle of cranberries and show photographs and video of the bog at different times of the year. There are always activities which are interesting and entertaining for all ages. A typical tour lasts about 90 minutes. To arrange a tour, call Kim Houdlette at 508-322-4028. Map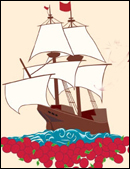 Mayflower Cranberries
72 Brook Street
Plympton


Mayflower Cranberries is a family-owned cranberry farm. Cranberry bogs have been continuously farmed in Plympton since the 1880s. Mayflower's 108-acre farm has 25 acres of active cranberry bogs, as well as three varieties of blueberries. The company offers cranberry blossom tours in June and harvest tours throughout the fall. See Mayflower Cranberries website for a full schedule of events. Map
Odds 'n' Ends

Cape Cod region
Centerville Pie Co.
1671 Falmouth Road (Route 128) Centerville

With over a pound of moist chicken, this all-meat chicken pie is unlike any other pie you've ever tasted. Each pie is baked inside a light, flaky crust with a creamy gravy. Business soared after mid-2009, when Oprah Winfrey tasted and praised this chicken pie. Among other specialties of the house are the clam pie, shepherd's pie, beef pie, and French meat pie, along with every dessert pie and name.
Map