Brunch is a relaxed treat at many Massachusetts restaurants
Brunch -- implying a late, relaxed breakfast -- is just the thing for a restful vacation or weekend getaway. Visitors to Massachusetts will find many restaurants -- from white-tablecloth fancy to down-home diners -- where brunch is a pleasure.
15 Arlington Street Boston, MA, 02116 Phone: 617-536-5700
Rooftop Sunday Brunch
Enjoy traditional breakfast preparations, contemporary New England cuisine, and Indian specialties, alongside a bounty of dessert items made in-house by our talented pastry team.

Every Sunday, April-November, with seatings from 10:30am - 2pm. Reservations suggested.
Attire: No workout attire, tee shirts, shorts or tennis shoes.
Three Battery Wharf Boston, MA, 02109 Phone: 617-994-9000 Toll-Free: 800-257-7544
Brunch with a Mediterranean state of mind
Savor a sumptuous weekend brunch along the waterfront at the Battery Wharf Hotel's Aragosta Bar + Bistro. Indoors or out, enjoy local New England favorites with a touch of the Mediterranean in every morsel. Start with a complimentary Bloody Mary or mimosa then steer yourself to the Classic Eggs Benedict with delicious additions and sides and Sriracha hollandaise. Egg specialties include omelets and frittatas or eggs anyway you like them. Bagels, fresh pastries, cinnamon brioche and malted waffles add that touch of sweetness. Make it a healthy start with granolas, Greek yogurt, a delicious assortment of fruit and steel cut oats. There's hummus and tabouli, Applewood or Canadian bacon, breakfast potatoes and paninni, salads, grilled flatbreads and a raw bar.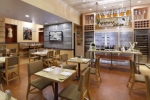 1360 Worcester Street Natick, MA, 01760 Phone: 508-653-8800
Sunday sampler is worth the short trip
Just 20 miles outside of Boston awaits a sumptuous Sunday brunch at this newly renovated and chic hotel's signature restaurant, Pantry. Championing the art of American cooking, you'll be seated in space reminiscent of Julia Child's kitchen with more contemporary touches. Savor a variety of pancakes and salmon pate, fruit plates and smoothies, breakfast meats, frittatas, huevos and green eggs, brioche French toast and Panini. Then wash it down with a selection of juices and the finest coffee. Staying longer, don't miss the delicious casual dining in the Pantry and enjoy premium hand crafted cocktails in the chic new Violet Thorn lounge with a selection of small plates and flatbreads from the kitchen.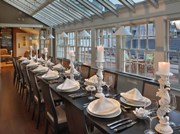 30 Boltwood Avenue Amherst, MA, 01002 Phone: 413-256-8200 Toll-Free: 800-742-0358
Farm-to-table cuisine in an elegant and comfortable atmosphere
The historic Lord Jeffrey Inn in Amherst, Massachusetts, is the hotel of choice for returning alumni of the region's many colleges, visiting parents, and travelers seeking a classic New England experience. In addition to the comfortable lodgings and historic ambiance, a chief attraction is our full-service contemporary restaurant, 30Boltwood, where guests enjoy an innovative menu featuring farm-to-table cuisine and masterfully-crafted cocktails. We're an especially popular destination for brunch, served from 10:30 a.m. to 2:30 p.m. Saturday and Sunday. We offer simply-prepared meals inspired by the abundance of locally-sourced ingredients, a creative wine list, refined bar service, an elegant and comfortable atmosphere, and beautiful natural surroundings. Come enjoy our culinary hospitality!
61 Market Street, Unit 1C Lowell, MA, 01852 Phone: 978-459-6150
Brunch in the Merrimack Valley is a special treat
Next Sunday gather your friends and family for a delicious brunch served throughout Merrimack Valley featuring great food and dynamic settings. Whatever your pleasure, enjoy New England dining buffet style or with plated entrees and savor the wide array from contemporary American cuisine to inspired pub favorites. And whether a classic modern restaurant, upscale bistro or cozy tavern in an historic inn, it's all good along with your Bloody Mary's and specialty drinks. The patios are opening and you'll be able to hear some fine music along with your food to make it all the more festive and relaxing indoors or out. Family favorites are always on tap from pancakes and waffles to eggs, omelets and the all important fixins.