North of Boston/Merrimack Valley love their amusement parks
50 Ferncroft Road Danvers, MA, 01923 Phone: 978-777-2500
SPLAAAAAAASH. Aaaaaaaah! More please!
Water feels good especially when it's warm and relaxing and all out nonstop fun. That's the scene at Coco Key, the largest indoor water park in Massachusetts. Open every day for every kid of every age, you are transported to a tropical paradise where it's 84 degrees no matter what the thermometer says. There are water slides, a lazy river, a splash pad and dip-in-the- theater arcade, private, cozy cabanas and more. Hold a birthday party, fundraiser, group swim, or hey!... buy out the whole park for a day. Right next door you can dry off, chow down and settle in at the fabulous Doubletree Hotel Boston North Shore. Coco Key discounts and special packages include overnight accommodations, water resort access, and breakfast in the family-friendly TradeWinds Restaurant.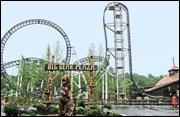 85 North Policy Street Salem, NH, 03079 Phone: 603-893-3560
The fun never stops!
Originally a trolley park, Canobie Lake Park has opened every summer since 1902 featuring amusement games, arcades, more than 50 thrilling rides and endless fun to families across New England and beyond. There's entertainment on two stages and the Dancehall Theater, a water park and more just 30 miles north of Boston. Enjoy several roller coasters, a hand-painted antique carousel, steam train, a ferris wheel, one of the only "dark rides" in New England, over a dozen kiddie rides and a dedicated Kiddieland area, plus evening fireworks. Food choices abound and you'll find special events and lots of tax free shopping for everyday items, keepsakes and souvenirs. Check out the discounts for school and company outings and nearby special summer lodging packages. Free parking every day.
200 Daniel Webster Highway Nashua, NH, 03060 Phone: 603-888-1940
It's a big wide fun world out there!
So, it's amusement you're looking for? And, you wouldn't mind tiring out all those children that follow you around, after long hours in the car. Fun World – a castle form the outside and a play pit on the inside – has you covered. For a reasonable cost and the convenience of in-house dining, families can keep the littlest members entertained with slides, tumbling in a ball pit, jungle gym climbing, and simple rides. Meanwhile, teenagers can collect redeemable tickets and all kinds of trendy prizes by playing at a huge assortment of video, multi-play, dance, sport, and classic arcade games, from Transformers Theater to old-school air hockey. Moms and dads may join the action, or settle in to a more-sedate ride on the imported carousel from Italy.