North of Boston/Merrimack Valley is filled with enticing pick your own (PYO) Farms
Amesbury Line Road Haverhill, MA Phone: 978-502-2148
PYO: Apples and peaches.
Season: September and October
Hours: Friday- Sunday, 10 a.m.- 5 p.m.
Also: Farmer's market, cider, honey.

143 Argilla Road Ipswich, MA Phone: 978-356-5366
PYO Produce and Seasons: Strawberries (June), blueberries and raspberries (July), blackberries (August)
Hours: Daily, 9 a.m. to 5 p.m. during picking season. Call for picking dates.
Also: Bakery and farm store selling apricots, peaches, plums, blueberries, raspberries, tomatoes, beets, carrots, cucumbers, garlic, green beans, kale, kohlrabi, squash, Swiss chard, turnips, zucchini, wine. Hay rides, live music, scheduled festivals
380 Middle Road Haverhill, MA Phone: 978-372-9474
PYO Produce: Blueberries, raspberries, flowers (July and August), Christmas trees to choose and tag in November and December
Hours: 8 a.m. to 6 p.m.

650 Asbury Street South Hamilton, MA Phone: 978-468-2277
PYO Produce: Starwberries in late June; blueberries in July; raspberries in the fall. Call ahead to learn what is in season
Hours: Tuesday-Sunday, 8 a.m.-6 pm.
Also: Special events including farmers market, farm tours, and a summer festival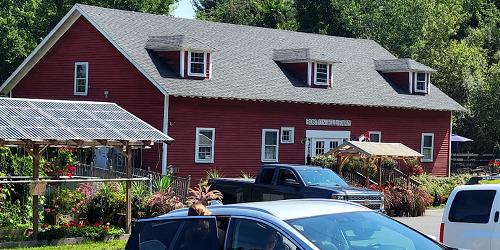 1370 Turnpike Street North Andover, MA Phone: 978-681-8556
PYO Produce: Strawberries (June), raspberries (July), blueberries (July and August), peaches (August and September), MacIntosh, Cortland, Macoun apples and pumpkins (September to October)
Hours: Open year-round, 9 a.m.-7 p.m.
Also: Hayrides and festivals in the fall with fresh pies and cider donuts. Fresh vegetables and fruit all season in the farm store. Baked goods and ice cream at the farm store. Farm animal petting zoo.

45 Fern Avenue Amesbury, MA Phone: 78-388-5525
PYO Produce: Strawberries, raspberries, blueberries, peaches, plums, nectarines, apples and pumpkins
Season: Check website for picking dates
Hours: Early May to Thanksgiving, daily 8 a.m. to 6 p.m. until daylight savings ends; and from 8 a.m. to 5 p.m. during standard time
Also: Farm store, cider, farm animals

30 Valley Road / Route 35 Danvers, MA Phone: 978-777-1245
PYO Produce and Seasons: Peaches (mid-July to mid-September), raspberries (early July to frost), strawberries, (mid-June to July 4), blueberries (mid-July to mid-August), apples, (Labor Day to Halloween), cut flowers (July to early frost), pumpkins (October)
Hours: Daily, 9 a.m. to 6 p.m. Also: hayrides, apple cider, doughnuts, honey, hardy mums, fresh pies, farm animals, corn maze

38 Felton Street Peabody, Phone: 978-531-7456
PYO Produce: Strawberries, raspberries, blueberries, peaches and apples. Garden vegetables are ready in July through early fall. Winter squash and apples through December.
Hours: June to February, daily, 9 a.m. to 5 p.m. Call ahead to learn what is in season. Farm Stand open Wednesday-Sunday, 9 a.m.-3 p.m.
Also: Farm store with seasonal fruits and vegetables, jams, candies, pies, cider donuts, hot mulled cider, cold cider and coffee, and gifts made by local businesses. Farm animals, picnic area