North of Boston/Merrimack Valley boasts state and local parks with fun activities all year
61 Market Street, Unit 1C Lowell, MA, 01852 Phone: 978-459-6150
A park for every outdoor pleasure in the Merrimack Valley
Take your pick of quiet, rugged and historic national and state parks to enjoy every form of outdoor recreation. Walk in, bike in or park your car and start your journey. Stroll along historic trails. Jump into a canoe or kayak for a lazy glide down scenic rivers. Stop and view the amazing array of wildlife in special management and observation areas. Or spread out your blanket for a relaxing picnic or siesta in beautiful fields near quiet ponds. Whether you travel on foot, bike, cross country skis or on horseback there's plenty to see and do like fishing, swimming, camping and interpretive programs to step into. You can even savor the delicious ice cream at a working dairy farm.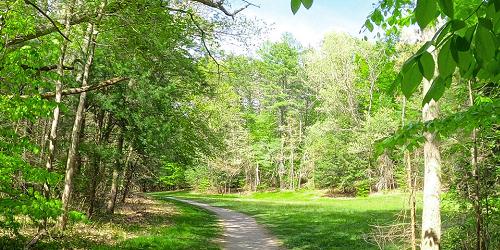 Asbury Street and Ipswich Road Topsfield, MA Phone: 508-887-5931
Great for walking, picnicking, enjoying spring flowers; horseback riding. Wading pool for kids
This former estate has many pleasant, shaded walking trails and old carriage roads. Lots of rhododendron bushes blaze in June. The park/estate is bordered on its north end by the Ipswich River, and a kayak and canoe rental business is located just east of the park, on Ipswich Road. There is a wading pool for young children and areas for picnicking. Hunting is allowed at Cleveland Farm. Archery hunting only at Prospect Hill. Horseback riding is allowed on trails, but there are no rentals of horses or equestrian equipment.
Summer trail map.
160 Pawtucket Blvd Lowell, MA Phone: 978-458-8750
Park describes the history of this industrial city; also boating, fishing, and walking along esplanade
This park illustrates the life of Lowell's 19th-centry textile mills. Among the things to see here are a network of canals that furnished power to the textile mills along the water. The park includes two miles of landscaped esplanade where summer concerts take place, and a Victorian garden in the downtown. To get access to the walking paths, park at Rynne Bathouse at 160 Pawtucket Blvd.
The park offers swimming and boating in the Merrimack River. Boating access to the Merrimack River is at the Rourke Brothers State Boat Ramp on Route 113. It has 44 trailer lots and 20 car-top lots. The entrance to the ramp is across from 1011 Pawtucket Blvd. and one-half mile west of the Rourke Bridge. There is an easy walking trail of 1.5 miles in length along the Lowell Esplanade. Park at Rynne Bathouse located at 160 Pawtucket Blvd.
Note that Lowell National Historical Park, operated by the National Park Service, is a similar but separate entity from Lowell Heritage State Park.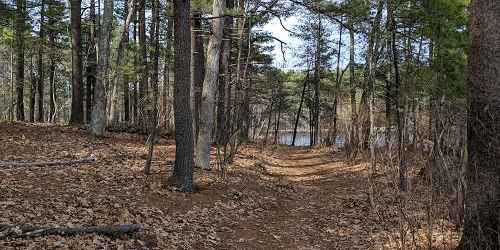 305 Middleton Road North Andover, MA, 01845 Phone: 508-686-3391
In-the-forest camping; miles of logging roads for hiking and mountain biking; fishing and paddling (no motor boats)
Harold Parker State Forest is a large property of hardwood and pine forests just 20 miles from Boston. Camping at Lorraine Park campground, at 133 Jenkins Road, is a real in-the-forest experience. There are 89 spread-out camp sites with picnic tables and grills and bathrooms with hot showers. No electrical hookups. Camping is done from late May to early September.
More than 35 miles of logging roads are available to hikers and off-road bikers. Horseback riding is allowed. Fishing and paddling with canoes and kayaks (no motor boats) are allowed on the forest's eleven ponds. The property does not offer boat or bike rentals.
Campground map.
Trail map.
Beach Road, Route 1A Salisbury, MA, 01952 Phone: 508-462-4481
Popular for trailer camping; ocean beach, swimming, boating, fishing
This beautiful ocean beach stretches almost 4 miles along the Atlantic. Activities include ocean swimming, boating, fishing, and camping. It is very popular for trailer camping, offering 484 trailer sites. The property has bathhouses, parking for day visitors, boardwalks, a pavilion and a playground. Two boat ramps are on the Merrimack River.
Camping is done from May to October. Off-season camping on weekends is October to late November. Hunters may use the island and Sandy Point State Reservation. See park website for rules about hunting.
Campground map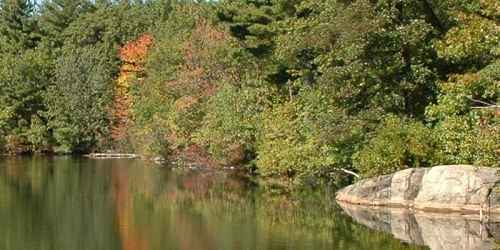 177 Forest Street Saugus, MA Phone: 781-233-0834
Forest with two lakes; swimming; fishing; walking trails; views
Breakheart Reservation is a 640-acre hardwood forest with a supervised swimming area at Pearce Lake, one of the few freshwater swimming spots north of Boston. An extensive trail system through the forest touches many remote areas of the reservation. Popular activities are fishing in Silver and Pearce Lakes, hiking the trails, and wildlife watching by the Saugus River. Open year-round, dawn to dusk.
1 Jackson Street Lawrence, MA Phone: 508-794-1655
Park describes the history of this early industrial city and its immigrant workers
This is the place to learn about this city's industrial history. Interactive exhibits in a genuine nd restored mill workers' boarding house describe life in this early planned city. The Visitors Center includes a replicas of the mills and boarding houses, telling the life histories of the three dozen immigrant groups who settled in Lawrence. A video of the Great Strike of 1912 describes a piece of this country's labor history. The Bread and Roses Festival on Labor Day is an annual highlight. Guided tours are offered. Pemberton Park, off Canal Street near the Central Bridge, offers views of the mills and dam, along with places to fish. The area has walking trails and benches. Open daily 9 a.m.–4 p.m.
Lawrence Heritage State Park map.
174 Liberty Street Concord, MA Phone: 508-369-6993
The starting point for the American Revolution happened here. Visitors will enjoy tours, exhibits and talks. Sites include the Minute Man statue and the North Bridge, site of the first shot fired in the Revolution.
Hours: The grounds are open year-round, daily, sunrise to sunset. Parking lot gates close at sunset. North Bridge visitor Center, 174 Liberty Street, Concord, is open daily. Winter hours, from late November to March 30, are 11 a.m.-3 p.m.; regular hours, from April 1 to late November, are 9 a.m.-5 p.m. Minute Man Visitor Center, 250 North Great Road, Lincoln, is open April 1 through late November. Hartwell Tavern opens in late May; closes in winter.
Admission: free.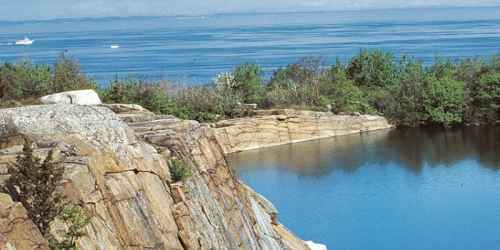 Gott Avenue Rockport, MA Phone: 508-546-2997
Beautiful sea views; birdwatching; good for walking and picnicking
On a promontory beyond Rockport Between Ipswich Bay and the Atlantic, Halibut Point is a beautiful place for viewing the seascape, walking, birdwatching, and picnicking. It is a former granite quarry and is now run the Trustees for Reservations . On summer weekends tours of the quarry are offered. There are wildflower walks and tide pool education programs in the summer and bird tours in the winter. Most of the park is wheelchair accessible.
Season and Hours: Open Memorial Day to Labor Day, daily, 8 a.m.-9 p.m. Parking lot is available.