Farmers markets North of Boston & Cape Ann are rich in local foods, culture

Mill Pond Parking Lot, Clock Tower Place, Main Street (Route 62) Maynard, MA Phone: 617-728-2425
This market features produce, dairy, meats, baked goods, honey, and cut flowers. The Market also offers educational and cultural events and information about the town's civic groups. Plenty of free parking. Rain or shine.
Dates and Hours:Last Saturday in June through first Saturday in October; 9 a.m.-1 p.m.
Amos Blanchard House and Barn, 97 Main Street Andover, MA Phone: 978-475-2236
This market is a purveyor of fresh and locally produced fruits, vegetables, flowers, breads, pies, cookies, herbs, and more. Discover all the tastes of New England!
Dates and Hours:June 24-October 21 on Saturdays, 10 a.m.-2 p.m.
24 Maple Road Chelmsford, MA Phone:
Produce, beef, pork, fish and seafood, bagels, bread, coffee, pasta, maple syrup, salads, empanadas, honey, tea, wine, desserts, pickles, jam, fudge. Special events include pet photos with Santa, alpacas, chicken-keeping seminar, bee-keeping seminar, music, tarot card readings. Email: info@chelmsfordagway.com
Dates and hours: November 4, 2017 to February 24, 2018; Saturdays, 10 a.m.-2 p.m.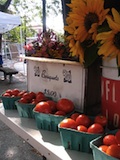 Veterans Memorial Park, 150 Rantoul Street and Railroad Avenue Beverly, MA Phone: 978-473-9891
Vendors at the Beverly Farmers Market provide fresh vegetables and herbs, specialty Asian vegetables and herbs, fruits, flowers, honey and sauces, seafood, gourmet organic dog treats, ceramic art, local woodcraft, massage and music. This is a beautiful market in a child friendly, dog friendly, picnic friendly park.
Dates and Hours: June 12 to October 2, Mondays, 3-7 p.m., except July 3 and Labor Day.
The Common, Academy and Westford streets Chelmsford, MA Phone: 978-256-3270
Three local farms at this market offer fresh local seasonal produce. Also: bakers, crafts and more. Use
Facebook
to keep up to date with market news. Email: Chelmsfordsfarmersmarket@gmail.com
Dates and Hours:
June 15 to September 28 on Thursdays, 2-6:30 p.m.

Marblehead Veterans Middle School, 217 Pleasant Street (enter from Vine Street) Marblehead, MA, 01945 Phone:
Vendors at this market specialize in fresh fruits and vegetables, cheese, local honey and a variety of hand-crafted products like pottery, handbags, fine art, jewelry and much more. Find a souvenir for your New England vacation here!
Dates and Hours: June 3-November 18 on Saturdays, 9 a.m.-noon
Derby Square, Front Street Salem, MA Phone: 978-744-0004
This market features more than just fresh local food; vendors of crafts, baby clothing, jewelry, scarves, baskets, and glass will be on site as well. 2010 will feature at least ten farms, including a new creamery from New Hampshire, preserves and cheese from a Vermont farm, and Asian vegetables. The lobsters will be back, as will some favorite farms from the region selling the freshest local produce.
2016 Dates & Hours in 2015-- June 9 to October 13 on Thursdays, 3-7 p.m.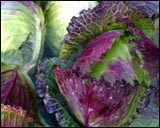 The Tannery Marketplace, 75 Water Street Newburyport, MA Phone: 978-457-6644
Pick up tasty local veggies, cheese, flowers, and more at the winter farmers' market held inside the Tannery tent!
Dates & Hours in Winter 2015: Sundays, January 4 & 18; February 1 & 15; March 1, 15 & 29; April 12; 9 a.m.-1 p.m.( Summer market begins May 3, 2015).