ACTIVE
Shining Sea Bike Trail
Mosey down Locust Road from Falmouth Center to find a Cape treasure: the Falmouth Shining Sea Bikeway, which offers a 3.3-mile ride on mostly level terrain. Go at your own pace on this aptly named, paved path through scenic salt marsh, cranberry bogs and farmland, and ocean vistas that are well worth a little sweat!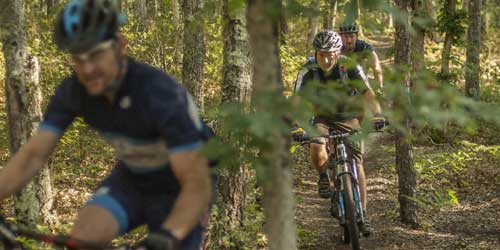 South Cape Beach State Park
South Cape Beach State Park
off Great Oak Road in Mashpee has a barrier beach and dunes, a salt marsh, pine woodlands and small freshwater ponds. This stellar swimming area is wedged between scenic Vineyard Sound and a saltwater bay.
GOOD EATING
Breakfast
Moonakis Café, located on Waquoit Highway in East Falmouth, has received rave reviews from satisfied families and couples for their superb breakfast menu and fast service.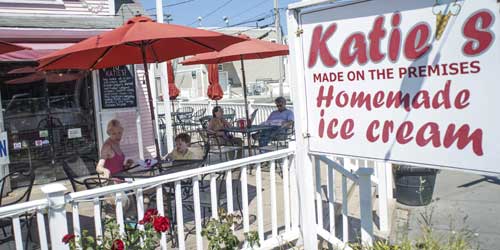 Lunch
Café Chew at 4 Merchant's Road in Sandwich boasts large portions of savory Massachusetts sandwich creations, fresh ingredients, and open-air seating.
Grab a bite to eat – or several – for lunch or dinner at Flying Bridge Restaurant in Falmouth, a truly New England waterfront dining experience with outdoor seating under the Cape Cod sunshine.
Dunbar House Restaurant and Tea Room on 1 Water Street in Sandwich is a genuine treat. It started life as a 1740 carriage house and now it has the tone of an elegant British tea room, serving British ales and European wines, ports and sherries. Plan a relaxed lunch or Afteernoon tea, tapas hour or dinner. Dine by the fireplace in winter or on a sunny patio in summer.
Dinner
At the Daniel Webster Inn's Tavern in Sandwich, guests can enjoy American fare such as sandwiches and drinks in a historically decorated pub atmosphere, with live acoustic music every Friday night.
In the summertime, Coonamessett Farm in East Falmouth hosts fun and informal buffet dinners under an open tent twice a week. Wednesdays are Jamaica night, with live Jamaican music and zesty Caribbean food. Fridays are family farm dinner buffets. Stroll the farm after dinner; lean on a fence and chat with farm animals; visit the ice cream shack. Fun for kids and adults!