Masssachusetts bed and breakfasts offer historic settings and luxuries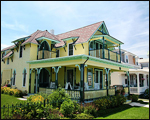 If you want a vacation or getaway at a bed and breakfast in Massachusetts you are in luck: every region, from Cape Cod to the Berkshires, has B&Bs to pamper you with modern amenities in historic settings. The setting might include former sea captains' homes on Nantucket or Cape Cod. Or it could be an elegant brick townhouse-like structure near Beacon Hill in Boston, close to Faneuil Hall, the Boston Common, and many other Boston sites.
Massachusetts bed and breakfasts are suffused with history but also prepared to offer the best of today: heated swimming pools, whirlpool tub, Wi-Fi, and
spa treatments
. Many operate year-round, so you can plan a family or a
romantic getaway
for the snow-heavy skiing and snowboarding season, or, conversely, the whale-watches and boat cruises of summertime off Cape Cod and Cape Ann. Pick an entrancing Massachusetts bed and breakfast from the page below and book your room today.