Massachusetts Diners
From a geographical standpoint, Massachusetts is the center of New England, and a very wide state, stretching from the tip of Cape Cod in the southeast and then westward to the remote heights of Mount Greylock in North Adams. The point here is that there are plenty of diners among the eateries, serving classic comfort food along with Massachusetts' own favorites, like baked beans as a side on your breakfast plate, and local maple syrup, apple desserts, and seafood. Find diners in :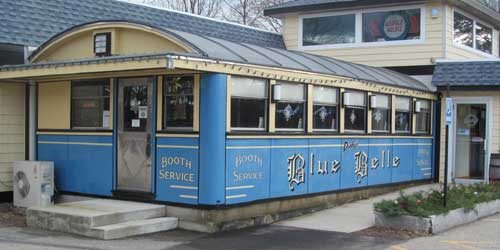 CT
,
Maine
,
MA
,
NH
,
RI
, and
VT
.

BOSTON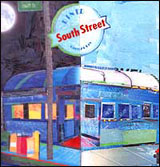 South Street Diner
178 Kneeland Street
Boston
Phone: 617-350-0028
South Street Diner (formerly the Blue Diner) was built in 1947 by the Worcester Dining Company to serve local factory workers. Over the years, the Diner has become a local landmark. South Street Diner is Boston's only all-night dining destination seven-nights-a-week. Burgers, clubs, wraps, subs, omelets, signature 1950s drinks like malted egg creams, frappes, and rickys.

FALMOUTH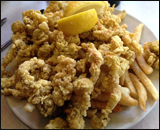 Betsy's Diner
457 Main Street
Falmouth
Phone: 508-540-0060
Good basic diner food in a friendly atmosphere. Betsy's believes it is important to "eat heavy." Recommended: bay scallop chowder, fried chicken, or the fish cakes with baked beans to get a real taste of down-home Cape Cod cooking.
FLORENCE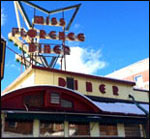 Miss Florence Diner
99 Main Street
Florence
Phone:
413-584-3137
On the edge of Northampton, this diner have been flipping pancakes and ladline corned beef hash since the 1940s. If you have a big appetite, try the Breakfast Club, stacks of homemade French toast layered with eggs, sausage, and bacon.
GARDNER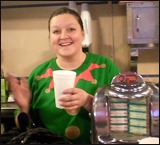 Blue Moon Diner
102 Main Street
Gardner, Massachusetts
Hours: Monday through Friday, 6 a.m.-2 p.m.; Saturday and Sunday, 6 a.m.-1 p.m.
Phone: 978-632-4333
If you are aching to step back in time and listen to some some oldies but goodies in a caring, clean environment you need to come and visit Blue Moon Diner. The diner makes its own homemade roast beef hash, sausage gravy and bisquits, quiche of the day, soups, meatloaf dinner, Yankee pot roast, and desserts. Homemade daily specials and an extensive breakfast and lunch menu are available. If you are short on time, call ahead and your meal will be ready when you arrive.

LOWELL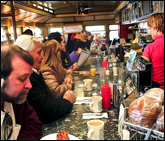 Four Sisters Owl Diner
244 Appleton Street
Lowell
Phone: 978-453-8321
Hours: Breakfast and lunch
Everyone who squeezes into this popular Worcester Lunch Car is treated like family. Favorites on the menu are the house sandwich, a roll stuffed with house-baked ham, cheese, mayo, lettuce, and tomato. And there's Tom's Special, home fries topped with bacon and cheddar cheese. " Service is professional and efficient. Prices are moderate. Coffee is above average for a diner and refills are free," wrote Urban Spoon.
LYNN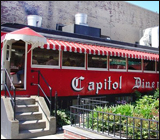 Capitol Diner
431 Union Street
Lynn, Massachusetts
Hours: Monday-Saturday, 6 a.m.-2 p.m.; Sunday, 7 a.m.-1 p.m.
Phone: 781-595-9314
All the diner classics are served, including fantastic omelettes with a variety of fillings. Wait staff is friendly, helpful, and 100 percent professional -- and many waitresses know customers by name, As is the case for many of these small diners, cash only!
MENDON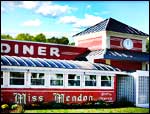 Miss Mendon Diner
16 Uxbridge Road (Route 16)
Mendon, Massachusetts
Hours: Monday-Sunday, 6 a.m.-10 p.m.
Phone: 508-634-3000
Miss Mendon began her journey in 1950 as a hand drawn sketch at the desk of a designer at the Worcester dining car company in Worcester. Since then she has had a storied history and has made a number of stops on her way to the little town of Mendon. The car layout remains the same as it did in 1950, with some modernizing and restoration of all of the finishes. Today Miss Mendon still evokes fond memories of times gone by, neon lighting, juke boxes at every table, great American comfort foods, and service that is friendly and courteous that will take you back to a great time in American history.
NATICK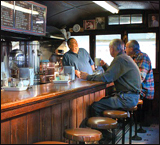 Casey's Diner
36 South Avenue
Natick, Massachusetts
Hours: Monday-Friday, 10:30 a.m.-8 p.m.; Saturday, 10:30 a.m.-4 p.m.; Sunday, 11 a.m.-3 p.m.
Information: 508-655-3761
This historic diner, established in 1890, is famous for its delectable and classic steamed hot dogs, and, secondly, its grilled cheese sandwiches. Take out window is popular and lines move efficiently. This basic eatery hasn't gone out of fashion in more than 100 years, so draw the obvious conclusion. Cash only.
NORTHAMPTON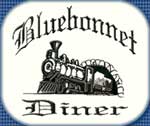 Bluebonnet Diner
324 King Street
Northampton, Massachusetts
Hours: Monday-Friday, 5:30 a.m.-11 p.m.; Saturday, 6 a.m.-11p.m.; Closed Sundays
Information: 413-584-3333
Since 1950, the Bluebonnet Diner has become a local favorite, renowned for home-style cooking and reasonable prices. Awesome broasted chicken. Order it! You'll be glad you did! Friendly waiters and waitresses and lots of easy banter with the regulars.
PEABODY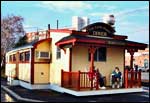 Little Depot Diner
Peabody Square, 1 Railroad Avenue
Peabody
Hours: Open daily except Wednesdays, 7 a.m. to 1 p.m.
Information: 978-977-7775
The Little Depot Diner is a special little breakfast place where cell phones and laptops are things of the future. All breakfast items and cooked wonderfully and with care. The place is famous for its custom-made butter, consisting of cinnamon, maple syrup, and brown sugar. Built in 1929, this 13-stool Worcester Lunch Car #650 still maintains the charm of yesteryear and continues to serve up great comfort food at reasonable prices. The Little Depot Diner was on the Food Network's popular show "Diners, Drive Ins and Dives" and filming was fun for everyone. Payment in cash only. No rest rooms.

ROWLEY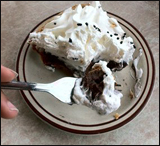 Agawam Diner
US Route 1 & 133
Rowley
Phone: 978-948-7780
Fast service of good, basic diner foods, with an emphasis on pies, especially coconut, banana, and chocolate cream. The staff is very friendly to kids, who love the pancakes and the atmosphere. Prices are very reasonable. Try the bacon, lettuce, and tomato sandwich, beef stew, chicken salad club, and many more. The diner accepts cash only.
SALEM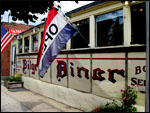 Deb's Diner
4 Boston Street
Salem, Massachusetts
Hours: Monday-Friday, 5 a.m.-1 p.m.; Friday and Saturday, 11 p.m.-5 a.m.; closed Sunday.
Information: 978-745-2348
Deb's Diner is on the edge of Salem's McIntyre neighborhood. Built in 1927, the diner is operated by Deborah Dentremont, a former waitress. Despite some upgrades, many original details of the diner's furnishings remains. Deb's serves breakfast and lunch, including a homemade fish and clam chowder. Cash and credit cards accepted.
SHREWSBURY


Dinky's Blue Belle Diner
70 Clinton Street
Shrewsbury, Massachusetts
Hours: Monday-Thursday, 6 a.m.-1:30 p.m.; Friday, 6 a.m. - 8 p.m.; Saturday, 6 a.m. - 1 p.m.; Sunday, 7 a.m. - 1 p.m.
Information: 508-856-0844
Everything you could ask for in a diner, along with premium ice cream and cruise nights in the warm weather
SOMERVILLE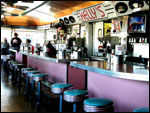 Kelly's Diner
674 Broadway (Ball Square)
Somerville, Massachusetts
Hours: Monday-Saturday, 6 a.m.-3 p.m.; Sunday, 6 a.m.-2 p.m. (Breakfast Only)
Information: 617-623-8102 or visit www.kellysdiner.net
Kelly's Diner is a 1953 Jerry O'Mahoney, two piece dining car. At 55 feet long it is one of the largest diners ever manufactured in the 1950s. It spent the last 42 years on Route 13 in New Castle, Delaware, and was brought to Massachusetts in 1996. Completely renovated, the Somerville community enjoys comfort food at this classic addition to the Ball Square area. Cash only, no checks or charge cards.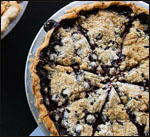 Rosebud American Kitchen & Bar
381 Summer Street
Somerville
Phone: 617-629-9500
Rosebud American Kitchen & Bar is a down-to-earth restaurant in a beautifully restored Worcester Lunch Car No. 773. Top dogs on the menu include meatloaf stuffed with bacon, an exotic form of mashed potatoes include a chili gravy, and unusual pies. The kitchen includes a barbecue smoker, and a long bar in the back helps keep customers cool and the atmosphere relaxed.
SPENCER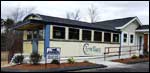 Charlie's Diner
5 Meadow Road
Spencer, Massachusetts
Information: 508-885-4033
Charlie's is a classic Worcester-built diner serving up the classic New England diner experience. Food here isn't fancy, but it is solid, tasty, and memorable. People keep coming back to Charlie's.
WALTHAM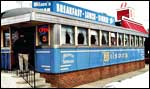 Wilson's Diner
507 Main Street
Waltham, Massachusetts
Hours: Monday-Friday, 5 a.m.-3 p.m.; Saturday, 6 a.m.-2 p.m.; Sunday, 7 a.m.-2 p.m.
Information: 781-899-0760 or visit www.wilsonsdiner.com/
Lunch and dinner specials change daily.
WATERTOWN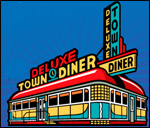 Deluxe Town Diner
627 Mount Auburn Street
Watertown, Massachusetts
Hours: Daily, 7 a.m.-10 p.m.
Information: 617-926-8400
"Fine Dinering -- Family owned for over 64 years" Home made food, deluxe pancakes, local maple syrup.
WORCESTER
Boulevard Diner
155 Shrewsbury Street
Worcester
Phone:
508-791-4535 The Boulevard, or "Bully," is open around the clock and it specializes in Italian foods: lasagna, Italian toast, homemade sauce and meatballs. Absolutely reliable for a classic diner breakfast or a fill-up anytime, with reasonable prices.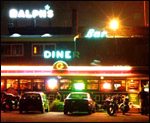 Ralph's Rock Diner
148 Grove Street
Worcester, Massachusetts
Information: 508-753-9543 or visit www.ralphsrockdiner.com/
The motto of this diner is "Eat at Ralph's and Live Forever!" The Boston Globe writes: "The 400-capacity, split-level diner/club is about a mile from the DCU Center, tucked behind a factory complex known as Northworks…. If the word funky was invented for anything, it was invented for Ralph's. When you walk in and turn left, you're in the Rock 'n' Roll Diner, built in the 1930s in Worcester's Chadwick Square, then moved to its present site in 1979. It's an ultra-cool, burger-and-chili joint that serves food until 12:30 a.m. If you turn right, you move into Ralph's grotto-like bar inside a former factory building. The crowd is quite friendly, and the bohemian-favored room is filled with murals by local artists and bric-a-brac like an antique phone booth…"
Diner Slang
Some diner slang –- like cup of Joe for a cup of coffee -- is mainstream American English, but much of this unique language appears only as background chatter in film noir. On your next diner run, try a few of these on your soup jockey , or waitress:
java = coffee
sun kiss = orange juice
baby juice = glass of milk
life preservers = doughnuts
Adam and Eve on a raft = two eggs on toast
blowout patches = pancakes with Vermont = maple syrup
Want your eggs scrambled? Tell the waitress to wreck 'em .
A shingle with a shimmy and a shake = is toast with jelly.
For toasted English muffins, say: burn the British.
If you are in the mood for risk, tell the waitress to sweep the kitchen or clean up the kitchen and she'll bring you a plate of hash.
Lunchtime? Try a Noah's boy = Ham on bread, or a ham sandwich.
For a hamburger with lettuce, tomato, and onion, your waitress may tell the cook
to burn one, take it through the garden, and pin a rose on it.
cow paste for butter
dog soup for a glass of water
M.D. for a Dr. Pepper
sea dust for salt
Mike and Ike for salt and pepper shakers
If this list doesn't cover your dining needs, the American Diner Museum can tell you much more.