Ponds & lakes of Boston are great for swimming and family summer fun
Enjoy fresh water swimming, boating, sailing programs, fishing , canoeing, kayaking and all day fun in and around Boston. Spring fed kettle ponds, lakes, and parks offer sandy beaches, some with concession stands, visitor's centers, restrooms, telephones, first-aid stations and ramps to the water for disabled guests. The best part may be the nearby
family friendly lodgings
and
dog friendly accommodations
that welcome your favorite family friend.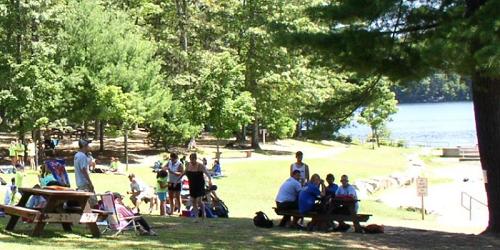 162 West Union Street Ashland, MA, 01721 Phone: 508 881-4092
Ashland State Park is located on the large Ashland Reservoir. The park offers fresh water swimming, picnicking, boating, fishing, bicycling and hiking. The park has a boat ramp. There is wheelchair access to the beach, bathhouse, picnic and hiking trails. There are no life guards.
Daily parking fee: $8 for Massachusetts vehicle; $10 for out-of-state vehicle.
Between Route 3 and Mystic Valley Parkway Winchester, MA, 01890 Phone: 617-727-5380
The Mystic Lakes offer swimming in fresh water at Sandy Beach, just off Mystic Valley Parkway. Sailing programs are offered at the Tufts University Boathouse. Upper Mystic Lake is for non-motorized boats (canoes, kayaks), only. Lower Mystic Lake is for power boats.
43 Commonwealth Road Natick, MA Phone: 508-653-9641
Day-use park for water sports
Picnicking and swimming are allowed only on the middle section of this long, segmented lake.
Daily parking fee:
$8 for Massachusetts vehicle; $10 for out-of-state vehicle
See
full description
of Cochituate State Park

840 Hillside Street Milton, MA, 02186 Phone: 617-698-1802
Supervised swimming beach at this spring-fed kettle pond. Concession pavilion and Visitor's Center open seasonally. Restrooms, telephones, and a first-aid station at the bathhouse on the beach. Lifeguards from late June through Labor Day. Handicapped ramp leads to the water.