Boston & Cambridge pet-friendly lodgings welcome your with walks & treats
Hotels in Boston and Cambridge recognize the important role of a family dog, and several offer pet friendly hospitality, even including convenient maps of local walking trails. Check ahead at pet friendly and dog friendly MA lodgings, because some lodgings request a refundable cleaning deposit and a limit on the size of visiting pets. Pet friendly lodgings also remember to give the human owners the amenities they need, too, such as fine dining and close proximity to attractions, shopping, and wonderful dining.
Three Battery Wharf Boston, MA, 02109 Phone: 617-994-9000 Toll-Free: 800-257-7544
Your pet is welcome at this boutique waterfront hotel
Come to the Battery Wharf Boston Hotel and bring your favorite pet along. All rooms are pet friendly and the hotel welcomes two pets up to 25 lbs for an additional fee of $25 per night. Perfectly situated for walks along the waterfront in the historic North End, the boutique hotel is within easy reach of the 2-1.2 mile long pedestrian walkway of the Freedom Trail, and the 47-mile Boston HarborWalk. Enjoy comfortable accommodations in 150 stylishly designed guest rooms and suites with waterfront views, two bars and restaurants, 6,000 square feet of meeting space, and an award-winning Spa and Fitness Center. You'll enjoy easy access to Boston's most popular attractions on foot, by car or via the T.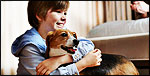 16 Garden Street Cambridge, MA, 02138 Phone: 617-547-4800
Be a friend to your pet in this dog-welcoming lodging
If you love to travel with your favorite pet, the Sheraton Commander is the place for you. The Cambridge hotel welcomes dogs weighing up to 80 pounds. Your faithful companion will be able to join you as you stroll the recreational walkways along the Charles River or step out our door into Harvard Square for some people watching. We offer easy access to downtown Boston, too. Our freshly-renovated guest rooms are filled with sunshine by day and each features the renowned Sheraton Sweet SleeperTM bed. Rooms are also equipped with flat-panel LCD televisions and free high-speed Internet access. Dine at our restaurant, Nubar, an establishment with a 100-year history in Harvard Square. We cook with garden-fresh herbs and vegetables grown right outside our kitchen door.
One Hotel Drive Boston, MA, 02128 Phone: 617-568-6700 Toll-Free: 800-445-8667
Stay with Hilton and walk your dog in Boston
What better way to explore Boston, the walker's city, than with your dog trotting by your side? It's no problem if you stay at the Hilton Boston Logan Airport hotel, because pets are always welcome. You can spend the night in one of our comfortable rooms with your dog curled up on the rug beside you. And there's so much more to love about our hotel. We've got great restaurants, and room service, too. Enjoy breakfast at Berkshire, grab a Starbucks coffee and a snack at Cafe Presto, and for dinner stop at Connolly's Publik House, where the menu includes lobster rolls and stone-baked pizza. Take a swim in our 40-foot pool, or work out in our fitness center, equipped with Pre-cor cardio machines.
15 Arlington Street Boston, MA, 02116 Phone: 617-536-5700
Taj a treat both inside and out for furry friends
The Taj Boston, in the heart of the city, is out to win the heart of your pet. Ranked as one of Boston's top pet-friendly hotels, the Taj offers everything from clean, comfy dog beds to "Bark Boxes" full of treats for four-footed guests. Plus, don't be surprised if staff members soon know your pet's name – or present him with a tasty tidbit on the way out the door. And dogs will definitely want to head out the door: The spacious Boston Common is but a walk across the street and through the Public Garden. Although leashed dogs are always welcome, the Common also features off-leash areas where your dog can stretch those legs and make new friends.
15 Beacon Street Boston, MA, 02108 Phone: 617-670-1500 Toll-Free: 877-982-3226
Your pet is a welcome guest at this boutique Boston hotel
While you're traveling to Boston, share the special experience of this boutique lodging luxury with your favorite pet. Pets of any size are welcome for no additional fee, though the hotel suggests a $25 donation be given toward the local animal shelter. The hotel offers a limited number of pet friendly rooms with pet walking services and treats available upon your request. Now imagine one of the greatest cities of the world to spend the day with your special friend enjoying some of the great outdoor spaces in any city - and even some indoors that allow pets too. Your accommodations are perfect from classic or studio rooms to suites with canopy beds and fireplaces, surround sound satellite radio, rainforest showers, and comfy bathrobes. Woof. Confirm room availability at booking.
39 Dalton Street Boston, MA, 02199 Phone: 617-236-2000 Toll-Free: 800-325-3535
Our streets are made for walking with your dog
Why leave your furry friend at home when you visit Boston? The Sheraton Boston Hotel welcomes pets weighing up to 40 pounds. Boston is a walkers' city, and you'll love exploring our streets and parks with your faithful companion by your side. Each of our guest rooms features a 37" flat-screen TV, an ergonomic workspace, high-speed internet access, and our renowned Sheraton Sweet Sleeper® Beds. We also offer one of New England's largest indoor pools, with a retractable ceiling to allow guests to soak up summer sunshine. Our state-of-the-art fitness center is equipped with weight machines, free weights, and low-impact exercise equipment. Enjoy the sauna after your workout. For breakfast visit our Cafe Apropos; for diner or cocktails, try our Sidebar & Grille.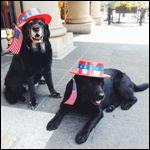 138 St. James Avenue Boston, MA, 02116 Phone: 617-267-5300 Toll-Free: 800-441-1414
Your favorite pet is welcome here.
Great cities and great hotels are even more fun to enjoy when they can be shared with your favorite pet. Fairmont Copley Plaza understands this and has made all rooms pet friendly. You're welcome to bring along up to two pets of any size for an additional fee of $25 per pet, per night. The places to walk, run, play and relax are unlimited in Boston and environs, and after a day out, you have this magnificent hotel to return to together. You're in the center of everything in historic Back Bay, near Beacon Hill and the Freedom Trail, cafes and great shopping at the Copley Place Mall, the Shops at the Prudential and the boutiques of Newbury Street.
425 Summer Street Boston, MA, 02210 Phone: 617-532-4600 Toll-Free: 888-627-7115
Pamper your dog and yourself on a pet-enhanced getaway
Fido is welcome at the Westin Boston Waterfront, an award-winning hotel located beside the city's seaport. And if he enjoys being pampered, he'll love it. Our rooms offer great views of the city and are equipped with the Westin Heavenly Bed® for a restful night's sleep. Re-invigorate your body with a workout in our fitness studio. We can provide you with New Balance running shoes or workout gear to use during your stay. Swim a few laps in our indoor heated pool. Afterwards, relax in the whirlpool. For breakfast or lunch, try Sauciety, our modern American grill. MJ O'Connors is our Irish pub; seafood dishes include butter poached lobster and steamed mussels in curry sauce. Enjoy a hand-crafted martini at our City-Bar-Boston Harbor.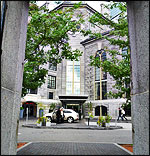 215 Charles Street Boston, MA, 02114 Phone: 617-224-4000
Your pet is welcome and will be pampered
You and your favorite pet can explore this great city together while settling into this landmark hotel. Two dogs of any size are permitted per guest room. You'll be greeted with a complimentary glass of champagne and your pet will receive a gourmet dog biscuit with his or her name on it and each pet will receive their own dog bed and bowls Upon request, the concierge will walk your dog while you're out and your pet can join you for dinner and snacks in the CLINK dining area. The hotel is conveniently located near a small park and set across from the Charles River Esplanade where you can walk, run, and bike along the water. Guests traveling with pets should call ahead to verify availability at the time of booking.