Explore wonderful nature & science centers with your kids in Boston & Cambridge
You and your family can
stay close
to Boston's magnificent natural habitats on a family vacation to see Boston's fine nature museums. There's wildlife from around the world in two fabulous zoos, and wildlife refuges with self-guided nature walks, a trailside museum, programs and more. A forest lies hidden in a rich ecosystem with rare species of flora, while a renowned arboretum serves as the center of New England's plant science. Browse a native plant botanical
museum
, and enjoy a park that offers fishing, public swimming, and picnic areas.
One Franklin Park Road Boston, MA, 02121 Phone: 617-541-5466
Discover wildlife from around the world
Take off on a wonderful science and nature adventure at Boston's Franklin Park Zoo. You'll find programs and classes for adults, families, youth and teens, school groups and camps, behind the scene tours and teacher resources for use in the classroom. Discover wildlife from around the world including African lion, Masai giraffe, Grevy's zebra, plus lowland gorillas, lemurs, sloth and more. Explore the Tropical Forest, the Kalahari Kingdom and the Giraffe Savannah. The Aussie Aviary, open seasonally, is home to hundreds of brightly colored budgies and offers an amazing free-flight, interactive bird adventure. Before leaving don't forget to stop by the Things Wild Gift Shoppe for some great souvenir items or clothing.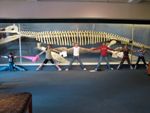 26 Oxford Street Cambridge, MA, 02138 Phone: 617-495-3045
A breathtaking look at the vivid colors of nature & history
Don't leave Boston without exploring the 16 galleries in this family-friendly museum displaying 500 taxidermy animals -- elephant, rhino, hippo, tiger, bison, even a 15-foot giraffe -- not to mention huge whale skeletons. Dinosaurs include the skull of one of the first Triceratops ever discovered. Don't miss the Pteranodon and the world's only mounted skeleton of the 42 ft.-long Kronosaurus. Explore a timeline of Earth's history, and admire 3,000 rare minerals, meteorites, and gemstones. New and changing multi-media exhibitions showcase cutting-edge research. Harvard's most-visited museum is an easy 8-minute walk across the historic campus from Harvard Square's shops, restaurants and T stop. The museum is connected to Harvard's Peabody Museum, and one admission fee covers both museums.
Stony Brook Reservation
Turtle Pond Parkway Hyde Park, MA Phone: 617-698-1802
A 475-acre park and wildlife refuge, featuring fishing areas, biking and hiking trails, public swimming, and picnic areas. Programs are scheduled there throughout the year.
Garden in the Woods
180 Hemenway Road Framingham, MA, 01701 Phone: 508-877-7630
This enchanting "hidden" forest is full of a rich ecosystem, including many rare species of flora. You can even purchase some of the plants to root your own magic garden at home. See
full description
of Garden in the Woods
Blue Hills Trailside Museum
1904 Canton Avenue Milton, MA Phone: 617-333-0690
Museum offers hiking trails, live animals and regularly scheduled programs. There is an admission charge.
Arnold Arboretum
125 Arborway Jamaica Plain, MA, 02130 Phone: 617-524-1718
Research plant biology in the arboretum's library or listen to scientists talk about Asian flora; if you're looking for New England's center of plant science, you've found it. See
full description
of Arnold Arboretum
180 Hemenway Road Framingham, MA, 01701 Phone: 508-877-7630
The magnificent native plant botanical museum, Garden in the Woods, displays over 1,000 native plant species including over 150 rare and endangered species on 45 acres. Hours: April 15- October 31, Tuesday through Sunday plus Holiday Mondays 9 a.m.- 5 p.m. April 15-July 3, extended hours Thursday and Friday evenings until 7 p.m. After October, trails close for the season. Fee charged.
Stony Brook Nature Center
North Street Norfolk, MA Phone: 508-528-3140
This nature center includes a self-guided hiking trail. An extensive boardwalk system lets you walk along the edge of Teal Marsh.
Moose Hill Wildlife Sanctuary
293 Moose Hill Street Sharon, MA Phone: 617-784-5691
The Massachusetts Audubon Society operates this nature center, the oldest in the state founded in 1916. There is an admission charge.
Broadmoor Wildlife Sanctuary
280 Eliot Street Natick, MA Phone: 508-655-2296
At this sanctuary, visitors can enjoy nine miles of hiking trails, in addition to lectures and other programs in a renovated horse barn.