Boston's Public Garden and Arnold Arboretum are world famous gardens
Boston and surrounding areas are filled with gardens and you can
stay in luxury
and walk some of the finest of them. Boston Public Garden and the Boston Common form two chains in the Emerald Necklace. Arnold Arboretum offers self-guided tours, exhibits and plants from a variety of the world's habitats. Visit the largest landscaped collection of native plants in the Northeast. Stroll open fields, meadows, and wooded areas and don't miss the
fairs and festivals
and specialty plant sales held during the year.
Boylston, Arlington, Beacon and Charles Streets Boston, MA Phone: 617-723-8144
The Boston Public Garden, located in the heart of Boston, is adjacent to the Boston Commons. Together, these two parks are the northern end of the Emerald Necklace, a long string of parks designed by Frederick Law Olmsted. The Public Garden is bounded on the south by Boylston Street, on the west by Arlington Street, on the north by Beacon Street, and on the east by Charles Street, which divides the Public Garden from the Boston Common.
The Public Garden contains formal plantings and a four-acre lake where the Swan Boats, a famous Boston tourist attraction, operate. People can sit in the ornamental swan-shaped boats, which are pedaled around the lake by a guide. A famous feature of the Boston Public Gardens is a set of bronze statues based on the main characters from the children's story Make Way for Ducklings.
185 Lyman Street Waltham, MA, 02452 Phone: 781-891-1985
The Lyman Estate Greenhouses is complex of four greenhouses consists of an 1804 grape house, 1820 camellia house, 1840 orchid house, and a 1930 sales greenhouse where visitors can purchase plants to take home. Rare orchids covered with exotic flowers bloom throughout the year. The expert horticultural staff offers advice and assistance with plant selection and culture. The greenhouse specializes in orchids, exotic house plants, citrus fruits, camellias, and herbs. Five large specialty plant sales are held during the year.
Hours: December 15-July 15, Wednesday-Sunday, 9:30 a.m.-4 p.m.; July 16-December 14, Wednesday-Saturday, 9:30 a.m.-4 p.m.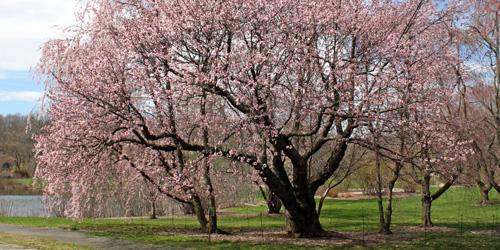 125 Arborway Jamaica Plain, MA, 02130 Phone: 617-524-1718
This 265-acre site is part of the emerald necklace of Boston parks designed in the late 1800s by Frederick Law Olmsted. The arboretum is a major center for plant research, with about 14,000 woody plants representing nearly 5,000 botanical classifications. The Visitor Center has maps and self-guided tour brochures; exhibits about the Arboretum and plants, and seasonal art exhibitions; a shop featuring books and educational items for children and adults; activities for children; and restrooms.
Hours: Grounds open year-round, daily, sunrise to sunset. Visitor Center open 9 a.m. to 4 p.m. weekdays; 10 a.m.-4 p.m. Saturdays; and noon-4 p.m. Sundays. Closed holidays.
Admission: Free.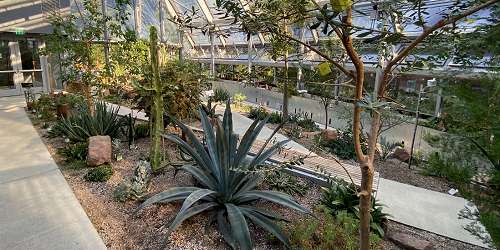 106 Central Street Wellesley, MA, 02481 Phone: 781-283-3049
The Wellesley College Botanic Gardens include thousands of plants from more than 150 plant families. The greenhouses accommodate plants from a variety of habitats around the world. The outdoor spaces of the gardens are open daily, dawn to dusk. The Ferguson Greenhouses are open daily, 8 a.m. to 4 p.m. except during the summer. The greenhouses are closed on Saturday and Sunday from mid-June to late August. To arrange a guided tour or bring a large group to the greenhouses, please send email to wcbgfriends@wellesley.edu or call 781- 283-3094.
Hours: Year-round, daily, 8 a.m.-4 p.m.
Information: Information: www.wellesley.edu/wcbg
Garden in the Woods
180 Hemenway Road Framingham, MA, 01701 Phone: 508-877-7630
The New England Wild Flower Society maintains this garden, the largest landscaped collection of native plants in the northeastern United States. New England's premier wildflower garden has more than 1,000 native plant species, with many rare specimens, as well as the unique New England Rare Plant Garden.
Hours: April 14–October 31; Tuesdays through Sundays; 9 a.m.-5 p.m. After October, trails close for the season. Museum Shop remains open with winter hours. Guided walks offered free with admission Tuesdays through Fridays at 10 a.m. and Saturdays and Sundays at 2 p.m.
Admission: Adults over age 18, $10; seniors over age 65, $7; youths age 3-17, $5
Information: www.newfs.org/visit/Garden-in-the-Woods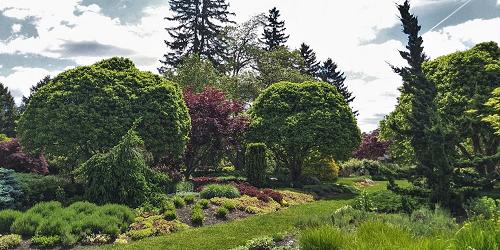 900 Washington Street Wellesley, MA Phone:
The Gardens at Elm Bank are located on Massachusetts Horticultural Society's 36 acres on the Elm Bank Reservation. The site includes open fields and meadows, streams and pools, wooded areas and formal gardens. The Charles River nearby surrounds the property. The grounds and gardens of Elm Bank are handicap-accessible. The several different gardens include a Children's Garden, Vegetable Garden, The Italianate Garden, and gardens of day lilies, rhododendrons, herbs, and daffodils. Hours: Open daily except Mondays, May 1 through October 12, 10 a.m.-4 p.m. Admission is $8.