Boston and Cambridge beaches offer excellent sand, swimming and water sports
Boston brings the beach to you, and nearby
waterfront lodging
and
family friendly lodging
get you on the sand and into the water pronto. Tiny Nickerson beach sits in a scenic coastal area, great for bird watching. Revere Beach has miles of shoreline, a bandstand for summer concerts, and bathhouse. Carson Beach Recreation Area is one of the best swimming beaches in the area, with great views of Boston Harbor. Take the ferry out to the Boston Harbor Islands National Park for great swimming, hiking, and picnicking. Stay and swim - what a concept.
Islands in Boston Harbor, and easy ferry ride from downtown. Swimming, hiking, picnicking. A fun day trip
Swim on Spectacle and Lovell Islands within the Boston Harbor Island area. The sandy beach on Spectacle Island is lifeguard-supervised during the summer months. The side of Lovell Island that faces the big blue Atlantic is without a lifeguard, but offers majestic views of waters that hide some large old shipwrecks. Find a
ferry
to the islands.
See
Boston Harbor Islands
for full description of this park.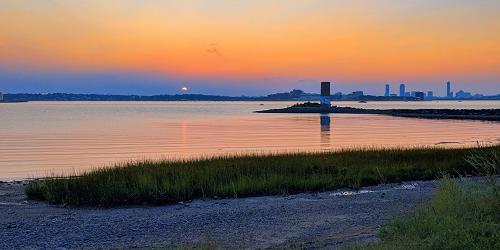 120 Dorchester St. Quincy, MA, 02205 Phone: 617-376-1251
Nickerson Beach is a very small beach which primarily serves the adjacent Squantum residential neighborhood of Quincy. This scenic coastal area, with its extensive salt marsh and mudflats, is attractive to birds and for bird watching. Owned by the City of Quincy. Access: Most access is by foot or bicycle, although limited curbside parking is available. The area is also accessible via public transportation. Take the Squantum #211 bus to the Bellevue Road & Dorchester Street stop from the MBTA Red Line's North Quincy station.
Quincy Shore Drive Quincy, MA, 02169 Phone: 617-727-5290
Quincy Shore Drive on this Reservation runs from Wollaston Beach to Caddy Memorial Park to Moswetuset Hummock. The 2.3 mile beach is popular for swimming. Caddy Park has a play area for kids and many acres of fields and marsh, as well as picnic sites. Hummock, on the beach's northern end, is a mixture of woodland trails and open marshland. The site has views of Quincy Bay and 144-acre Squantum Marsh. The Reservation may be reached by Boston MBTA trains. Open year round, dawn to dusk. Bathhouse open July to September.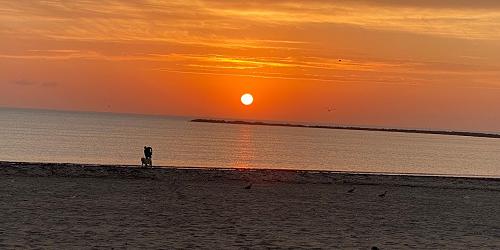 Revere Beach Blvd. Revere, MA Phone: 781-289-3020
Lifeguards are on duty from late June to early September. Revere Beach boasts miles of shoreline which welcomes throngs of visitors every summer. Along the boulevard there is a bandstand for summer concerts, a bathhouse and many shade shelters. Revere Beach is very accessible by public transportation which makes it a popular spot for people from all around metro Boston. Open year round, dawn to dusk.
William J. Day Blvd. South Boston, MA Phone: 617-727-5114
This sandy beach, maintained by the state Department of Conservation and Recreation, is one of the best swimming beaches in the area, with nearby public amenities and great views of the harbor. New sand, new walkways, benches, lighting, shade shelters and award winning landscaping have helped to make Carson Beach a popular destination. "Mother's Rest" and its fishing pier have also been rehabilitated, making for a beautiful picnic area with a fantastic view of the Harbor. Life guards. To reach the beach on the subway take the Red Line to JFK/UMass. Or use the bus on routes 5, 8, 11, 16, or 41. Parking available.