The South Shore & Plymouth have interesting and historic things to do and see
Little could the Pilgrims have known when they landed here what great
family activities
might arise here for your family vacation. Learn about the Pilgrims' lives at Destination Plymouth, the Plimoth Plantation, and on board the Mayflower II.
Comfortable lodgings
, ocean beaches, whale watches, delicious seafood, fairs, festivals, and pleasures of every kind for every age are here. Battleship Cove has the world's largest collection of U.S. naval ships. And the Zeiterion Theater in New Bedford offers dynamic entertainment year-round.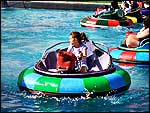 1098 Fall River Avenue Seekonk, MA, 02771 Phone: 508-336-8307
Everybody drives
Experience the wildest Go Kart action at this state of the art facility offering competitive fun at an affordable price. Challenge family and friends on more than 60 arcade games including Guitar Hero, Ski Ball, Air Hockey and Dance Dance Revolution. The Family Track, the longest in New England, features tunnels, hairpin curves and straight-aways and new two-seater go-karts. Little guys and gals get in on the action with the new Rookie Track, with the Kiddy Track and Beginner Track just ahead. Bump and bounce your buddies in bumper cars and boats and finish the day off with a friendly game on the adventure mini golf course.
Visitor Center - 134 Court Street Plymouth, MA, 02360 Phone: 508-747-7533 Toll-Free: 800-872-1620
Where will your visit begin?
We have a variety of activities on land or on the water. The Atlantic Ocean itself is our playground! Trips such as whale watches, lobster excursions and pirate adventures are popular with visitors both young and not quite as young. Our beaches and parks offer families a place to relax and enjoy the great outdoors. Enjoy great seafood, fairs, festivals, the arts, a distillery, a winery or a brewery. Ride a narrow gauge train ride through acres of cranberry bogs at Edaville USA. Experience living history at Plimoth Plantation, depicting life in Plymouth in 1627. Please call 1.800.USA.1620, or visit our website to learn more about these activities and others to prepare for your trip to Plymouth.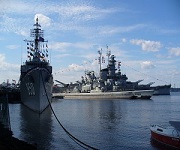 5 Water Street Fall River, MA, 02721 Phone: 508-678-1100 Toll-Free: 800-533-3194
A day out you won't forget
In 1964, the citizens of Massachusetts, including over 6000 school children, banded together to save the battleship USS Massachusetts from being scrapped, and bring her to the waterfront of historic Fall River on June 12, 1965. During her dedication, the battleship's historic significance was further recognized as she was made the official World War II Memorial for the Commonwealth and opened as a public museum. Over the years, she has been joined by the destroyer Joseph P. Kennedy, Jr., the submarine Lionfish, PT 617 and PT 796, and the Soviet built missile corvette Hiddensee to form the largest collection of historic naval ships in the world, America's Fleet Museum at Battleship Cove. Today, Battleship Cove stands as one of the region's most popular attractions.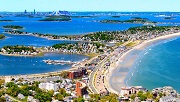 45 Hull Shore Drive Hull, MA, 02045 Phone: 781-925-4500
Great seaside fun just south of Boston
Just minutes from Boston on the waterfront in Hull is this charming and fun filled resort that's perfect for a quick getaway or longer stay. Set on a 3-mile stretch of sandy white beach you'll enjoy spectacular sunrises and views of three of Boston's historic lighthouses. You're at the gateway to historic Plymouth and Cape Cod, and to many of New England's most popular tourist attractions and historic sites. Full service amenities include an indoor pool and fitness club, an on-site restaurant, and an oceanfront conference center for meetings, celebrations and special events. With walking distance are a variety of fine and casual restaurants, eclectic shops and boutiques.
Commercial whaling conveys a very different scent in the 21st century than it did in the 1700s and 1800s when ships went to sea to capture animals that helped producd the cleanest light ever known. New England's whaling industry ended by about 1900, but the stories of the unbelievable hardy men who went to sea hundreds of years ago still can shiver our timbers.
New Bedford Whaling National Historical Park
, operated by the U.S. Park Service, tells the dramatic story of the old whaling industry in the very streets and buildings where ships departed and sometimes returned after years of chasing the wind around the globe. Stroll the cobblestone streets and see the world's largest whaling museum, a merchant's home, a whalemen's chapel, and a 19th-century schooner. Phone: 508-996-4095.
For a romantic walk in a leafy woods, visit
World's End
in
Hingham
, a nature preserve tucked into the end of a curve of shoreline that sweeps southeast from Boston. Rolling hills and rocky shorelines offer views of the Boston skyline, while tree-lined carriage paths make delightful walking trails. The 251-acre landscape includes rocky shores, broad hillsides, and open fields bracketed by woodlands. The property is ideal for walking, picnicking, jogging, horseback riding, cross-country skiing, or simply enjoying the outdoors. It is managed by the admirable Trustees of the Reservations, and open to the public for walking year-round.
So many stories are packed into the reproduction on Town Brook in
Plymouth
of the 1636
Plimoth Grist Mill
, built by the Mayflower travelers. People gather at noon on Fridays to see the 2,500-pound stones moved, positioned, and used to grind corn, a huge improvement in the lives of the English newcomers. Kids and adults love to watch the mechanics of the water wheel, gears, stones, and grain hopper. In spring, herring alewives fight the current up the adjacent fish ladder to go upstream. Buy cornmeal and learn about Pilgrim cooking and dining. Gift shop, too! You will remember this visit long after you return to the 21st century. 508-746-1622.
Seven Arrows Farm
at 346 Oakhill Avenue in
Seekonk
is not your typical farm. During three decades , the farm is the product of owners/growers Judy and Michel's mutual passion for plants, gardening, and all things green. Here you can stroll through the gardens and the uncommon plant nursery, find a remedy or a gift at the farm's extensive herb shop, visit with the chickens and goats, seek counsel from one of the farm's knowledgeable staff members, or simply relax with a book from the farm's library or in the sunny tea room. Hours: Open year-round; call for spring and summer hours. 508-399-7860.
A visit to
Bramhall's Country Store
at 2 Sandwich Road in the Chiltonville section of
Plymouth
will immerse you just as deeply in a traditional New England experience as will the store's next-door neighbor, Plimouth Plantation, The 1750s-period saltbox structure houses a family business founded in 1828 by the present owner's great-great-great-great grandfather. Let's think of our gtaste buds: the store serves a New England triumvirate: lobster rolls, local corn, and Ben and Jerry's ice cream, along with local produce, smoothies, and other treats. Perfect for fueling the family on a Plymouth getaway. 508-746-1844.