South of Boston/Plymouth offers indoor & outdoor fun for children and families
The South of Boston region is a gold mine of exploration for families and children. In the Plymouth, a good place to start is the Jenney Grist Mill, a reproduction of a gristmill that served the community in the 1600s. The mill grinds corn into flour while the miller, in period dress, answers questions about life in 17th century Plymouth. Among the most important attractions is
Plimoth Plantation
, where visitors can roam a reproduction Wampanoag Native American homestead and a 1627 English Village. Also in Plymouth, a reproduction of the Mayflower welcomes visitors. You might be shocked at the small size of the vessel that brought 102 English people to the New World.
This region is cranberry country, and at
Flax Pond Farms
in the nearby town of Carver visitors can see the cranberry bogs, learn how the berries are farmed, and buy cranberry foods and gifts. Visitors who arrive in September and October could be rewarded with a front-row viewing of the harvesting process. The town of South Carver is home to
Edaville USA
, with its two-mile train ride for parents and young children. The railroad hosts Day Out With Thomas events through the summer and special activities during the National Cranberry Festival in the fall. Edaville is famous for its magnificent display of lights at Christmas.
The South of Boston region includes the city of New Bedford, where visitors from around the world marvel at the New Bedford Whaling Museum. Also in this region,
Battleship Cove
in the city of Fall River is home to the USS Massachusetts, the submarine Lionfish, and other World War II-era fighting ships. Visitors are welcome to explore the vessels, to visit the museum, and to ride the nearby historic carousel.
137 Warren Avenue Plymouth, MA, 02360 Phone: 508-746-1622
A compelling approach to history; a memorable visitor experience.
Plimoth Plantation is a world-class living history museum overlooking Cape Cod Bay. This immersive museum features costumed interpreters and modern day artisans throughout our award-winning exhibits, including the 17th Century English Village, Wampanoag Homesite, Plimoth Grist Mill and Mayflower II docked in picturesque Plymouth Harbor. Plimoth Plantation's hands-on, entertaining brand of living history is what has earned the museum it's reputation for delivering powerful personal experiences to guests of all ages from all over the world.

Please allow at least 3 hours to visit to Plimoth Plantation and about 45 minutes for Mayflower II.

5 Water Street Fall River, MA, 02721 Phone: 508-678-1100 Toll-Free: 800-533-3194
An exciting family adventure in America's naval history
America's naval history inspires the whole family at this world class heritage museum in Fall River. Explore the world's largest collection of US naval ships including the mighty USS Massachusetts, the destroyer USS Joseph P. Kennedy, Jr., and PT Boats used in the South Pacific. The sheer size and impression these ships and their stories leave is overwhelming. There's the state-of-the-art special effects Pearl Harbor Experience, the only outdoor multimedia reenactment anywhere. Scouts and youth groups can participate in a year round maritime camping program, overnights, and family nautical nights with affordable camping on site. Whether a casual visitor, history buff, student, teacher or scout leader, everyone learns. Special exhibits honor our men and women in uniform then and now.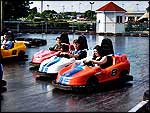 1098 Fall River Avenue Seekonk, MA, 02771 Phone: 508-336-8307
Get the whole family behind the wheel
Here's a great day out for the entire family – go karts on tracks designed with everyone in mind. The longest Family Track in New England gets you revved up through speedy straight-aways, hairpin curves and tunnels and two of you can now ride the new two-seater go-karts. The Slick Track will test your mettle, and there's a new Rookie Track for the youngest and Kiddy Track and Beginner Track as they grow - so there's never a time not to be driving your own cart. Bumper cars and boats stretch the envelope of fun and you can take on the family in a friendly game of mini golf. Rain or shine enjoy more than 60 of your favorite arcade games.
134 Court Street Plymouth, MA, 02360 Phone:
Bring America's Founding Story to Life for Your Kids
Children learn well through visuals and action. Re-visit one of the opening chapters of the founding of America in Plymouth, Massachusetts, when you take part in activities of Plymouth 400 – the celebration that peaks in 2020 with the 400th anniversary of the arrival of the Mayflower at Plymouth Rock. The 400th anniversary of the Pilgrims' arrival will be celebrated through 2021 with exhibits, festivals, arts and educational events. A traveling exhibit about the Native Wampanoag people, who greeted the English and helped save their lives in their first winter, is now underway. Coming up are Embarkation and Youth Festivals, Sunrise and Thanksgiving celebrations, and many other opportunities for Americans to re-learn and appreciate the idealism and physical grit of a legendary band of our founders.
Visitor Center - 134 Court Street Plymouth, MA, 02360 Phone: 508-747-7533 Toll-Free: 800-872-1620
History is just the beginning!
Bring the whole family to Plymouth, MA for some unforgettable fun! Adults and children alike will be able to enjoy their visit to Plymouth with a wide variety of activities on land or on the water. The Atlantic Ocean itself is a playground, and trips such as whale watches, lobster excursions and pirate adventures have proven popular with visitors both young and not quite as young. Our beaches and parks offer families a place to relax and enjoy the great outdoors. Edaville USA is open year-round and features a restored narrow gauge train ride through acres of cranberry bogs, and Plimoth Plantation provides a living history museum depicting life in Plymouth in 1627. Please call 1.800.USA.1620, or visit our website to learn more about these activities and others to prepare for your trip to Plymouth.
Mayflower II, State Pier, 77 Water Street Plymouth, MA, 02360 Phone: 508-747-3434
Plymouth by paddle wheeler – the calm, the stories
Being by the water makes being on the water all the more inviting and you can be at one of the most important historic American landmarks. Jump on this true paddle wheeler which has no conventional propeller and watch and listen as the big red wheels on the back of the boat propel it like the boats on the Mississippi. Once aboard, you'll get the perfect introduction to Plymouth. Loaded with history, you'll learn more about Pilgrims, famous shipwrecks, the role of the commercial fishing and lobster industries, two lighthouses, and Plymouth's spectacular beaches. Relax amid the calming sound of the paddles as they swish through the water. Then sit back and enjoy those fabulous stories. Spoiler alert: the Pilgrims considered lobster to be "poor man's food."