Greater Boston and Cambridge offer indoor & outdoor fun for children and families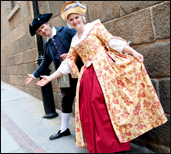 Family activities are plentiful in the Boston and Cambridge region, and some have the added advantage of teaching children lessons in American Revolutionary history in a way that is painless and exciting, like a visit to "Old Ironsides" and the USS Constitution Museum in neighboring Charlestown. What else? Jump aboard a ferry for a day of hiking and picnicking on the Boston Harbor Islands; visit the New England Aquarium or the city's great children's and science museums; walk the Freedom Trail; buy lunch and mementoes at Faneuil Hall Marketplace. Many lodgings welcome families with kids to Boston. It's easy to find
family friendly lodgings
and
deals under $150
.
598 Assembly Row Somerville, MA, 02145 Phone: 866-228-6439
Legoland and families are a perfect fit
Families love LEGOLAND Discovery Center Boston with its 4D cinema, Kingdom Quest laser ride, Merlin's Apprentice, and the fabulous LEGO City Play Zone. You'll find a spacious family restroom, full baby changing facilities, plus wheelchair and stroller accessibility throughout. Have your child make up a story about their LEGO® creations. Challenge them to a timed build – give them a set number of bricks and a time limit and see what they create. Have fun playing a brick building game together then display your creations on your own colorful LEGO podium or share a photo on LEGOLAND Discovery Center Boston's Facebook page. There's a delicious café and the amazing LEGO Retail Shop with the latest LEGO® products plus exclusive limited edition items.
Adams National Historical Park Visitor Center - 1250 Hancock Street Quincy, MA, 02169 Phone: 617-471-1700
Families valued by this historic South Shore city
From the home of one of the nation's first families, the city of Quincy offers your family a variety of activities from which to plan a day outing or a long vacation. Take the trolley trip at Adams National Historical Park to see the home of John and John Quincy Adams, and the nation's first presidential library, boat over to Boston Harbor Islands National Park, sunbathe at Wollaston Beach (or one of 10 other city beaches), fish from a pier or just relax at one of 52 parks, many with playgrounds, picnic areas and ball fields. Enjoy autumn colors strolling marsh-side and riverside trails. In the winter, go ice skating or try skiing or snow-shoeing at Blue Hills Reservation.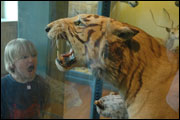 26 Oxford Street Cambridge, MA, 02138 Phone: 617-495-3045
A memorable & amazing journey into our world's history
For families, it's hard to beat the 16 galleries in this museum displaying 500 taxidermy animals -- full-size elephant, rhino, hippo, tiger, bison, even a 15-foot giraffe -- not to mention huge whale skeletons. Don't miss the skull of one of the first Triceratops ever discovered and the world's only mounted skeleton of the 42 ft.-long Kronosaurus. Explore a timeline of Earth's history, and admire 3,000 rare minerals and gemstones. Touch a meteorite from outer space. New and changing multi-media exhibitions showcase cutting-edge research. The museum is an easy 8-minute walk across the historic Harvard campus from Harvard Square with its popular shops and restaurants and MBTA station. The museum is connected to Harvard's Peabody Museum, and one admission fee covers both museums.
One Franklin Park Road Boston, MA, 02121 Phone: 617-541-5466
Lions and lemurs and birds - Oh My!
Get your family up close to some of the worlds' most interesting animals. Boston's largest park on seventy-two acres brings you lions, giraffes, and zebras in their own special habitats. You'll find gorillas, lemurs, sloth and other friendly beasts in the Tropical Forest and experience a free-flight bird adventure at the Aussie Aviary, open seasonally. Kids will find programs that are fun and educational, the Zoo Camp, and Snorin' Roarin' sleepovers. Plan a birthday party or other event at the unique indoor and outdoor facilities. The Things Wild Gift Shoppe has souvenir items, toys, games, and apparel and the indoor Giddy-Up Grill and Kalahari Kitchen offer southwestern-themed food for all to enjoy.