Western MA is perfect for casual dining for vacationers, families
1090 Main Street Williamstown, MA, 01267 Phone: 413-458-9371
A Restaurant, Tavern, and Kids' Menu Cover All the Dining Bases
All the dining variety you could need during a Berkshires vacation is served at two restaurants – one of them a Colonial-style tavern – at the Williams Inn on the Williams College campus. Start the day with a hearty appetite at the Continental breakfast in the main dining room. You may wish to close out a day of play or exploration in the Berkshire Mountains with dinner and drinks at the tavern. New England classics like pot roast and pan-seared Atlantic salmon and updated favorites are on the menu. Children traveling on a family vacation will find their own menu, including healthy side dishes to please Mom. Service is exception but dining is informal; you don't need to dress up or fear an evening of stifling the kids.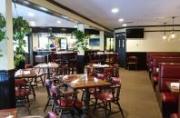 Route 20 - Lee Road Lenox, MA, 01240 Phone: 800-272-6935
Eating light is just right at Sloane's Tavern
Eat light and casual yet satisfy those hungers in a perfect Berkshire dining setting at Sloane's Tavern located next to the Pro Shop and Cross Country Ski Center. Serving lunch and dinner daily, it features soups, sandwiches, one of a kind fresh salads, delicious clam chowder, homemade chili, specialty pizzas and burgers and grilled entrees like shepherd's pie and meatloaf, with vegetarian dishes and gluten-free options also available. A special children's menu is always on hand. Enjoy a meal or post-round cocktail on the deck overlooking the golf course. A take-out menu is available for poolside dining at the adjacent outdoor pool. Beginning December 2nd, the restaurant will be closed Tuesdays and Wednesdays except during holiday weeks. Lunch on these days will be served in the Mansion.
81 Old Main Street Deerfield, MA, 01342 Phone: 413-774-5587
Great food, ambiance, local craft beers, and house infusions
Central to its place and reputation in town and local history, is the inn's food philosophy of eating the view. Champney's Restaurant & Tavern offers twelve draft beers, a good wine list, house infusions, and creative cocktails. Comfortable seating, cozy corners, fireplaces, welcoming staff, and an 18-seat mahogany dining bar invite you to gather and linger. The Chef runs a scratch kitchen and supports farmers' markets, family farms, and other area sources of sustainably-raised food and natural produce. Gather at this New England table to enjoy a relaxed and happy ambiance, and to celebrate local purveyors and local products and taste the difference in an authentic field to fork menu.
297 North Street Pittsfield, MA, 01201 Phone: 413-358-4741
Chefs Who Think Globally & Shop Locally
When you walk through the front doors, you can see that Hotel on North in a place of understated sophistication. Things are simply done well, with pretense. Similarly, the hotels' Eat on North is a casual restaurant where fresh, uncomplicated food from local ingredients is served proudly by Chef de Cuisine Ron Reda. Menus present tasty American cuisine for breakfast, lunch and dinner. Small plates, large plates, snacks, and other options satisfy every appetite. A very cool oyster bar with views of the lobby and the hotel's coming and goings serves delicious shellfish and oyster samplers; cured meats and cheeses. A kids menu corrals the taste and needs of young ones on a family vacation.