Masssachusetts bed and breakfasts offer historic settings and luxuries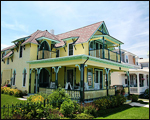 If you want a vacation or getaway at a bed and breakfast in Massachusetts you are in luck: every region, from Cape Cod to the Berkshires, has B&Bs to pamper you with modern amenities in historic settings. The setting might include former sea captains' homes on Nantucket or Cape Cod. Or it could be an elegant brick townhouse-like structure near Beacon Hill in Boston, close to Faneuil Hall, the Boston Common, and many other Boston sites.
Massachusetts bed and breakfasts are suffused with history but also prepared to offer the best of today: heated swimming pools, Jacuzzi, Wi-Fi, and
spa treatments
. Many operate year-round, so you can plan a family or a
romantic getaway
for the snow-heavy skiing and snowboarding season, or, conversely, the whale-watches and boat cruises of summertime off Cape Cod and Cape Ann. Pick an entrancing Massachusetts bed and breakfast from the page below and book your room today.

Several Locations Rockport, MA, 01966 Phone: 978-546-7260
Savor a classic seaside New England experience.
Settle in at one of the charming and affordable Inns of Rockport on scenic Cape Ann. Choose from Victorian inns, owner-operated motels, bed & breakfasts, or modest guesthouses. There are rooms with ocean views and AC, inns with pools, cable TV and Wi-Fi. Stay within easy walking distance or a short drive to the rocky coast and its small sandy beaches. Along Main Street, are classic New England homes, art galleries and one-of-a-kind shops to explore and lots of fresh seafood to savor. Rockport's picturesque harbor includes the little red lobster shack known in American art as Motif #1. There's always bicycling and hiking, whale-watching and schooner excursions, sea-kayaking, scuba-diving and fishing. Let this scenic village with its classic New England lodgings become one of your favorite seaside destinations.
81 Old Main Street Deerfield, MA, 01342 Phone: 413-774-5587
A bed, breakfast and the best of rural New England
Since 1884, the inn has been welcoming folks to the best documented small town in America. With an excellent restaurant and tavern, fireplaces, white rockers and bright Adirondack chairs, there is ample room and time to relax and take in the setting. Deerfield enjoys Historic Landmark status, while gorgeous homes and working farms line the mile long Old Main Street. Guestrooms in the main inn and carriage house have private bath, earth-friendly amenities, chamois robes, A/C, and television. Breakfast is served until 10am, with delicious field to fork choices from our scratch kitchen, including fresh-baked pastries.
29 Broad Street Nantucket, MA, 02554 Phone: 508-228-2400 Toll-Free: 800-248-2405
Welcoming atmosphere distinguishes island inn
Even though it is in the hub of Nantucket's busy historic district, the Jared Coffin House maintains its status as a peaceful island retreat, earning tripadvisor's certificate of excellence for 2017. Guests begin their day with continental breakfasts featuring freshly brewed coffee, fresh fruit and an array of scrumptious pastries. Then, at day's end, sumptuously furnished rooms, many with four-poster beds, beckon guests to unwind after their time at nearby beaches, intriguing little shops or world-class restaurants. The inn, built in 1845 by ship owner Jared Coffin, prides itself on personal service, including a concierge to help with plans and tickets even before you arrive, and a welcoming atmosphere, from cozy common areas to a charming terrace and garden.

17 Pleasant Street Rockport, MA, 01966 Phone: 978-546-3915 Toll-Free: 800-541-3915
Convenient, comfortable and quiet.
This grand 1893 Victorian Bed and Breakfast Inn rests comfortably on an elevated site overlooking Rockport; the quintessential New England seacoast village. Each of the Inn's eight rooms is furnished to provide maximum comfort and each room has its own special character and decorative touches. Each guest room has its own private bathroom with shower and air conditioning. Free wireless internet exists throughout the inn. Shopping in the village and on Bearskin Neck, dining, entertainment and the beach are all within walking distance. The Inn also offers a Victorian carriage house for guests requiring multiple bedrooms and all the amenities of home.
Historic Shore Street Falmouth, MA, 02541 Phone: 508-540-3000 Toll-Free: 800-352-7100
A Cape Cod fix with duck pond included
The beach, duck pond, playground, and bird sanctuary, churches and trolley stop are all classic Cape Cod. More contemporary but still within the ether are the spas, shops, galleries, restaurants, sidewalk cafes, pubs and ethic eateries near this unique coastal B&B. The contemporary and traditional meet in four 18th century sea captain's houses fully restored that offer traditional furnishings and charm with private bath, cable television, complimentary Wi-Fi, refrigerator, and coffee/tea maker. Enjoy the full resort option and with it the fitness center and health club, indoor and outdoor pools, his and her sauna, green lawns, lawn games and umbrella tables. Martha's Vineyard ferries departing from Falmouth Harbor and Woods Hole are just a short drive away while the village of Falmouth provides everything Cape Cod you could desire.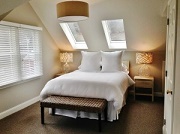 200 Warfield Road Charlemont, MA, 01339 Phone: 413-339-6600 Toll-Free: 888-339-8439
Charming upscale retreat in the Berkshire foothills
This enchanting, upscale B&B overlooks the scenic Mohawk Trail and Deerfield River and is adjacent to Berkshire East Mountain Resort. Two guest houses sit on a working farm in the Berkshires foothills. The Main House offers 9 bedrooms and 9 bathrooms, a kitchen, public gathering area with TV, a dining room, and DirecTV service for every room. A separate apartment has its own kitchen, living room, work space plus a bath and whirlpool tub. The "Bungalow" is a five room facility that includes king sized and queen sized beds, kitchen, gathering area and dining room adjacent with a 42" TV and three bathrooms.
,br> Nearby towns are rich in history, artisans, architectural wonders and antique shops, nyriad recreational activities and adventure.
17 High Street Rockport, MA, 01966 Phone: 978-546-7260 Toll-Free: 800-789-7260
A Cape Ann Favorite Lodging
This award-winning B&B is housed in a 1790's colonial home on the tip of "Massachusetts' Other Cape." A favorite throughout Cape Ann for its unparalleled hospitality and service, it features classic and studio rooms, family and honeymoon suites and an efficiency apartment, comfortably furnished and decorated with antiques and/or reproductions, quilts, and original paintings by local artists. Every non smoking accommodation offers a private bathroom, A/C, Cable TV and Wi-Fi, while some rooms also have outside entrances and/or decks. The home-baked breakfast buffet is a celebrated, decade's long tradition offered each morning with everything made from scratch. Close to town, you can walk to fine seafood restaurants, art galleries, museums and historical sites, shops. The harbor, stunning ocean views and Rockport's beaches are minutes away.