South of Boston/Plymouth has woods and beach places to walk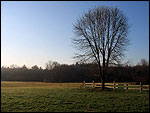 301 Brown Avenue Seekonk, MA, 02771 Phone: 508-761-8230
This 196-acre refuge is easily accessible from Providence, and features fields, woods and a large nature center. From I-95 take the Broadway exit, Exit 6. in East Providence. Bear left at the bottom of the ramp, onto Warren Avenue. Turn left at the first set of lights, onto Rte. 114 North. Travel approximately 2 miles and then turn right onto Rte. 152 North. Continue on Rte. 152 across a reservoir and into Seekonk. After you pass the middle school on the left, turn right onto Brown Avenue. Caratunk is 7/10 of a mile on the right.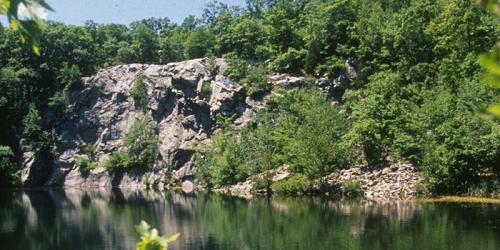 Slab Bridge Road Assonet, MA Phone: 508 644-5522
Good for walking & hiking, winter sports, mountain biking, equestrian, fishing, and restricted hunting.
50 miles of unpaved hiking trails lead travelers through the forests of southeastern Massachusetts. Be sure to look for Profile Rock, a natural spectacle which is said to resemble Chief Massasoit. Part of this forest belongs to the Wampanoag Nation. Park map: http://1.usa.gov/1e4Yxwc
See
Freetown-Fall River State Forest
for full description of this park.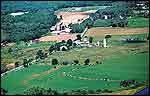 Horseneck Road Dartmouth, MA Phone: 781-821-2977
Formerly known as Island View Farm, Slocum's River Reserve includes mature woodlands, agricultural fields, and pastures that slope down to the western bank of the Slocum's River. Two miles of easy trails cross the Reservation and protect more than 3,000 feet of frontage along the river. Adjoining private farmland and pastures produce corn, alfalfa, and horticultural nursery stock and are used to graze livestock.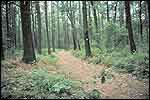 Union Street Marshfield, MA Phone: 781-821-2977
Deriving its name from rights granted in the late 1700's to the Town of Scituate to harvest salt hay "two miles along the river and half a mile inland on each side," Two Mile Farm preserves one of the region's most scenic and dramatic river views. Trails pass through a white pine woodland, tracking the toppled remains of old stone walls and former farm cart paths. Each trail slopes down to the marsh's edge to a view of the grassy banks of the North River, a designated National Natural Landmark, and the Stetson Meadows beyond.
Long Pond Road Carver, MA Phone: 508-866-2580
Good for camping, hiking & walking, water activities, and natural science enthusiasts.
Explore the natural treasures at Myles Standish State Forest, including cranberry bogs and the ecologically fragile kettle ponds, and pitch pine and scrub oak forest areas. Discover 13 miles of walking paths, or sign up for a summer interpretive program for a guided walk through the site.
Park map (summer): http://1.usa.gov/19G9Z5q
See
Myles Standish State Forest
for full description of this park.
Lloyd Center for Environmental Studies
430 Potomska Road South Dartmouth, MA Phone: 508-990-0505
Visitors can enjoy walking trails and exhibits at this nature preserve, set on 55 acres.
Jacobs Lane Norwell, MA Phone: 617-659-2559
Nature trails are the focal point of this site, which includes a trail for the visually impaired. Exhibits and programs are scheduled here daily.
204 Union Street Hingham, MA Phone: 617-749-7160
Good for camping, fishing, hiking, and walking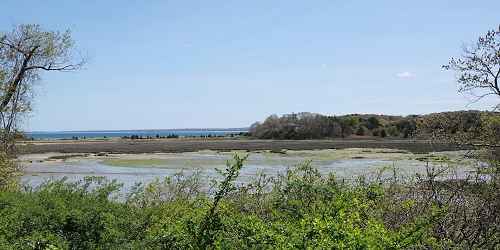 Route 3A Plymouth, MA Phone: 508-866-2580
Good for scenic landscapes and coastal views; hiking & walking, and fishing.
The main trail is about one mile long; it will lead you to a rocky beach with sea creatures and harbor seals. See
Ellisville Harbor State Park
for full description of this park.